Joyce Meyer Was Never Paid $900,000 and Her Nonprofit Does Not Pay Expenses for Or Own Board Members' Homes, Rep Says in Q&A About Financial Practices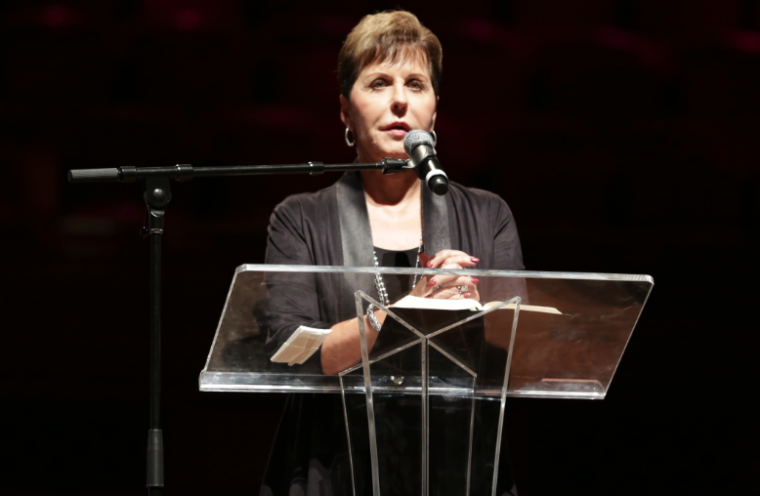 For a recent article about Joyce Meyer Ministries' latest annual report, The Christian Post contacted its representatives with questions about the contents of the financial statements and also sought clarification on previously reported controversial aspects of the nonprofit.
CP followed up that initial July 24 article this week with responses from Joyce Meyer Ministries (JMM) representative, in an article entitled: "Joyce Meyer Ministries Addresses Controversies About Financial Practices" This sidebar article, however, includes the full email exchange between CP and Lori Ann Potter, public relations liaison for the organization.
The email exchanges occurred July 29-30, and appear below in that order. CP's original questions have been edited for better clarity for the reader.
Joyce Meyer Ministries' 2014 annual report can be found here: http://annualreport.joycemeyer.org.
CP: What kind of changes did JMM's leadership make in addition to registering with the Evangelical Council for Financial Accountability?
Potter: The only change that we made when joining the ECFA was expanding our board of directors to twelve members – eight of which are independent (not family or employees). We also increased our board meetings, going from one per year to two. These were the only changes made. We were already fully compliant with IRS laws and no further changes were necessary as a result of the Senate Finance Committee investigation. We wanted to join the ECFA to be a part of an organization that provides guidance and oversight to religious organizations.  
CP: Why did JMM leadership consider it important or necessary to make changes coming out of the Senate investigation? Was it the Senate probe that primarily inspired these positive steps, or was JMM already considering taking steps toward transparency and financial accountability?
Potter: Joyce Meyer Ministries was already transparent. Our efforts to maintain financial accountability and transparency have been in practice for many years and were not a result of Senator Grassley's inquiry. We have published our audited financial statements publicly via our website and in our annual report for many years. Our first printed Annual Report was in 2002. Financial accountability is extremely important to us. Dave and Joyce founded this ministry on principles of integrity and accountability, and this has not changed over more than 30 years of ministry. Moreover, not only were we fully compliant with the [sic] Senator Grassley's investigation, we were praised in Senator Grassley's 2011 report for our excellence and due diligence.
CP: Is there a tally or estimate on the number of regular supporters of JMM?
Potter: Joyce Meyer Ministries has 405,414 regular supporters at this time.
CP: How is JMM related to the St. Louis Dream Center church? Do the two organizations operate as separate entities? Dave and Joyce Meyer are listed as founders. How involved are they in the church, if at all?
Potter: We are one and the same. JMM is organized as a 501-c-3 church. The St. Louis Dream Center (SLDC) was founded by Dave and Joyce Meyer 15 years ago. At that time, they wanted to help people in need within their own community, so they planted the St. Louis Dream Center right in the heart of North St. Louis, an inner-city area that was known for high crime, drugs, and gang activity.
The SLDC church is located downtown in the inner city, while Joyce Meyer Ministries headquarters is located in the St. Louis suburb of Fenton. Dave and Joyce are very involved in the SLDC. Joyce preaches at the church on a fairly regular basis and they are very involved in financially supporting the outreaches of SLDC.
CP: Regarding Joyce Meyer, what are her personal thoughts on how her Bible teaching resonates with so many people, both men and women?
Potter: Joyce knows the life-changing power found in God's Word because it has transformed her life. Joyce is living proof that God can heal and restore a wounded, broken soul through God's love and His Word. Men and women from all walks of life can relate to her story of tragedy, healing and redemption, which is why she is so passionate about sharing this message with others. People connect with Joyce's practical and transparent style of communication but it is the Word of God that transforms lives.
[The following exchange involves JMM"s 2014 annual report]
CP: The information in the 2014 annual report seems pretty straightforward, but to ensure that I have interpreted the figures correctly, please confirm the following: Joyce Meyer Ministries (JMM) reported for the year ending Dec. 31, 2014: $53,687,949 in total liabilities and net assets, with year-end net assets totaling $48,312,112, which is $3,872,479 less than it started the year with.
Potter: Yes, this is correct. In order to ensure optimal efficiency, we have readjusted our operating/capital budget over the last few years in order to maintain balanced budgets and ensure growth in our balance sheet. With cash reserves and no debt, we have been very successful in doing so.
CP: The biggest areas of expense were JMM's radio and television ministry ($30,867,736), missions and outreach ($29,837,903) and print media, which includes salaries, printing and production, and postage costs ($15,866,419). Some readers might wonder why "print media" is such a large expense. If you can offer any clarification or comment to give this expense better context, that would be appreciated. Also, what kinds of items are included in "Christian materials?"
Potter: We are a "media ministry" with a Bible teaching and humanitarian outreach focus, so a lot of what we do to get the Gospel message out happens through television and printed materials. We produce our own Christian materials, including CD's and DVD's, teaching notes, booklets and journals, gift items, shirts, CD and DVD inserts, etc. The only thing we don't produce are the books that we order from the publisher.
CP: What was Mrs. Meyer's compensation for the year 2014? What was her compensation for 2013? Is her compensation for 2015 the same as 2014?
Potter: Joyce Meyer's compensation has not changed in well over 15 years. Her compensation, approved by our Board of Directors and published in our annual reports, is a market-rate salary of $250,000.
CP: What is the compensation for the following Board Members: Vice President Dave Meyer, Hand of Hope CEO David Meyer and CEO of U.S. Operations Daniel Meyer?
[Potter did not provide a response to this question]
CP: Regarding NOTE D - PROPERTY AND EQUIPMENT (in the financial report), does "Buildings" include homes owned by any board members? What does "Buildings" refer to? For "Transportation equipment," does that include any personal vehicles owned by any board members?
Potter: Vehicles owned by the ministry consist of trucks and vans used for transporting personnel, goods and services. Joyce Meyer Ministries does not own board member homes or vehicles. All ministry buildings and vehicles are strictly used for ministry purposes.
CP: Any additional information other thoughts you would like to make sure readers are aware of?
Potter: Joyce Meyer Ministries has submitted to a three-year forensic IRS review and a Senate Finance Committee Investigation that requested detailed data back to our inception. We came through all of these financial investigations successfully. In fact, Senator Grassley praised us in his 2011 report for our financial transparency and ECFA membership.
Joyce Meyer Ministries' ongoing commitment is to share Christ and love people, and we do this through practical Bible teaching, multiple media platforms, and worldwide outreaches to help people in need. This would not be possible without the grace of God and the support of our friends and partners. We take our responsibilities very seriously and remain committed to financial transparency, integrity and accountability in everything we do.
[The following exchange occurred July 30]
CP: Regarding Meyer's compensation, this 2005 apology from STLtoday.com regarding JMM notes that: "Minutes of ministry board meetings show that for 2002 and 2003, the board approved compensation packages of up to $900,000 for Joyce Meyer and up to $450,000 for her husband." Can you clarify that discrepancy in regard to Meyer's "compensation package" as this report states it was $900,000 in 2002 and 2003; and you state that Meyer's salary has been the same amount for 15 years, which is $250,000.
Potter: We do realize the St. Louis Post [sic] articles you refer to conflict with facts. The St. Louis Post [sic] printed a retraction that admitted to the inaccuracies of their article at that time, and that reporter who originally wrote that piece was dismissed because of those inaccuracies.
We would like to add that, the attestation letter that documents the amount of proceeds the ministry receives from Joyce's book sales—of which she gets no royalties from—and honorariums for her private speaking engagements which she does not keep, exceeds her $250,000 annual compensation.
[Editor's note: The St. Louis Post-Dispatch's apology referenced in the question above does not cite the $900,000 figure as an "inaccuracy." Reporter Carolyn Tuft was not "dismissed" because of any inaccuracies in her reports on Meyer's ministry. Instead, Tuft resigned from the Post-Dispatch in 2010, years after her controversial series on Meyer was published.]

CP: In regard to your response to my question on NOTE D - Property and Equipment — I understand that JMM does not own board members' homes or vehicles. Does JMM pay for any expenses related to the homes and/or personal vehicles owned by any of JMM's board members?
Potter: To answer your second question, the ministry does not pay for any personal expenses of the Meyer's homes or vehicles, and the same rules apply to the other board members.