Judge Orders Pa. County to Stop Issuing Gay Marriage Licenses; Heralded as 'Victory for Marriage'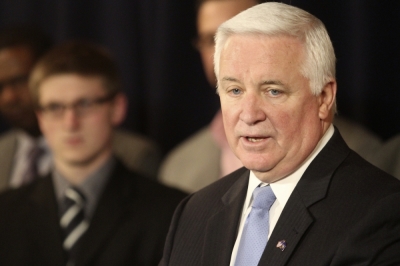 A Pennsylvania judge ruled Thursday that a rogue county clerk in the state must stop distributing marriage licenses to same-sex couples. The judge agreed with Gov. Tom Corbett's lawyers in saying that the clerk does not possess the power to decide who may receive marriage licenses in the state.
"Unless and until either the General Assembly repeals or suspends the Marriage Law provisions or a court of competent jurisdiction orders that the law is not to be obeyed or enforced, the Marriage Law in its entirety is to be obeyed and enforced by all commonwealth public officials," Commonwealth Court Judge Dan Pellegrini said on Thursday.
Pellegrini ordered that Montgomery County Register of Wills D. Bruce Hanes, who has been distributing marriage licenses to same-sex couples since July, must now "cease and desist from issuing marriage licenses to same-sex applicants, from accepting the marriage certificates of same-sex couples, and from waiving the mandatory three-day waiting period."
Pellegrini also rejected the request of dozens of same-sex couples who had received marriage licenses from Hanes and wished to intervene in the case to argue that the validity of their licenses depended on the judge's ruling.
Hanes began distributing the marriage licenses to same-sex couples in July, shortly after the Supreme Court's ruling that struck down a key provision of the federal Defense of Marriage Act. He said in previous interviews that he personally felt the state's 1996 law explicitly banning same-sex marriage was unconstitutional, and therefore he had the right as an elected official to distribute marriage licenses to whom he chose. Since he began in July, Hanes has distributed 174 marriage licenses to same-sex couples.
Pennsylvania Governor Tom Corbett, who has voiced his opposition for same-sex marriage, filed a lawsuit against Hanes in August, saying that Hanes had overstepped his boundaries as a county official and his practice "risks causing serious and limitless harm," including an imbalance of powers in the state.
Pellegrini's 35-page ruling was not clear on what would happen to the 174 marriage licenses issued by Hanes.
County Clerk Hanes told the Associated Press that he was "disappointed" in the outcome of the trial, and was considering an appeals process. "The decision to issue a marriage license was not made in haste, and what we're going to do next, based on this decision from the court, will not be made in haste," Hanes said.
The National Organization for Marriage heralded Thursday's ruling, with the pro-traditional marriage group's president, Brian Brown, telling CNN that the ruling was a "victory for marriage."
"This is a victory for marriage. We are pleased that Judge Pellegrini reiterated that Pennsylvania law expressly defines marriage as the union of one man and one woman," Brown said.
Pennsylvania, the only northeast state to not legally recognize same-sex marriage or civil unions, is currently facing another lawsuit by the American Civil Liberties Union that challenges the state's ban on same-sex marriage. Attorney General Kathleen Kane announced in July that she would not be defending the state law because she personally found it to be unconstitutional. Gov. Corbett said in a statement that Kane's announcement was an "improper usurpation of the courts."