Julie Chen Moonves details radical conversion Christianity, why she'll only pursue faith-based projects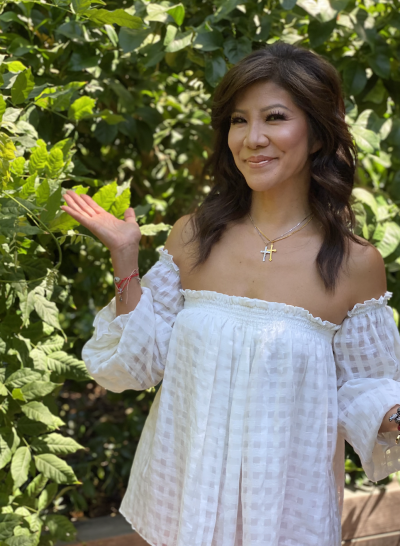 Julie Chen Moonves has an impressive, decades-long career in the mainstream media, serving as a co-anchor of "The Early Show" on CBS and hosting "Big Brother."
But after a radical conversion to Christianity just a few years ago, she's committed to only participating in projects that glorify God and proclaim His name. 
"I have let it be known that I don't want to take on any other projects unless it is faith-based," Chen Moonves told The Christian Post. "I'm not interested in doing another daily talk show unless it's a faith-based one. God has blessed me with the various jobs that I've had in my life so that now, moving forward, any job that I have, any platform that I have, I want to use it to advance His Kingdom agenda, to spread the Word. I don't want to spend time doing anything unless it's in the faith space."
And her path to faith hasn't exactly been conventional. In an interview with CP, Chen Moonves, who details her journey to Christianity in her new audiobook, But First, God: An Audio Memoir of Spiritual Discovery, shared that, though loosely Catholic, her family didn't attend church, as her mother wanted her children to choose their own faith. She attended a Catholic High School, but it was merely an alternative when she didn't make it to Bronx High School of Science. During her younger years, she would pray, but it was often repetitive and influenced by what she saw on TV.
"There was always a little bit of Christianity around me, but it was more Catholicism, and everything I did was rote," she recalled. 
In 2018, Chen Moonves went through personal turmoil after her husband, Leslie Moonves, whom she wed in 2004, resigned from CBS amid allegations of sexual misconduct. Moonves, 73, has denied the allegations from multiple women.
Just over a week later, Chen Moonves, who shares a son with her husband, announced her exit as moderator of "The Talk," the network's daytime program she'd hosted since 2009.
Around this dark time, Chen Moonves received an email from her aunt, a born-again Christian, who told her a friend had been praying for her. 
"She said the Holy Spirit touched her to have my aunt reach out to me to let me know this. And I couldn't believe that this woman that I don't know, I've never met, was praying for me and my family," she recalled.
"That email prompted me to go to church that morning; it was a Thursday morning, and I dropped my son off at school that morning and I drove straight to one of the three churches not far from my house," she recalled. "And it's pretty amazing that before 9 a.m. the doors were open, and I went in and I just was by myself and I got down on my knees and I started praying and opening up my heart to God asking for help."
Chen Moonves began attending virtual Bible studies and services over Zoom due to the COVID-19 pandemic and subsequent lockdowns, immersing herself in Scripture. Two years after that encounter, she made a decision to be baptized.
"I realized Christianity is about a personal relationship with God," she said. "It all came together through various people in my life, whether it was my aunt or former cameraman who sent me a study Bible or my former college roommate who sent me 'Hope for Today' by Billy Graham. I saw that Christianity was about being saved; it wasn't about being judged or punished. It was about being saved and having hope in life. That's what really made me run towards Christianity."
"If you told me six years ago, like prior to when I turned 48, that this would be me, I would say you're crazy," she added.
Today, Chen Moonves' life looks completely different than it did several years ago.
"Work, my career, used to be my false idol," she shared. "It came first, above everything else. I lived a fast-paced life, I was frazzled. I didn't have peace, but I thought that was normal. Today, I don't sweat the small stuff. I appreciate my job, but God comes first. I have this serenity about me that I've just never had before. No matter what comes my way, I know God either ordained it or allowed it. It's a matter of time, but He'll work it out for good. I just don't fret and I don't worry like I used to."
It's her faith, she said, that allows her to refrain from bitterness and forgive those who turned their backs on her at her lowest moment in 2018. Now, she's able to view those past adversities as blessings that led her to God.
"It's straight from Scripture: If I expect God to forgive me for all my sins, I have to grant forgiveness," she said. "I also realize, it's never really about you. If someone does something, and maybe they're acting out of hurt, it has absolutely nothing to do with you. The truth is, if that situation didn't happen to me, I'm not so sure I would have found God when I did. I needed something drastically to change in my life for me to stop and hear Him. So it actually was a blessing."
The multi-hyphenate, who today hosts a faith-based Instagram show titled "God 101," said her conversion has been met with warmth and acceptance from those around her. The recent pandemic, she said, has nudged many toward spirituality, making them more receptive to conversations about faith.
"I think that there is this fear that exists that Hollywood is very hostile towards Christianity, but I have to say, every situation I've been in with people receiving the news that I am a devout Christian, has been received with excitement," she reflected. 
"At the end of the day, what they're hearing and seeing is, I found God, and who could poopoo that?"
She shared how her spiritual transformation has also permeated her family life, offering calmness, peaceful resolutions and a more faith-focused upbringing for her son.
"Every morning before I take him to school, he reads the kid's version of Jesus Calling to me," she said. "I ask him, 'What did you read? What did you get out of what you read?' He goes to church with me on Sundays. It's brought a lot more peace into our daily life as a family and to me as a parent."
By sharing her story, Chen Moonves hopes others realize that it's never too late to find God or start a relationship with Him. Her motive, she said, is to inspire listeners to either invite God into their lives or strengthen their existing bond with Him.
"It is never too late to start a relationship with God; I didn't start until I was 48," she said. "I want the Word of God to not be intimidating, and I want people to draw closer to Him. The Bible says to draw near to God, and He will draw near to you, and when that happens, you look at the world with a whole new perspective, and nothing can rattle you. You really learn how to live without fear because you have trust in the Lord. I want to show people what God has done for me."