Kansas School District Stops Team Prayers After Atheist Group FFRF Files Complaint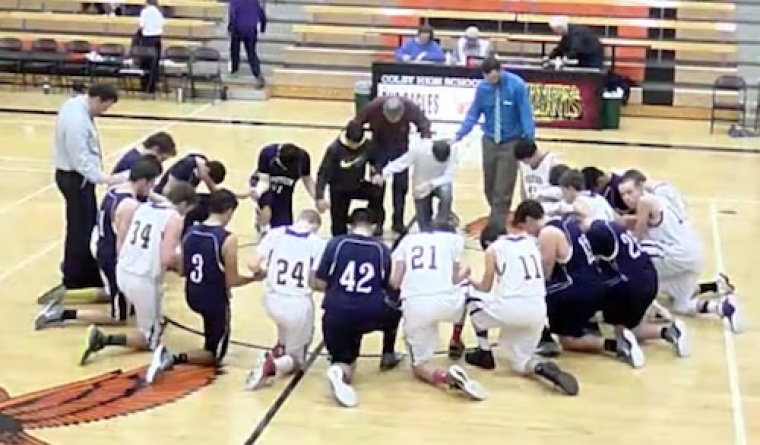 A public school district in Kansas has assured an atheist group that an inspiring moment when its boys basketball team came together at mid-court to pray with the opposing team will "never happen again" after receiving a warning letter threatening a potential lawsuit.
The Wisconsin-based Freedom From Religion Foundation, which claims to be the nation's largest atheist legal group, said it was successful in its effort to get the Cheylin United School District 103 to take action after players and coaches of the Cheylin High School boys basketball team participated in a mid-court prayer with members of the Weskan high school team following their Jan. 31 game.
On June 14, FFRF legal fellow Christopher Line sent a letter to Superintendent Allaire Homburg arguing that prayer with students that involves public school coaches is a violation of the Establishment Clause of the First Amendment to the United States Constitution.
"We understand that coaches from both teams participated in the prayer," the letter explains.
The letter asked the school district to investigate the complaint and take immediate action to stop "any and all school-sponsored prayers occurring within any district athletic programs."
"It is illegal for public school athletic coaches to lead their teams in prayer. The Supreme Court has continually struck down school-sponsored prayers in public schools," the letter explains, citing the Supreme Court's 2000 ruling in Santa Fe Independent School District v. Doe.
The nation's high court ruled that a policy permitting a student to lead prayer over the loudspeaker before a football game was unconstitutional.
He also cited Engel v. Vitale, where the Supreme Court ruled that it was unconstitutional for school officials to compose an official school prayer and encourage its recitation. Line also cited cases dealing with prayer at school graduations, school-sponsored devotional Bible reading and the reciting of the Lord's prayer.
"In each of these cases, the Supreme Court struck down school-sponsored prayer because it constitutes a government advancement and endorsement of religion, which violates the Establishment Clause of the First Amendment," Line wrote. "Public school officials must refrain not only from leading prayers themselves, but also from participating in students' prayers. It is unconstitutional for public school employees to participate in the religious activities of their students."
The organization asked to be informed in writing about how the school district was going to respond to the complaint. Last Thursday, FFRF announced that it received a response back from Homburg via email.
"You have my assurance that this will not happen again," FFRF quoted the superintendent as writing.
The Christian Post reached out to Homburg for comment and clarification on the FFRF report. However, a response was not received by press time.
"It's our purpose to point out constitutional violations to public officials," FFRF Co-President Annie Laurie Gaylor said in a statement. "It's especially gratifying when they respond so decisively in the right manner."
The Freedom From Religion Foundation is not afraid to go after coaches who openly express their faith.
Earlier this year, FFRF complained to the University of Mississippi after the school's head football coach, Hugh Freeze, used his social media accounts to post about God.
The group claimed that since Freeze uses his @CoachHughFreeze Twitter account in his official capacity as the state school's football coach it was unconstitutional for him to tweet about God or his faith.
Last November, FFRF pressured a Pennsylvania school district to force the head football coach at Dunmore High School to end his 30-year tradition of praying with his team before each game.