Katy Perry Jokes About Joining The Illuminati; Appears With 'All-Seeing Eye' on 'Rolling Stone' Cover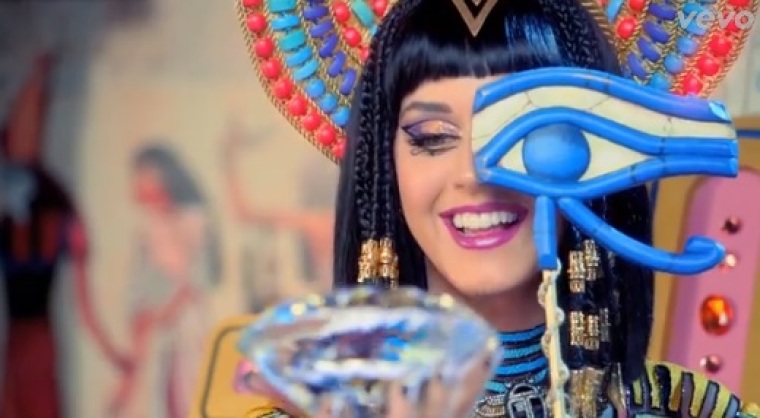 Katy Perry recently addressed ongoing rumors about her ties to the alleged secret society the Illuminati in a new Rolling Stone interview where she also appeared on the cover with an "all seeing eye."
"Listen if the Illuminati exist, I would like to be invited! I see all that s---, and I'm like, 'Come on, let me in! I want to be in the club!' I have no idea what it is. It sounds crazy," Perry told "Rolling Stone" magazine.
TO SEE KATY PERRY'S "ROLLING STONE" COVER CLICK HERE
The all-seeing eye, also known as the Eye of Providence, is an occult symbol open to many interpretations. It is often associated with satanic cults and secret societies.
Perry described the Illuminati rumors as "crazy" and blamed "weird people" for starting them.
"Weird people on the Internet that have nothing to do find, like, strange triangles in your hand motions," she said. "I guess you've kind of made it when they think you're in the Illuminati. But listen, I believe in aliens, so if people want to believe in Illuminati, great."
The interview comes one month after it was revealed that Perry, who was once a gospel singer, is being sued by a Christian hip hop artist over her hit song "Dark Horse." In a lawsuit filed in federal court in St. Louis, Missouri, rapper Flame, born Marcus Tyrone Gray, claims the pop star's hit record is a rip-off of his award-winning song "Joyful Noise," according to TMZ.com.
He also alleges that the "Illuminati imagery" present throughout the music video has ultimately "tarnished" his gospel song.
"By any measure, the devoutly religious message of 'Joyful Noise' has been irreparably tarnished by its association with the witchcraft, paganism, black magic and Illuminati imagery evoked by the same music in 'Dark Horse,'" the lawsuit states.
The lawsuit was filed by Flame, Lecrae, Chike Ojukwu, and Emanuel Lambert; however, Lecrae recently revealed that he does not support the above statement.
"I respect everyone's intellectual properties — but that statement about the witchcraft and stuff, that's not my statement and I don't stand behind that statement," Lecrae told MTV.
Earlier this year Perry's "Dark Horse" video, which has garnered more than 498 million YouTube views, sparked an online petition to have the video removed. It received more than 60,000 signatures. Many Muslims slammed the clip as "blasphemous" and Shazad Iqbal, who started the petition, called for it to be removed after he noticed a pendant with Allah (the Arabic word for God) in it. The video was eventually edited to remove this, but it was not removed.
"Blasphemy is clearly conveyed in the video, since Katy Perry (who appears to be representing an opposition of God) engulfs the believer and the word God in flames," he said. "Using the name of God in an irrelevant and distasteful manner would be considered inappropriate by any religion."
Perry was raised in a Christian home by her parents, Keith and Mary Hudson, who are both pastors. She once explained her decision to move away from gospel music and on to secular music.
"I released a gospel record when I was 15 because I grew up in a household where all I ever did was listen to gospel music," Perry told Australian TV presenter Ruby Rose. "I swear I wanted to be like the Amy Grant of music but it didn't work out, and so I sold my soul to the devil."