Kay Warren on Son's Suicide: 'This Is Not How It Should Be,' But Grateful That Matthew's 'Broken Mind' Is Now Healed in Heaven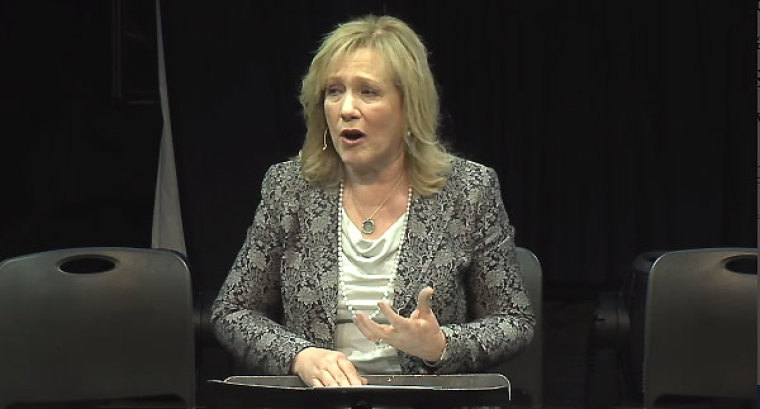 Kay Warren, co-founder of Saddleback Church in Southern California with her husband, Rick Warren, gave an emotional speech on Saturday afternoon for International Survivors of Suicide Day, saying that her 27-year-old son, Matthew, who took his life earlier this year, shouldn't have died the way he did, but she's comforted and grateful that he's now in heaven and his "broken mind" is finally healed.
"I've received enormous comfort from being able to say out loud, 'This is not how it should be,'" said Warren in a quivering voice at the event hosted at the church's Lake Forest campus. She was quoting a Steven Curtis Chapman song called "God is in Control" off of his CD Beauty Will Rise, which he wrote after his 5-year-old daughter was accidentally run over by her older brother. Kay said she listened to this Chapman song several times a day and it comforts her soul and spirit.
"This is not how it should be. This is not even how it could have been. But it is how it is," said Warren. "And to acknowledge that it wasn't in its destiny, but this is how it is. And I still, at the end of the day, trust in God's goodness."
Matthew Warren, Rick and Kay's youngest son, committed suicide at the age of 27 by a self-inflicted gunshot wound on April 5. After his death, the Warrens revealed that their son had a lifelong struggle with mental illness.
"He (Matthew) had a brilliant intellect and a gift for sensing who was most in pain or most uncomfortable in a room. He'd then make a bee-line to that person to engage and encourage them," Rick Warren wrote to his church staff after he learned of Matthew's death. "But only those closest knew that he struggled from birth with mental illness, dark holes of depression, and even suicidal thoughts. In spite of America's best doctors, meds, counselors, and prayers for healing, the torture of mental illness never subsided. Today, after a fun evening together with Kay and me, in a momentary wave of despair at his home, he took his life."
In the Warrens' first media interview since their son's death, they told CNN's Piers Morgan in September that they kept Matthew's illness from the public for the sake of his dignity.
"We've always known since Matthew has lived his entire life with mental illness that one day we would be spokespeople for mental illness," said Rick to Piers Morgan during the interview. "Kay and I have known this for years and years."
"The reason we were quiet was primarily to protect Matthew's dignity. It was his story to tell," Rick continued. "We were always praying that either A, he would be healed miraculously, or B, will get treatment, therapy, medicine that helps him manage his disease for the rest of his life, and then he can tell this story."
Kay added, "We didn't want him to endure the scrutiny that's being thrown at Rick. He was already struggling. To be in the public spotlight, have people scrutinize him … he didn't need that."
As Kay spoke Saturday to the crowd made up of people who have lost loved ones to suicide, she shared that Matthew had attempted suicide in March of this year by poison but was unsuccessful. She had received a text from him in the middle of the night in March saying that he had tried to consume poison to die but was unsuccessful. She rushed to his house and after several hours was able to convince him to go to the Emergency Room. After several days, he was released from the hospital and then in less than two weeks, he attempted suicide again, and this time was successful.
She said that after Matthew's death, her family was thrust into "catastrophic grief." Kay outlined what catastrophic grief looks like:
• It's messy, not a clean grief: Nowhere to place the anger since the person one loves is the killer
• So much guilt: Almost everybody ends up feeling at some point, could I have stopped it? Should I have done more? What if I had said this? What if I have done this?
• All consuming: Keep replaying the day that the suicide happened over and over again
• Exhausting: This kind of grief is hard work
• Lonely, Isolating: Many times, it feels like it's just me and the universe and God
• No End Date: Life will never be the same again, but life will be good again
• It opens up other un-grieved, un-mourned, and incomplete losses
"I have to tell you that I fully expect for the rest of my life, as long as I live, there will be tears in my eyes. And I won't ultimately be comforted until God Himself wipes it from my face," said Kay to the audience of people who have also survived losing a loved one to suicide.
Toward the end of her talk, Kay referenced a quote from Eric Liddell, who was the Olympic gold medalist runner in the 1924 Munich Games, who said, "Circumstances may appear to wreck our lives and God's plans. But God is not helpless among the ruins. Our broken lives are not lost or useless. God's love is still working. He comes in and takes the calamity and uses it victoriously, working out his wonderful plan of love."
Overcome with emotion, Kay said, "If you are in this room, or watching, in some way your life had a day where there was a ruination. … God is not helpless among our ruins."
"[R]ight now all I can taste is bitter tears. … Because every morning when I wake up and every day when I put my head on the pillow, the reality occurs again," said Kay as her voice broke. "He's not here and he's not coming back."
"But I know that Matthew is ok," she said with conviction. "He's truly okay. He is not asleep; he has not joined the cosmos; he's not part of the force; he has not ceased to exist. He went straight into the arms of his savior Jesus Christ when his body hit the ground on earth; he was in the presence of God.
"And in the perfection of heaven, his broken mind was healed. And I'm so grateful for that. And I look forward, I wait for the day when I'll finally see for myself."
Rick and Kay Warren are working to raise awareness about mental illness. In April they started a petition on Saddleback Church's website about severe mental illness that affects about 11.4 million American adults in the past year.