Ken Ham Accuses Evolution-Supporting Christians of 'Undermining the Bible'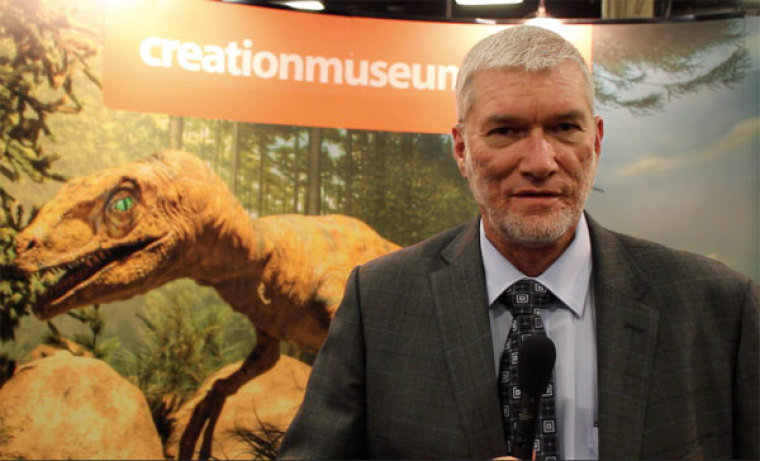 Creationist Ken Ham has argued that the foundation of Christian faith rests in a literal interpretation of the Creation account in the Bible, as found in Genesis 1-11, stating that Christian leaders who do not interpret it literally are leading people astray.
"Genesis 1-11 is like the foundation to a house. The whole structure stands upon it — all of our major doctrines like sin, salvation, the coming consummation, marriage, and more are grounded in Genesis," Ham wrote Wednesday on Facebook.
"Sadly many Christian leaders say Genesis isn't literal history and in doing so they undermine the foundation. No wonder such a large percent of church millennials don't defend marriage as for one man and woman. They no longer have a foundation to base their thinking on," he added.
Ham, who heads the Creation Museum and the upcoming Ark Encounter theme park in Kentucky, has made similar warnings in the past, telling evolution-supporting Christians that such compromise can also lead to other "sinful tendencies."
"One of the problems with compromise in one area of Scripture is where do you stop compromising? If Christians accept the idea of human evolution, then why not accept the idea that our sinful tendencies are really just evolved tendencies?" Ham wrote last June.
"But this completely changes the Bible's definition of sin and why we sin and face the penalty of death for our sin, 'Therefore, just as through one man sin entered the world, and death through sin, and thus death spread to all men, because all sinned,' (Romans 5:12). A belief in evolution strikes right at the heart of the Gospel," he added.
The question of human origins is a controversial one in America, with a May 2014 Gallup poll finding that 42 percent of respondents believe God created humans in their present form. Close to 31 percent supported the idea behind theistic evolution that humans underwent evolution with God guiding the process, while 19 percent said God played no part in the process at all.
There are various Christian views on the legitimacy of evolution, though the Roman Catholic Church, for instance, has said a belief in evolution does not contradict with the Christian faith.
Earlier in March, a Vatican astronomer who embraces both science and religion warned that Christians should be careful about assuming how God made the world.
While he did not directly address the question of human origins, Jesuit Brother Guy Consolmagno, director of the Vatican Observatory, said that both scientists and religious people who believe science and religion cannot coexist have a fault in their thinking.
"To me (the issue) comes down to two problems: Scientists not having enough humility to understand, that they don't have all the answers and religion not having enough to recognize that they can't tell God how He should have made the universe," Consolmagno said.