Ken Ham: Donald Trump Doesn't Understand What Real Christianity Is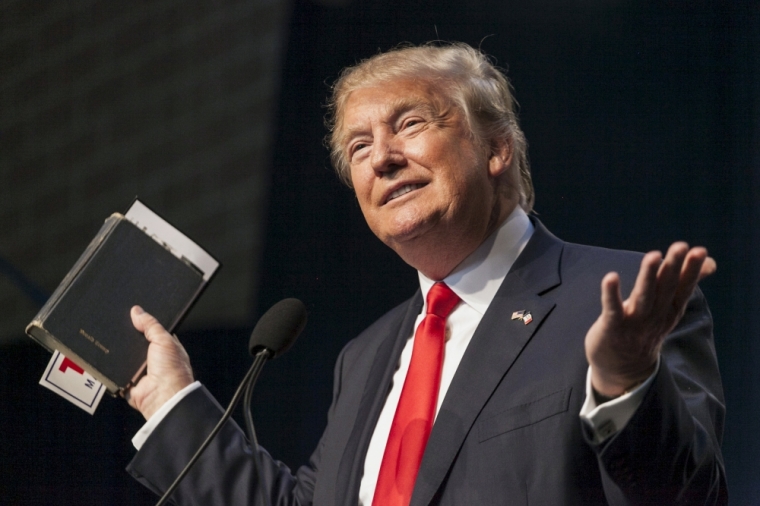 Creation Museum CEO and President Ken Ham has said that although many Americans are rallying behind Donald Trump because they see him as a strong leader, the GOP presidential candidate does not promote "the Christian worldview" or understand what "real Christianity" is.
Ham wrote in a blog post on his Answers in Genesis website on Wednesday that he has been intrigued by the large crowds Trump has been attracting at his campaign rallies, and suggested the billionaire businessman's popularity might be due to Americans becoming "sick of the political correctness."
"I personally think many people are rallying behind Donald Trump because in our sea of political correctness and liberal media, Trump (regardless of whether he is correct in some of his beliefs does speak with authority. It comes across as genuine, and he is also admired by many voters because he really doesn't care what people think of his answers," Ham said.
"Now, Trump says he goes to church (when he can!), but I doubt he truly understands what real Christianity is. He certainly does not promote the Christian worldview," the Young Earth creationist asserted about Trump's faith.
Ham said that believers in America want their Christian leaders to speak with authority, and "tell it like it is," without "diluting the truth through compromise."
As for whether Ham will be voting for Trump, he added: "I will judge any candidate's beliefs against the absolute authority of God's Word, and vote accordingly."
Trump has said in speeches that even if he doesn't wear his faith on his sleeve, he is a Presbyterian.
"I love Iowa. And, look, I don't have to say it, I'm Presbyterian. Can you believe it? Nobody believes I'm Presbyterian. I'm Presbyterian. I'm Presbyterian. I'm Presbyterian," he said at a campaign rally this weekend in Jacksonville, Florida.
Pastor Robert Jeffress, who leads the 12,000-member First Baptist Church in Dallas, suggested in an article for Fox News on Monday that Trump has a legion of "closeted" Evangelical supporters.
"After criss-crossing the country for the past few months and talking to thousands of people, I'm convinced that there are a legion of 'closeted' Evangelical Trump supporters who are almost apologetic for being attracted to him," Jeffress wrote.
"They are not under any illusion that Trump will be conducting Bible studies in the Oval Office, nor do they feel like they are abandoning their Christian values to support Trump," he added.
However, other Evangelical leaders like Russell Moore, president of the Southern Baptist Convention's Ethics & Religious Liberty Commission, have argued that Trump's attitude toward women and immigrants stand directly against Christian values.
"Donald J. Trump stands astride the polls in the Republican presidential race, beating all comers in virtually every demographic of the primary electorate. Most illogical is his support from Evangelicals and other social conservatives," Moore wrote in a September op-ed for The New York Times.
"To back Mr. Trump, these voters must repudiate everything they believe," he added.