Ken Ham's Ark Encounter to Open 40 Days and 40 Nights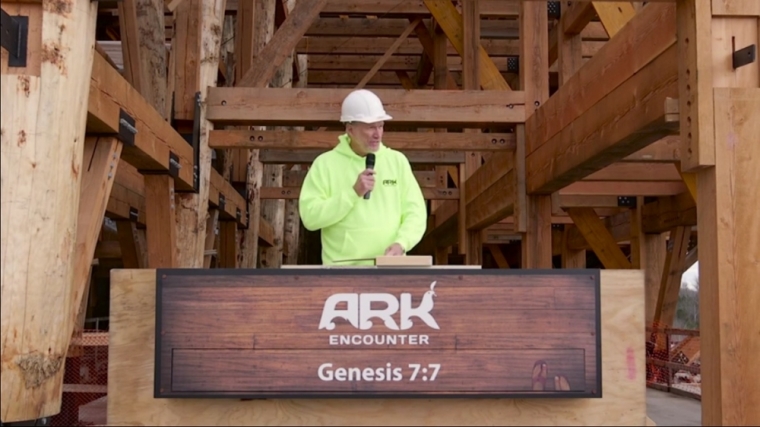 Ken Ham, CEO and president of the Creation Museum, has announced that the grand opening of the Ark Encounter will take place on July 7, 2016, at Williamstown, Kentucky, and will initially be open for "40 days and 40 nights."
"We are so excited that the construction progress and schedule landed on this 7/7 date. Genesis 7:7 states that Noah and his family entered the Ark. So it's fitting we allow the public to enter the life-size Ark on 7/7," Ham revealed.
In anticipation of large crowds, the Noah's Ark project will operate for 40 days straight, before starting normal hours of operation on Aug. 15.
"While the Ark Encounter will be able to accommodate 16,000 guests per day, our consultant's research has shown that we could possibly expect more than that during the first few weeks of opening, especially during the summer time frame," Ham added.
"So, to make sure this themed attraction remains an enjoyable experience for everyone, we are adding a nighttime shift for the first 40 days."
As far as the funding for the project, Ham revealed that close to $80 million of the $91.5 million needed has been raised so far, and shared that he is confident the rest of the money will come in before construction is completed.
Answers in Genesis, which Ham is also the CEO and president of, launched a lawsuit against Kentucky earlier this year, after state officials denied the Ark Encounter participation in the state tax incentive program.
While the state argued that AiG was wrong for insisting on using religious preference when hiring workers, the creationist group accused the state of violating its First Amendment religious freedom rights.
The tourism incentive program could have provided AiG another $18 million in funding for the Ark Encounter project.
In another post on Facebook, Ham said that he believes the project will be "one of the greatest Christian evangelistic outreaches of our day."
"At Answers in Genesis and the coming Ark Encounter attraction, we want to equip Christians and non-Christians to understand that God's Word is true, that Noah really did build a huge ark, that the animals really could have fit on board, and that the global flood really happened as an outpouring of God's judgment on a wicked generation," he added.
"At the same time, Noah's Ark is also a picture of God's mercy and salvation. God had Noah build an ark of salvation — and those eight people who went through the one door were saved from the waters of the flood. We want people to know that God has provided an ark of salvation for us, too — the Lord Jesus Christ," he added.
A YouTube video about the Ark Encounter provides further information about the grand opening, and the packages that will be offered.