Kendrick Brothers Give Advice on Prayer and Making Authentic Christian Films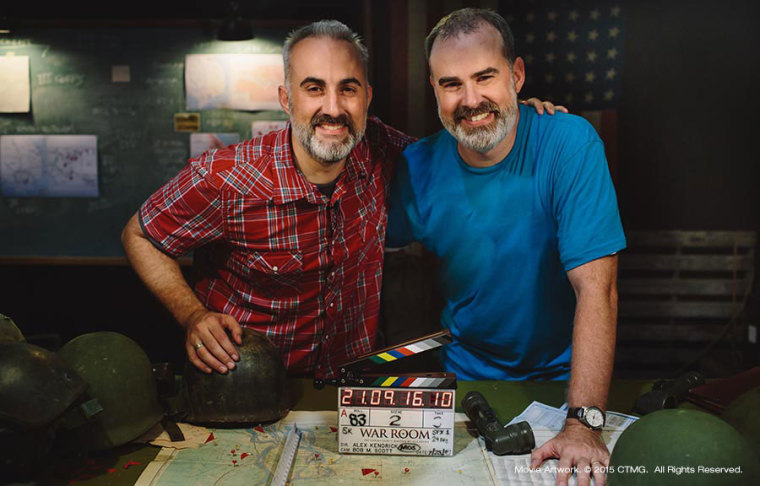 The recent blockbuster hit "War Room," about the power of prayer, was made for less than $4 million and has grossed nearly $70 million at the box office. On the heels of its release to DVD Dec. 22, The Christian Post caught up with the film's creators, the Kendrick brothers, to discuss the impact the movie made and the future of Christian films.
Alex and Stephen Kendrick, together referred to as "the Kendrick brothers," have pioneered the faith-based film mainstream invasion as their independently made films paved a way for a slew of Christian movies to be accepted by Hollywood and the media in the last couple of years.
The brothers have made incredible strides in their small town of Albany, Georgia, where they serve at Sherwood Baptist Church. Their first four movies – "Flywheel," "Facing the Giants," "Fireproof" and "Courageous" –attracted huge crowds with their positive messages, together grossing over $80 million. With their newest film "War Room" grossing almost that same amount on its own, it's apparent that they reached a new level.
Although films based on Christianity may be booming at the box office, American culture is seemingly becoming more and more irreverent to God. In a recent New York Daily coverpage, the headline read, "God Isn't Fixing This." That phrase stirred the filmmakers up to further push their message of prayer, which is the theme of "War Room."
"That statement is foolish on multiple levels. It's either very ignorant of the ways of God, you don't know how God works, or they are claiming omniscient – that we know how God is working in every family, every street corner, in every church," Stephen said.
"The scripture does communicate that when a nation rejects God, when a nation is dishonoring him – that he's going to turn us over to our own devices and we will reap the consequences of our sin," he continued. "Jesus is teaching, love your enemy. We reject Jesus, we reject His teaching, we hate our enemies and there's murder in the streets. We shouldn't be surprised that that's going to happen."
He then quoted the scripture found in 2 Chronicle 7:14 as the solution. The verse says, "if my people who are called by my name humble themselves, and pray and seek my face and turn from their wicked ways, then I will hear from heaven and will forgive their sin and heal their land."
The Kendrick brothers admitted to holding on to that Bible verse because they've seen the power of prayer impact America throughout history in the past and they believe that "can happen again."
Christian films on prayer, such as "War Room," may have never been given the time of day just a few years ago. According to an article published in 2010 by Relevant magazine, mainstream media pegged Christian films cheesy and below average because Christians were behind "modern times."
The Atlanta natives acknowledge that they too have struggled in their early films with having cheesy moments, but they assured viewers that they are working diligently to eliminate that stigma.
"There is something for us to do in studying and learning how to script, how to edit, how to direct," Alex said. "We're still learning those things. We hate the cheese factor and we have dealt with that in our own films and we are learning how to have less and less of that, but that's a challenge."
"Part of the issue is cheese is really connected to when something doesn't feel authentic or real, when it's overly sappy, sweet," Stephen chimed in. "When it's too preaching for people that's when it start feeling cheesy, when you're wearing outdated outfits or using wrong language or the special effects look not real, you say 'well that's cheesy' so it's tied to not lining up with thread of truth that doesn't feel authentic."
He went on to explain, "What's hard for Christian films is we're presenting to them [people], 'here's what a Godly, good, happy, loving marriage can look like, or here's what forgiveness looks like, or here's how God does answer prayer.' So to the world that may feel inauthentic to them because they've never experienced that before. They may say 'well that's cheesy' but we say 'No! That's real life, we're introducing you to something you've never experienced in your own personal life.'"
jeannie.law@christianpost.com