Kentucky Judge Strikes Down Same-Sex Marriage Ban; Says Religious Views Do Not Trump Gay People's Rights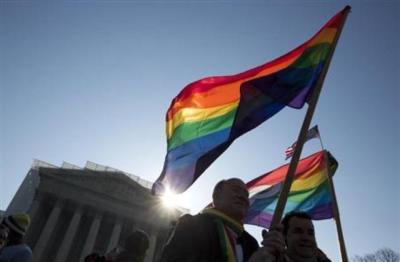 Kentucky's same-sex marriage ban was struck down Tuesday by a federal judge who ruled that it is a violation of the equal protection clause of the U.S. Constitution's 14th Amendment.
"In America even sincere and long-held religious views do not trump the constitutional rights of those who happen to have been out-voted," U.S. District Judge John Heyburn in Louisville argued.
The ruling follows similar decisions in Utah and Indiana where gay marriage bans were also dismissed.
In his decision, Heyburn stated that his ruling does not "diminish the freedom of others to any degree." There is an "utter lack of logical relation" between excluding same-sex couples from marriage and any legitimate state interest, he added.
He also stated that "same-sex couples' right to marry seems to be a uniquely 'free' constitutional right," Reuters reported.
The case dealt with claims brought by two gay couples from Louisville who were denied marriage licenses. Court documents noted that Timothy Love and Lawrence Ysunza have lived together for 34 years, while the other couple, Maurice Blanchard and Dominique James, have been together for 10 years.
Kentucky Governor Steve Beshear announced in a statement after the decision that his office will be launching an appeal.
"Now that Judge Heyburn has issued his opinion on this portion of the case, we will be appealing the decision so that the matter is fully before the Sixth Circuit, where these same issues from other states are already scheduled to be decided by the Sixth Circuit," Beshear said, according to The Associated Press.
Just last week, Utah and Indiana also saw their gay marriage bans struck down in separate rulings, with traditional marriage groups arguing that "judicial activism" from a single judge is substituting the will of the people.
"This is just the latest example of activism from the federal bench, but we fully expect this decision to eventually be reversed when the U.S. Supreme Court upholds the right of states to define marriage as a man and a woman," National Organization for Marriage President Brian Brown said in a statement. "In the meantime, it is imperative that the state legislature move forward a state constitutional amendment preserving marriage so that the people always remain in control of the definition of marriage in Indiana."
In February, Heyburn ruled in favor of gay marriage by issuing an opinion that said marriages performed in other states had to be recognized in Kentucky.
Freedom to Marry noted that since the U.S. Supreme Court struck down a provision in the Defense of Marriage Act in Windsor v. United States, there have been 23 consecutive rulings in favor of same-sex marriage.