Kenya Attack Illustrates Threats Against Christians, Recalls Easter Hope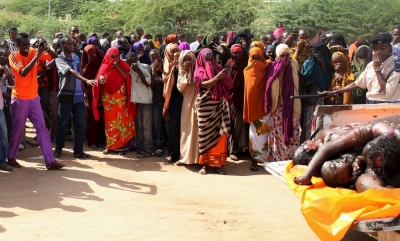 The deadliest attack in Kenya since the 1998 U.S. Embassy bombing has left 147 people dead and 79 seriously injured. Students at Garissa University in Northeastern Kenya came under attack yesterday by gunmen from Somali-based terror group al Shabaab. Two security guards, one policeman and one soldier were among the dead.
The mortuaries in Garissa were so overwhelmed they had to ship many of the bodies to the capital of Nairobi, 200 miles away, the BBC reported.
IRD Religious Liberty Program Director Faith J. H. McDonnell commented:
"Once again, an attack on Christians by jihadists. This time in the very week in which Christians commemorate how, even at their very worst, the powers of hell could not defeat Jesus Christ. As we contemplate His redeeming death upon the Cross on this Good Friday, we cannot help but think of the 147 Christian students at Garissa University ambushed by the cowardly perpetrators of evil, al Shabaab, at this most holy time of the year for Christians.
"The Word of God promises us that 'death is swallowed up in victory' and we know that we will see these young brothers and sisters in Christ who were murdered by al Shabaab on April 2, when we step into Eternity with them. But that does not excuse us from continuing to do everything we can to stop the egregious persecution of our fellow members of the Body of Christ.
"First and foremost, we have a responsibility to our fellow Christians to pray for them – continuously and aggressively. We are in a spiritual battle with the forces of hell, and we cannot wage spiritual warfare with passive, defeatist or apathetic prayers.
"The great Anglican Archbishop of Kenya, Eluid Wabukala has stated in the wake of the murder of the Christian students in Garissa, 'We will never ever surrender our nation or our faith in Christ to those who glory in death and destruction. We will not be intimidated because we know and trust in the power of the cross.'
"We stand with Archbishop Wabukala and our brothers and sisters in Christ in Kenya. We challenge all American Christians to stand with them and pray for them with as much intention as we would do if Christian students at an American university were targeted and killed."
Jeff Walton is Communications Manager for the Institute on Religion & Democracy and directs the Anglican program. He graduated in 2001 from Seattle Pacific University and is a member of Restoration Anglican Church in Arlington, VA.