Kevin, Sam Sorbo say media lies played 'pivotal role' in getting abortion legalized nationwide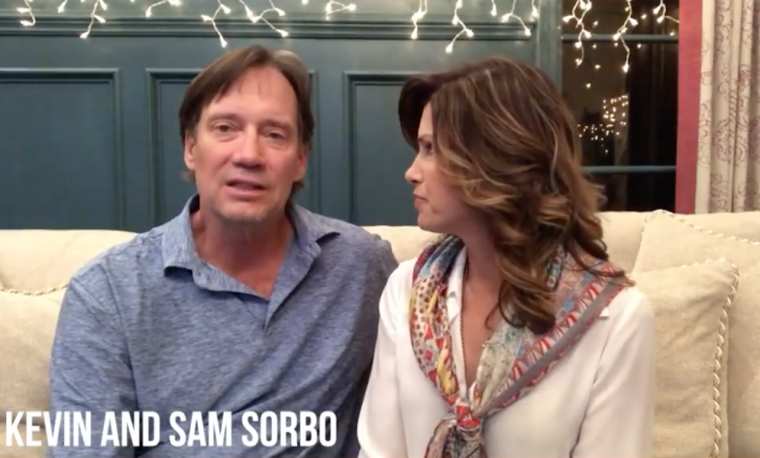 ORLANDO, Fla. — Actors Kevin and Sam Sorbo say the media played a "pivotal role" in helping to get abortion legalized nationwide in 1973 and encouraged Christians to use new media to combat the lies and censorship of today's mainstream press and big tech. 
Together, the Sorbos attended the movie premiere of "Roe v. Wade" that was held at the Conservative Political Action Conference on Feb. 26, where they shared their stance against abortion, the media and big tech, following Facebook's decision to ban Kevin Sorbo from its platform.  
"I'm a pro-life person, just as my wife is. I've done a lot of pro-life speaking through the years as well. I'm here to support a movie that I wish I could have been in. I love what they did," Sorbo told CP of why they wanted to attend the premiere. 
"What's amazing to me and sad to me is that so many people think it's OK to murder unborn babies. They are babies, they are life; there's a heartbeat at 22 days," he emphasized. "We're at the point now where some of these governors are even talking about killing babies the minute they're born. I find it so horrific and evil what's happening in America."
In 2019 Virginia's Democratic Gov. Ralph Northam faced backlash after he voiced his support for late-term abortion and seemed to suggest he was also in favor of infanticide.
"[Third-trimester abortions are] done in cases where there may be severe deformities. There may be a fetus that's nonviable. So in this particular example, if a mother is in labor, I can tell you exactly what would happen," Northam, a pediatric neurosurgeon, told Washington radio station WTOP. "The infant would be delivered. The infant would be kept comfortable. The infant would be resuscitated if that's what the mother and the family desired. And then a discussion would ensue between the physicians and the mother."
"Roe v. Wade" is based on the events that led to one of the nation's most contentious U.S. Supreme Court rulings, which legalized abortion nationwide. 
The film, which hits theaters on April 2, depicts the history of "what happened from 1966 through 1973" that led to the court's decision declaring existing state laws banning abortion unconstitutional. 
"You can't be against slavery and for choice," Sam Sorbo emphatically told CP of those who claim to be pro-choice.
A major aspect of the film is the role the media played throughout the abortion debate, both before and after Roe v. Wade was decided. 
"Media tells the story and stories are compelling and they're convicting. But they're also very convincing," Sam Sorbo said. "You'll see in the movie, the media played the pivotal role in this whole saga, telling a lie, a story about a young woman that was an outright lie. Then perpetuating this myth that it's not a human being, that it's a clump of cells, that the young woman will never have to think about it again. All of these other stories that they tell, and none of which are true." 
"I think it's incumbent upon new media to retell the story with truth and with facts," she added.
The movie is told from the perspective of Dr. Bernard Nathanson, once considered the "abortion king" for reportedly performing over 70,000 abortions. He would eventually realize the human value of the unborn and walk away from performing abortions. Later on, he exposed all of the deceptions which helped Jane Roe's case win at the high court.
In his 1983 book, The Abortion Papers: Inside the Abortion Mentality, Nathanson wrote that he and his team fed deceptive data to the media.
"Knowing that if a true poll were taken we would be soundly defeated, we simply fabricated the results of fictional polls," he detailed. In one instance, he claimed that 60% of Americans favored abortion.​
Nathanson and Lawrence Lader often traveled to the Caribbean island of St. Croix to devise their plans. The pair also lied about the number of illegal abortions that were being performed annually in the U.S. at that time. The actual figure was about 98,000, Nathanson shared in his book.
"The figure we gave to the media repeatedly (and the figure in Lader's book) was one million," he wrote. 
A fact check resource on the Roe v. Wade movie website revealed that they also lied about the number of women who died each year from illegal abortions. According to Nathanson, the actual number of women who died was 250, but the number they fed to the media was up to 10,000. The false narrative was spread by willing news media companies that never questioned the data they were being given.
In February, Kevin Sorbo said he was targeted by Facebook, which removed his page from its platform.
The social media site told Fox News that the 62-year-old's account was removed from the platform because of his posts about the novel coronavirus and vaccines. 
"We removed Kevin Sorbo's page for repeatedly sharing debunked claims about the coronavirus or vaccines," Facebook stated. However, Facebook's CEO, Mark Zuckerberg, has himself made statements opposing the COVID-19 vaccine. In a leaked video, Zuckerberg is seen warning Facebook employees against the vaccines, " ... we just don't know the long-term side effects of basically modifying people's DNA and RNA." 
Sam Sorbo defended her husband, telling CP, "Facebook just took him down without ceremony, just digital assassination and then buried the body."
Kevin Sorbo added that he believes censorship in this manner is something people should stand up against.
"We got to fight back," Sorbo declared. "Apathy is a big killer and I think a lot of people on the right just say, 'Oh, what can we do? We can't do anything; media owns everything.'"
"I think we just got to raise our voice and be a little more strong," the openly conservative actor concluded. "We have to have the same passion that the left has, on the right, without the hate and anger and divisiveness. We just have to have the same strong passion."
As previously reported by CP, "Roe v. Wade," a Nick Loeb-directed film, also encountered several obstacles, including Facebook banning their ads as well as losing cast members who opposed the film's mission.
The featured film tells "the untold story of how people lied, how the media lied, and how the courts were manipulated" to legalize abortion nationwide, which has led to the killing of more than 60 million Americans, Loeb previously said in an interview with Fox News host Tucker Carlson.
It features a star-studded cast, including Hollywood actors Jon Voight, Robert Davi, Corbin Bernsen, John Schneider, Stacey Dash and Loeb.
Despite many setbacks, the film will be in theaters nationwide on April 2. For more information, visit "Roe v. Wade" movie.com.