Kevin Durant and the Game End 'Beef' Over $20,000 Bet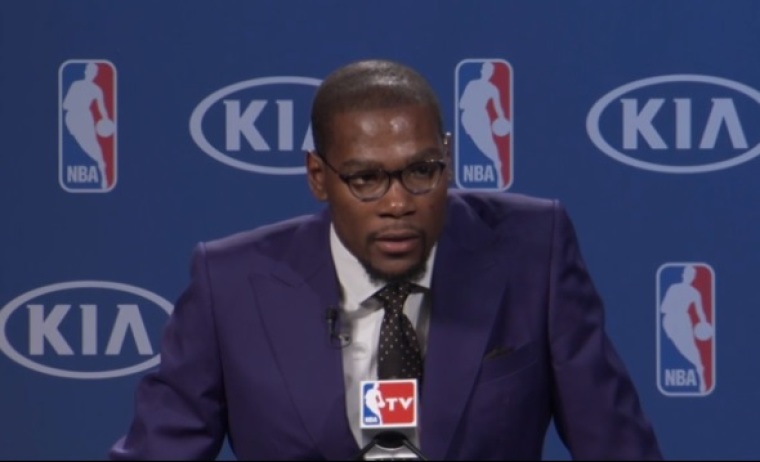 Kevin Durant and The Game cleared up an issue that could have turned sour over a reported $20,000 bet.
Durant, the 25-year-old Oklahoma City Thunder forward, reportedly agreed to donate $20,000 in basketball gear to 34-year-old rapper Jayceon "The Game" Taylor's Frog All Stars basketball program. The pair of men attended a party thrown by popular entertainer Drake, and agreed that if Game could make a shot from the three point line, it would result in Durant making a donation worth $20,000 to the former's basketball program for kids.
However, TMZ questioned Durant about betting on the rapper's basketball skills to the tune of $20,000 which the athlete denied.
"That's false," Durant told TMZ. "He's lying."
When Game caught wind of Durant's comments, he took to Instagram to speak out against the NBA's Most Valuable Player for the 2013-2014 season.
"Now why [Kevin Durant] frontin on the kids homie ?!?!?!? We clearly said….. "If I made the 3 from NBA range you'd supply the entire @froggallstars program with brand new Kevin Durant shoes"…… 120 kids, close to $200 a shoe equals about $20,000," Game wrote. ".. Just say you a sore loser & you ain't wanna help the kids."
The rapper went on to list a number of witnesses including rapper Drake who witnessed the agreement made by both men. He insisted that the kids in his program looked up to Durant, including his son.
In a tweet that he later deleted, Durant hopped on Twitter to insist that he never bet $20,000. However, it seemed both Durant and Game were able to speak about the matter off of social media and come to an agreement.
Game went on Instagram to clear the air.
"Had a conversation with @easymoneysniper this morning & we both agreed that there was a miscommunication between the middle party which was 'TMZ' & that the way the camera man presented it to him was as if he bet me $20,000 cash which wasn't the case," Game insisted. "We agreed that if I hit the 3 point shot he would get KD gear & his kicks for all the kids in our @froggallstars organization which is close to 130 children…. 130 kids at a price of maybe $150 a shoe & gear after tax equals close to $20,000 give or take so that's where that # came from."
He went on to explain that he apologized to Durant, and should have gotten his number before blowing things out of proportion. After thanking Durant for donating to the children in his program, Game called TMZ to insist he understood the athlete's position in the matter.
"He's a professional athlete and so, I guess the rules are they are not to gamble on basketball ... which is very understandable," Game told TMZ sports.