Kevin Hart: 'I Take My Hat Off to Donald Trump'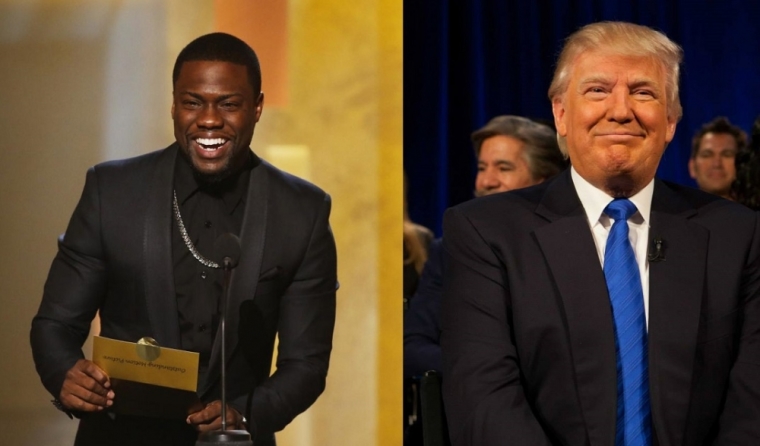 Popular comedian and actor Kevin Hart thinks GOP 2016 presidential frontrunner Donald Trump is a man of action and praised him for running for the Oval Office just like he said he would.
Speaking on the "Woodman in the Morning Show" this week, Hart said for a long time Trump has stated that he was interested in becoming president and praised him for finally going after that dream.
"I will say, for Donald Trump, I think a lot of people like to say they can do things and never do 'em. I take my hat off to Donald Trump for simply trying to put his actions behind the words that he's been saying for years," said Hart.
"He's always been giving people a hard time [about wanting to run the world] and he wanted to take a swing at it and try and run. He actually put a campaign together to do it. So I applaud him simply for that, for following a dream I guess," he continued.
"Regardless of how we as people look at it, whether it's positive or negative, the man [is] following through on what has become a passion for him. So I guess I can only respect him for that," he added.
In a tweet Thursday, Trump graciously acknowledged Hart's praise as "nice."
"@KevinHart4real joined @woodmank104 @katek104 @K1047 & was asked about his thoughts on @realDonaldTrump #Trump2016 Thanks Kevin--so nice!" Trump noted.
Trump is set to debate with other Republican candidates on television for the third time on Oct. 28 at the Coors Events Center in Boulder, Colorado. CNBC, which will be airing this installment of the debates, has agreed to allow the candidates to give 30-second opening and closing statements at the behest of Donald Trump and his next closest rival, retired neurosurgeon Ben Carson, according to The New York Times.
The candidates will also be allowed to introduce themselves and the debate will last just two hours, including commercials, unlike the three-hour long debate on CNN which took place in California last month.
.@KevinHart4real joined @woodmank104@katek104@K1047 & was asked about his thoughts on @realDonaldTrump#Trump2016 Thanks Kevin--so nice!

— Donald J. Trump (@realDonaldTrump) October 15, 2015
Both Trump and Carson had threatened to boycott the debate if its format wasn't changed and highlighted their concerns in a letter to CNBC Washington bureau chief Matthew Cuddy.
"Neither Mr. Trump or Dr. Carson will participate in your debate if it is longer than 120 minutes including commercials and does not include opening and closing statements," said the letter signed jointly by both candidates.
A copy of the letter can be viewed below.