Kevin McCarthy falls short in 11th ballot vote in bid for House speaker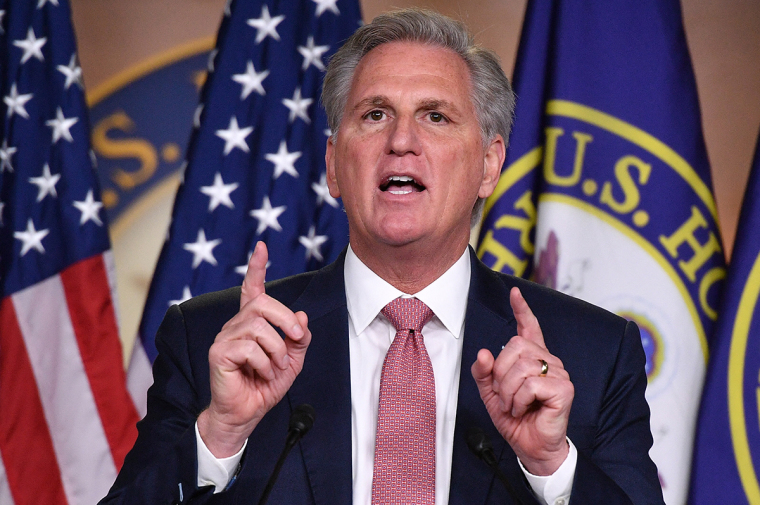 After 11 votes, the United States House of Representatives has yet to elect a speaker, leaving the lower chamber unable to do any other business. 
The House held five votes on Thursday, only to see similar results to past days of voting, with Republican Rep. Kevin McCarthy of California failing to get enough votes to become speaker.
The House adjourned on Thursday night and will reconvene at noon Friday.
Despite many reported talks behind the scenes, McCarthy failed to convince any of those who voted against him to join the vast majority of Republicans in supporting his bid.
As a result of the House's continued inability to elect a new speaker, the lower chamber will be unable to conduct any further business, including the swearing in of the 118th Congress.
Rep. John James of Michigan nominated McCarthy on Thursday morning, crediting him with creating the Republican majority in the House and saying that "he's earned my trust."
Rep. Dan Bishop of North Carolina nominated Rep. Byron Donalds of Florida, arguing that Republicans have a chance to elect the first African American speaker, which garnered chants of "Hakeem" from Democrats, referencing their nominee, Rep. Hakeem Jeffries of New York.
"The Lord said, 'behold, I do a new thing,'" Bishop said. "We need more Byron Donalds. I know Byron. He's not a 'prop.' He's a man of personal conviction. He arrived at his convictions through authentic and genuine life experience."
The tally for the seventh ballot was 212 votes for Jeffries, 201 votes for McCarthy and 19 votes for Donalds, with Republican Rep. Victoria Spartz of Indiana voting present.
For the seventh ballot, Rep. Matt Gaetz of Florida voted for former President Donald Trump, even though Trump himself implored Republicans on Wednesday to support McCarthy's bid.
Rep. Brian Mast of Florida nominated McCarthy for the eighth ballot, while Rep. Paul Gosar of Arizona nominated Donalds, with Gosar saying he was "pleased and proud" to nominate him.  
As with the previous few ballots, McCarthy only garnered 201 votes, while Jeffries received 212 votes, one vote for present, and 20 votes going to other people, mostly Donalds.  
Rep. Lauren Boebert of Colorado voted for Rep. Kevin Hern of Oklahoma — even though Hern has been a supporter of McCarthy — while Gaetz again voted for Trump.
Rep. Troy Nehls of Texas, a member of the House Freedom Caucus, nominated McCarthy for the ninth ballot, while Rep. Matt Rosendale of Montana nominated Donalds and Boebert nominated Hern.
The results of the ninth ballot involved McCarthy slightly dipping to 200 votes, with Jeffries getting 212 as before, Donalds getting 17 votes, Hern getting three votes, and one recorded as present. 
For the tenth ballot, Rep. Juan Ciscomani of Arizona nominated McCarthy for House speaker, while Rep. Anna Paulina Luna of Florida nominated Donalds, and Boebert again nominated Hern.  
The results were comparable to earlier ballots, with 200 votes for McCarthy, 212 votes for Jeffries, 20 votes split among other individuals, and one vote recorded as present. 
For the eleventh ballot, Rep. French Hill of Arkansas nominated McCarthy, Rep. Matt Gaetz nominated Trump, and Rep. Bob Good of Virginia nominated Hern. 
As with the 10th ballot, the 11th ballot saw McCarthy get 200 votes, Jeffries get 212 votes, other individuals dividing up 20 votes, and one person voting present. 
Although McCarthy had been favored to become House speaker, he failed to get the necessary number of votes from members of Congress on the first ballot, which was held on Tuesday.
This marked the first time that the House had failed to elect a speaker on the first ballot since 1923, when it took nine ballots for Republican Frederick Gillett to be elected.
While McCarthy continued to get at least 200 votes in favor of his becoming Speaker, he needed to get at least 218 in order to be elected to the position.
Stopping McCarthy were several Republican lawmakers who believed that he would not adequately advance conservative policies and reforms for the lower house.
On the first day of voting, these dissenters coalesced their support around Rep. Jim Jordan of Ohio, who ironically had expressed his support for McCarthy, and nominated him on the second ballot.
For the second day of voting, the anti-McCarthy voters coalesced their support around Donalds, a freshman congressman, with their votes going to him instead of Jordan.
Donalds had previously supported McCarthy, but changed his mind by the third ballot, concluding that the California representative did not have sufficient support to become speaker.
Republican Chip Roy of Texas nominated Donalds for speaker on Wednesday, stating that, with the Democrat nomination of Jeffries, that day marked the first time in history that two African Americans were nominated for House speaker.