Kevin McCarthy loses sixth speaker vote amid resistance from minority of Republicans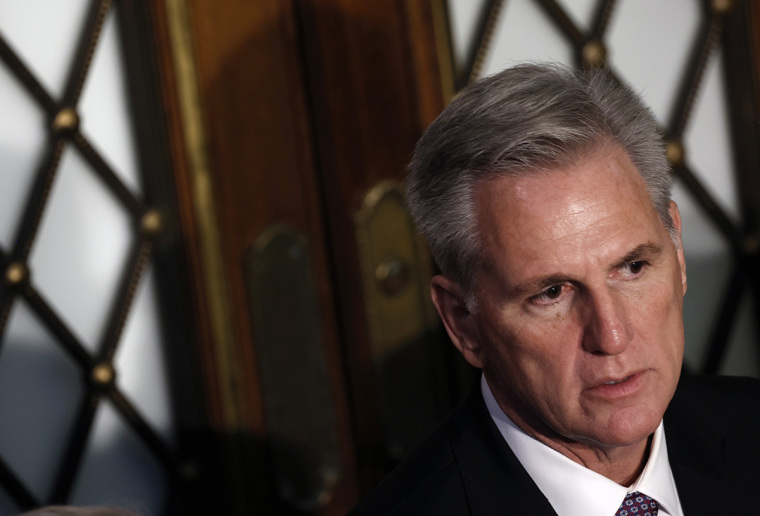 Republican Rep. Kevin McCarthy of California has again failed to be elected speaker of the United States House of Representatives, having failed to dislodge the resistance from a sizable minority of Republican members.
Representatives cast three more ballots on Wednesday to determine the next speaker of the House, but no one received a large enough majority to gain the position.
The House adjourned after the third vote of the day. 
Republican Rep. Mike Gallagher of Wisconsin nominated McCarthy for the fourth ballot vote, arguing that "nobody has done more to lay out a plan for how we restore the basic functioning of this institution than Kevin McCarthy."
"You may not have gotten everything you wanted," Gallagher added. "But Mr. McCarthy has gone above and beyond in terms of listening to people with concerns and laying out a plan for how we restore the basic functioning of the House of Representatives."
Rep. Chip Roy of Texas, who on Tuesday had previously endorsed Rep. Jim Jordan of Ohio for House Speaker, rose on Wednesday to endorse Rep. Byron Donalds of Florida for speaker.
Roy argued that he supported Donalds because "this country needs a change" and that "this country needs leadership that does not reflect" Washington, D.C. insider politics.
With Rep. Hakeem Jeffries of New York being nominated by the Democrats, it reportedly marked the first time in history that two African Americans were nominated for House speaker.
On the fourth ballot, McCarthy received 201 votes while Donalds received 20 votes, and Jeffries garnered 212 votes. Republican Rep. Victoria Spartz of Indiana, who had voted for McCarthy on the first three ballots, voted present instead.
Former President Donald Trump had weighed in on the issue on Wednesday morning, expressing support for McCarthy, imploring Republican members to "not turn a great triumph into a giant and embarrassing defeat."
For the fifth ballot, Rep. Warren Davidson of Ohio, a member of the Freedom Caucus, nominated McCarthy for speaker, pleading with "all of my Republican colleagues" to "let cooler, more rational heads prevail."
Republican Rep. Lauren Boebert of Colorado nominated Donalds for speaker, arguing that the Florida congressman is better qualified and that McCarthy should withdraw his nomination.  
The fifth ballot and sixth ballot had the exact same tally as the fourth ballot.
Rep. Kat Cammack of Florida nominated McCarthy on the sixth ballot, calling on her colleagues to vote for a speaker, saying that voters sent them to Washington "to get things done."
Rep. Scott Perry of Pennsylvania nominated Donalds for the sixth ballot, declaring that "Washington is broken" and that Congress needed to stop "doing the same things."
The election of the speaker of the House is the first official order of business, with the lower house being unable to move on any business until a speaker is chosen.
On Tuesday, the House held three votes to determine the speaker and the minority leader, in a vote that is normally decided on the first ballot.
All 212 Democrat lawmakers voted for Jeffries, as Rep. Nancy Pelosi of California had announced last year that she was stepping aside from leadership roles in the House.
McCarthy failed to get the necessary 218 votes to become speaker, getting 203 Republicans to support him in the first and second ballots, and then 202 when Donalds changed his vote.
In a tweet posted shortly after the third ballot was cast on Tuesday, Donalds explained that he believed "Kevin McCarthy doesn't have the votes" to become speaker.
"I committed my support to him publicly and for two votes on the House Floor. 218 is the number, and currently, no one is there. Our conference needs to recess and huddle and find someone or work out the next steps," tweeted Donalds.
Those opposed to McCarthy had coalesced around Jordan on Tuesday, even though Jordan himself nominated McCarthy on the second ballot and subsequently voted for McCarthy.