Kevin Sorbo, Sean Hannity Making Faith-Based Movie on Atheist Who Turns to Jesus Christ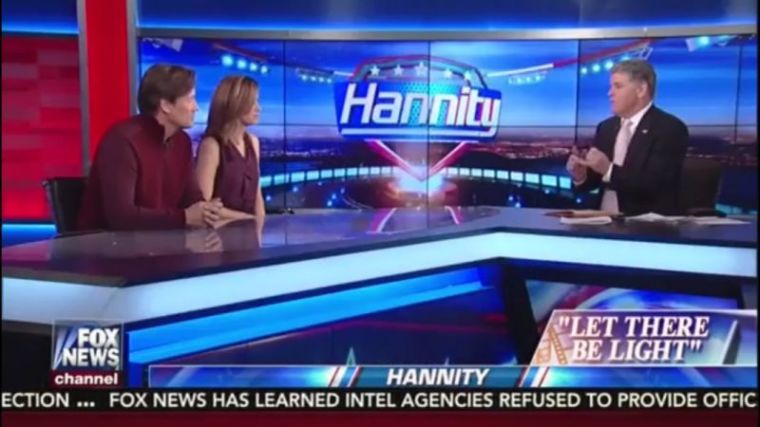 Fox News commentator Sean Hannity is collaborating on a movie project with actors Kevin Sorbo and his wife, Sam, based on the story of an atheist who converts to Christianity after going through a near death experience.
"It's been likened to 'Ghost' meets 'Heaven Is for Real,' with a dash of 'God's Not Dead,'" Sorbo said of the film, currently titled "Let There be Light," expected to open in November 2017.
Sorbo's family will be heavily involved in the film, according to The Hollywood Reporter. His wife, Sam, co-wrote the script with Dan Gordon and will play a role in the movie, as will the couple's two young sons.
"They blew me away with their auditions," Sorbo said. "Then Sam and I, as producers, realized the amount of money we had just saved by casting our own kids."
The actor, who first achieved fame in "Hercules: The Legendary Journeys" TV show of the 1990s, has made several Christian-themed films in recent years, and even played an atheist whose worldview is greatly challenged by believers in 2014's hit "God's Not Dead."
Sorbo said that despite the challenges of Hollywood, he sees film-making as a good opportunity to share one's faith.
"Hollywood can be a very superficial place but then again, so is the world," he said.
"I choose not to focus on whatever negatives that might arise from my taking a stand for what I believe in, because our beliefs are what make us human. I couldn't be the actor I am without knowing what I stand for."
Hannity recently interviewed Kevin and Sam Sorbo on his Fox News show, where the three discussed the need to make more meaningful Christmas movies, which they envision "Let There be Light" to be.
Hannity revealed that he is the executive producer behind the project, and said that he will also be making a special guest appearance in the movie. He also said that he showed the rough cut of the film to a number of people, all of whom cried and laughed, and described the plot as a "roller-coaster."
Sorbo has talked about the experience of playing atheist characters in the past, and in a 2014 interview with Access Hollywood Live, said, "I'm a Christian myself and had to play an atheist. I see the anger of these (atheist) guys on TV and it's like 'wow, how do you get so angry at something you don't believe in?'
"What's interesting is that people say students don't get persecuted in universities because of their beliefs, but it does happen. What's the big deal? I'm a 'live and let live' kind of guy. If you're an atheist, fine. If you're agnostic, we can talk."