Keyshia Cole Makes Promise to God to Stop Smoking Pot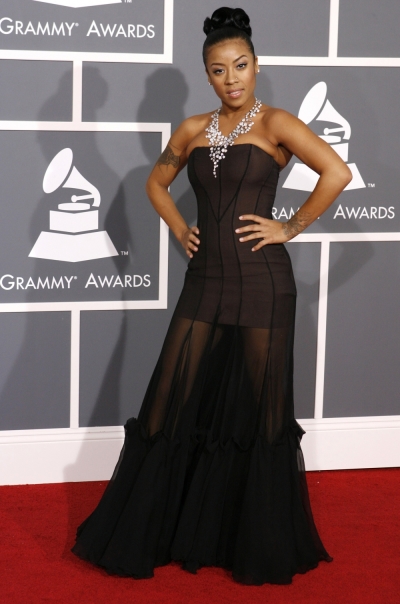 Before the fame, singer Keyshia Cole used to smoke marijuana, but promised God that she would stop if she got a record deal.
"I smoked when I younger. Promised God I would stop, if he ever blessed me with a record deal," Cole revealed to over 500,000 Twitter followers. "He did, I stopped."
When one commenter approved of the 35-year-old R&B singer redeeming her promises to God, she agreed.
"Yes: I really try to honor my word," Cole tweeted. "He's way too good to me."
Cole has publicly identified with Christianity in the past and her biography on Twitter reads that she is a "child of GOD." Earlier this year, she spoke to The Christian Post about building her spiritual foundation as a young girl in church.
"My mother took us to church every Sunday, Wednesday Bible Study, student Bible Sunday. It was instilled in me at a very young age," she recalled to CP. "But I definitely felt connected very young and prayed all the time as a child. So it's the same thing that I try to teach DJ. We're working on that, so he's learning how to pray himself."
Although she was raised in church, Cole is no stranger to overcoming adversity. Her mother Frankie battled with drug addiction which caused her to give Cole up for adoption.
Instead of letting the circumstances of life get her down, Cole worked hard to make her dreams of becoming an entertainer come to pass and believes that her faith had something to do with that and the success in all of her varied ventures.
"Honestly if you stay focused and driven on what your motivations are I feel like you can succeed in anything you want to do. I honestly believe that because whatever I have put my mind to I've been able to accomplish no matter what cards I was dealt," Cole told CP. "I'm a strong believer that if you keep your faith right, you'll make sure you get what you want out of life because it's possible. I mean, anything is possible especially with God by your side."
As a mother, the singer understands the importance of teaching her 5-year-old son Daniel Gibson, Jr. (DJ) the importance of prayer. Although her relationship with Daniel's father and former NBA player Daniel Gibson Sr. may not have worked out, Cole has stopped focusing on the issues she endured in her marriage.
"The thing is I'm trying to build myself and my career and I can't do that if I'm always stressed out about a relationship that isn't working," Cole told The Christian Post. "I can't lose myself trying to figure out a situation that isn't able to be worked out. I think spiritually, I have to realize that and just do what's best for my child."
Although Cole will be the first to admit that she does not have things all figured out, she would not necessarily warn her teenage self to do anything differently either.
"Everything is a lesson. Everything that you go through builds who you are and builds your character of the person that you are," Cole said. "I wouldn't tell myself not to do this or do that. You've got to try to stay focused, take the best view and try to be more positive because it could really take you under and damage you if you allow it to."
Still, Cole is going to focus less on life's problems and give more energy to what matters most.
You've got to stay focused, keep your head above the water and I think that's mainly where my priority is now," she previously told CP. "Sometimes you'll be caught up in the midst of it and I decided myself to pick a healing direction and work in that direction. That's where I'm going to get my results from as a woman, as a mother."