'It's smut': Kid reads sexually graphic book he got from school library to school board members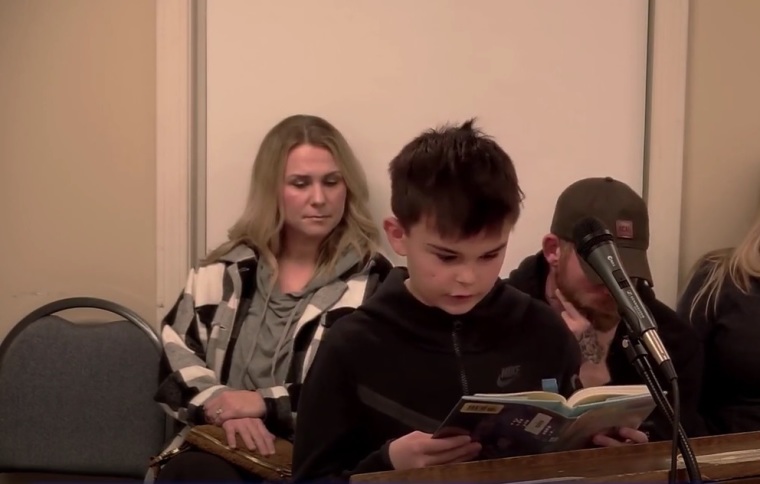 An 11-year-old boy gained national attention after he spoke at a school board meeting where he read aloud from a sexually graphic book that his father said was displayed at his son's middle school library. 
At a meeting of the Windham Raymond School District RSU14 on Feb. 15, student Knox Zajac read from the school library book Nick and Charlie by Alice Oseman, which was marked as inappropriate for children under the age of 14.
Nevertheless, Knox was able to check out the book, which has a plot centered on two teenage boys sexually experimenting with each other, and read it aloud to school board members. 
"My back over my hips. I asked if he should take his clothes off. He was saying yes before I finished my sentence. He's pulling off my T-shirt, laughing when I can't undo his shirt buttons. He's undoing my belt. I'm reaching into his bedside drawer for a condom," said Knox as he read the expletive book for the record as seen in a video shared by 1776 Project PAC. 
Knox added, "When I rented it out and showed my dad it, the librarian asked if I wanted more and if I wanted a graphic novel version."
His father, Adam Zajac, told The Maine Wire that many "parents just don't know what's going on in the school."
"What I don't understand is how we have books in the middle school library that adults would be fired for having at work, or potentially prosecuted for sharing with children given their pornographic content," said Adam Zajac. "It's smut, really."
Public school districts across the United States have seen passionate debates over their decision to allow sexually explicit books in school libraries and classrooms. One such book, Lawn Boy, promotes pedophilia by depicting scenes where an older man grooms an underage boy. Another book is Gender Queer, which features violent nudity and other adult content. 
Last November, Dearborn Public School officials announced that they were removing a couple of their sexually explicit books in response to protests by Muslim and Christian parents. 
These included Push by Sapphire, which features a girl being sexually abused by her father, and Red, White and Royal Blue by Casey McQuiston, a sexually explicit LGBT romance story.
In April of last year, Virginia Gov. Glenn Youngkin signed a law requiring school boards to inform parents of when books used in their kids' classrooms contain sexually explicit content.
According to a press release by the American Library Association last September, efforts to ban or restrict books in school libraries were increasing, with 681 attempts to ban or restrict library resources occurring during the first eight months of 2022.
ALA President Lessa Kananiʻopua Pelayo-Lozada was quoted in the press release casting these efforts in a negative light, believing that they reflected "coordinated, national efforts to silence marginalized or historically underrepresented voices."
"Though it's natural that we want to protect young people from some of life's more difficult realities, the truth is that banning books does nothing to protect them from dealing with tough issues. Instead, it denies young people resources that can help them deal with the challenges that confront them," she stated.