Kim Davis Talks End Times, Pope Francis, SOTU and Religious Freedom (Interview)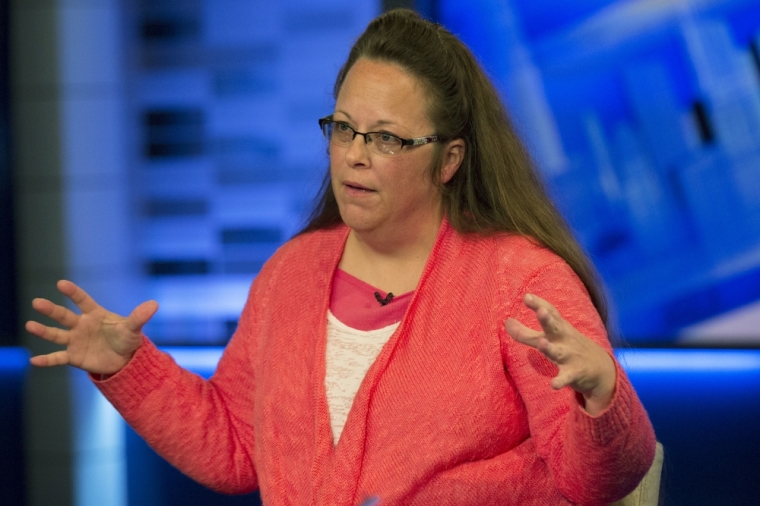 Controversial Kentucky clerk Kim Davis, who was jailed last year for not issuing marriage licenses to same-sex couples, asserted Monday night that the world is "living in the End Times" and warned that Christians will have to "battle" to hold on to their religious liberties.
Davis, the Rowan County clerk who caused a media firestorm over of her refusal to issue marriage licenses following last June's Supreme Court ruling that legalized same-sex marriage, attended the Family Research Council State of the Family Address Monday night and told The Christian Post that intolerance toward traditional Christian beliefs in America will only "get worse."
"There is a lot of Bible prophecy that has to be fulfilled. Whether you acknowledge it or not, we are living in End Times," Davis said. "How soon will the Lord return? I don't know but definitely there are signs that we are in the end of times and there is a lot of stuff that has to happen to fulfill Bible prophecy. The word of God is infallible and so I suspect it will get a lot worse."
Davis spent over five days in jail last September after she refused a court order to allow her office to issue marriage licenses because she objected to having her name on licenses that authorize marriages that she feels violate her Apostolic Christian faith.
Davis explained that she has been asked a number of times why she hasn't just quit her job or retire, but she explained that doing so would cause her to lose the platform and voice that God gave her during a time she believes Christians need to stand up for their religious freedoms.
"It is a battle for every freedom that we possess, for every freedom that we want to hold true and dear to our hearts," Davis asserted. "Each and every person, like I have said so many times, it's not if it happens but when. You will be faced with it and you have to be prayed up and ready to stand and know that God is a mighty god and He is more than able to see you through it all."
"I stand as one but we as a whole are many and we are strong," Davis continued. "That's what Christians need to understand — when we unite, not just in stand but in our prayer, that we do make a difference."
Although Davis was forced spend five days in jail for acting according to her religious convictions, she said that her time in jail was the most "peaceful" time she had throughout the whole ordeal.
"I can tell you, that was probably the most peaceful time that I had spent," Davis explained. "I got to study the word of God. I got to read. I got to pray. I got to sing to the top of my lungs in that jail — very peaceful time."
Although Davis called on former Kentucky Gov. Steve Beshear to create a religious accommodation allowing clerks not to include their names on marriage licenses, it wasn't until the end of December when the state's new Gov. Matt Bevin issued an executive order to remove the names of county clerks from marriage licenses.
"It was the exact accommodation that I had been asking for from the very beginning," Davis told CP. "The prior governor, Gov. Beshear could have done the exact same thing."
Some critics of the governor's order, like the American Civil Liberties Union of Kentucky, argue that Kentucky law requires the names of clerks to be on marriage licenses, and that the law is "not subject to unilateral change." However, Davis argues that the Supreme Court ruling in Obergefell "obliterated" the state's marriage laws.
"Our Kentucky marriage laws are obliterated due to the Obergefell ruling, so those all have to be reworked, revamped and rewritten," Davis stated. "Marriage is just the tip of the iceberg of how this Obergefell decision, this ruling, it affects not only marriage laws — it affects property law, it affects income tax law. It is just a plethora that it intertwines in and marriage is just the tip of it."
Shortly after Davis was freed from jail, she received an invite to meet with Pope Francis when he visited the United States in late September. Davis explained that when she met the Pope, he thanked her for her courage and asked her to pray for him.
"I didn't know why he would want to meet me. I am nobody," Davis said. "He was a very inviting man and I think he desires prayers of all people. He's got a lot of followers that depend on his leadership."
Davis will attend President Barack Obama's final State of the Union address Tuesday night in Washington D.C., after FRC arranged for her attend.
"I would love to hear words of hope and encouragement. I would love to hear Christian values come through in his address," Davis said.
Contact: <ahref="mailto:samuel.smith@christianpost.com">samuel.smith@christianpost.com,
@IamSamSmith
(Twitter)