Kim Davis may enter ministry after losing election: 'It's where the Lord is leading her,' says lawyer
Kim Davis may enter ministry after losing election: 'It's where the Lord is leading her,' says lawyer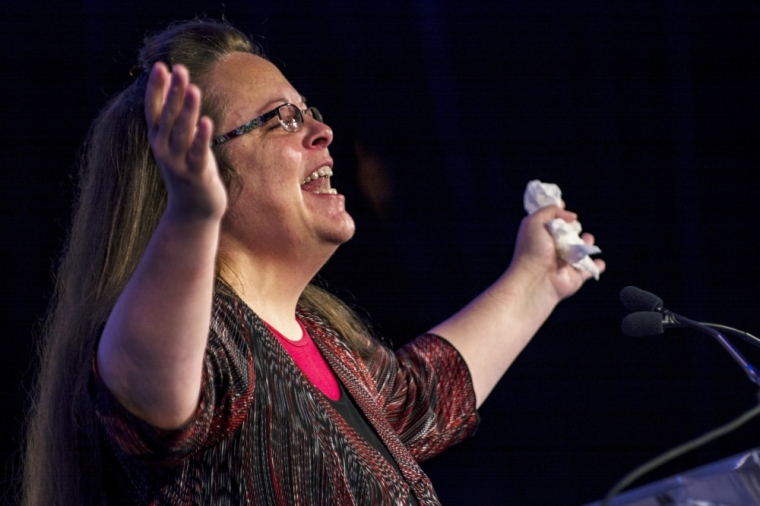 Kim Davis, the Kentucky official jailed for refusing to issue same-sex marriage licenses, may go into the ministry after losing her re-election as Rowan county clerk, her lawyer has revealed.
During a recent appearance on the conservative radio program "Crosstalk," Mat Staver, who also co-authored a book with Davis, said he has spoken with the former Kentucky county clerk "quite a bit" through the summer and believes her future lies in ministry.
"Frankly, I think what she's going to do and where she's been wanting to go is in some form of ministry," Staver said. "And so I think that's where the Lord is leading her at this time."
In 2015, Davis made national headlines when she cited her Christian beliefs as the reason for her refusal to sign marriage licenses for gay couples. She was subsequently jailed for five days for defying a U.S. federal court order to issue marriage licenses to all legally eligible couples.
While praised for the decision by many in the Christian arena, Davis received much backlash from the LGBT community and national media. Last week, she lost during midterms to Democratic challenger Elwood Caudill by about 600 votes. The 53-year-old had taken over the job from her mother, who served as the county's clerk for 37 years.
"She is someone who loves her job and wants to serve the people," Staver said. "And so she spent her waking hours, really, working on her job. And people in the community did her campaigning for her."
Earlier this year, Davis told The Christian Post that she's still receiving hate for her decision, especially as the media continues to paint an "unfair picture" of her.
"The only mean or negative thing I ever said to a same-sex couple who wanted a marriage license was 'no,'" she said. "Instantly, the mainstream media painted an unfair picture of me as a terrible person — and most of the time, they didn't even talk to me."
"I get emails and you can usually tell by the header if it's going to be a good email or a bad email," she said. "If it's bad, I put it into a 'hate file' because I don't want to feed that fire or frenzy because I want to remain positive and I want positive things in my life."
But amid all the attention she has received over the last few years — both positive and negative — God's grace has remained "strong and prevalent."
"His presence was there every single day," she said. "I would still go into work whistling and singing with a smile on my face, because I knew He was by my side even amid all the media frenzy. I had such peace, because I knew God's grace is sufficient."
Although controversial, Davis said she hopes her story encourages others to stand up for their beliefs and understand that God is able to redeem even the worst of sinners.
"The main thing that I would suggest to a millennial or any other Christian that is unsure of how to stand up for their beliefs is, mean what you say, say what you mean, and say it with love," she said. "And remember, God is able, and God will use you for His glory."
"You have to trust him," she continued. "If you never step out in faith, your faith never grows. I want to be an encouragement to those who have a sordid past like I have, that when you're sold out to God, there's no limit to what He can do in you and through you."