Kim Davis May Go Back to Jail, Reveals What Has Caused Her the Most Pain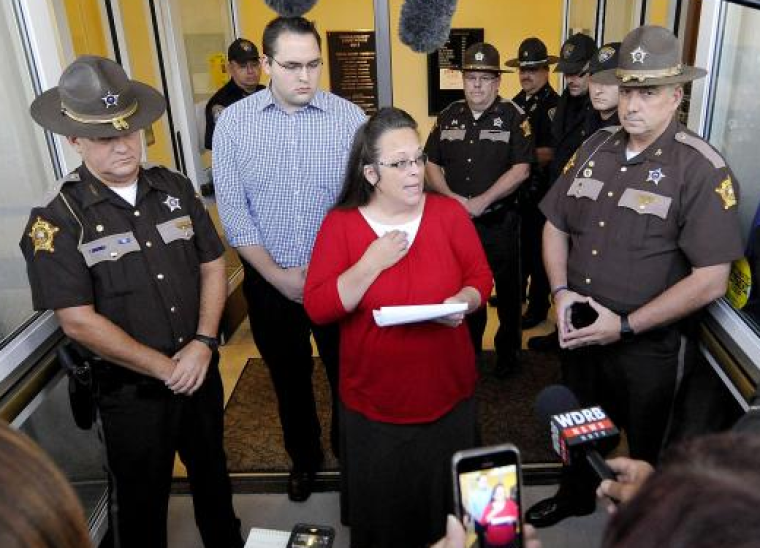 Kentucky county Clerk Kim Davis, who may go back to jail based upon a new complaint, discussed what has caused her the most pain during her ordeal.
"What people say about me does not define who I am," Davis told ABC News on Monday. "That's everybody's opinion and that's everybody's right."
Davis, 50, admitted that she had been called "Hitler" and "a homophobe" by some of her detractors but said those names do not hurt her.
"I've been called things and names that I didn't even say when I was in the world. Those names don't hurt me," declared Davis. "What probably hurt me the worst is when someone tells me that my God does not love me or that my God is not happy with me, that I am a hypocrite of a Christian."
Davis claims she has never once spoken out in hate during the controversy. "I'm just a normal person that's been touched by the grace of God and his mercy." She added that she has not always been a good person saying, "I'm forgiven. I have been washed clean."
"My constituents elected me but the main authority that rules my life is the Lord," said Davis. She told ABC News she is unable "to put her name on a license that does not represent what God ordained marriage to be."
According to Reuters, Davis is once again in contempt of the federal ruling against her because of an accusation by the plaintiff's attorneys that she has altered marriage forms to comply with her religious conscience objection of same-sex marriage.
Davis, who returned to work last week, after being jailed for five days on contempt of court charges, was ordered not to interfere directly or indirectly with the issuing of marriage licenses. Davis's attorney says they are asking licenses to remove her name and not be signed by a deputy clerk with her name attached.
According to the BBC and other media sources, Davis removed her name from the marriage licenses, replacing it with the phrase "pursuant to federal court order." Davis told ABC News she would return to jail if the federal courts ordered her to discontinue altering the licenses.
Davis' attorney, Liberty Counsel's Mat Staver, expressed outrage at the plaintiffs unwillingness to go along with the compromise.
"The ACLU's motion to again hold Kim Davis in contempt reveals that their interest is not the license but rather a marriage license bearing the name of Kim Davis. They want her scalp to hang on the wall as a trophy," he told Reuters.
Some Republican presidential candidates and others defending Davis, a Democrat, who was elected by the people of Rowan County, Kentucky, are arguing for the state intervene to protect rights they say are guaranteed under the U.S. and Kentucky Constitutions that allow for full expression of her religious beliefs, while providing an alternative solution, such as ordering her name removed from the form, which could still fully comply with the federal court order.
Davis is not the only clerk in Kentucky expressing dissention over being compelled to grant marriage licenses to same-sex couples. The Christian Post has reported that Casey Davis, another county clerk in the Kentucky has expressed solidarity with Davis in not granting marriage licenses to same-sex couples because of religious objections.
According to Davis's attorney, county clerks in over five states are seeking religious conscience protections from attaching their names to same-sex marriage licenses.