Kim Davis Attends State of the Union as 'Encouragement to All Christians'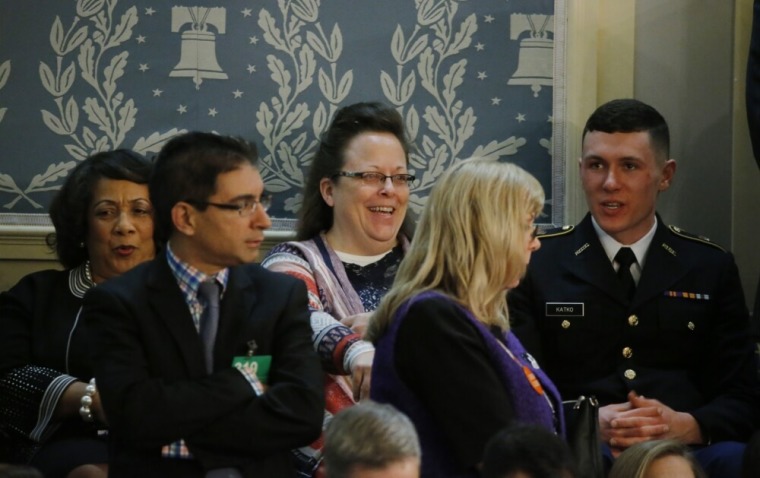 Kim Davis, the Kentucky county clerk who was jailed last year for refusing to issue same-sex marriage licenses, says that she attended Tuesday evening's State of the Union address to "encourage" Christians.
Davis, the clerk for Kentucky's Rowan County, said that she attended President Barack Obama's final State of the Union address in Washington, D.C. on Tuesday evening to represent Christians in the U.S. "who want to stay and make a difference."
The born-again Evangelical Christian added to the AFP that she hoped her presence at the event would provide "encouragement" to "all Christians" trying to defend their beliefs in the U.S.
Davis was invited to the event by Ohio Congressman Jim Jordan, who initially denied inviting anyone to attend the State of the Union, and later confirmed that his office had extended a ticket to Davis.
Jordan, a Republican, initially told The Huffington Post that he "didn't invite anyone" to the event, but later confirmed to CNN that his office had provided Davis with a ticket at the request of the Family Research Council.
The Ohio congressman told CNN's "New Day" that he wasn't trying to make a statement with Davis' invite, saying: "Everyone knows what my positions are. Marriage should be what it's always been. I've never changed on that and I never will."
Jordan went on to explain that his office "was approached by the Family Research Council. We were asked to provide tickets for Ms. Davis," adding "They asked and we had a ticket available, so we did that."
"Last night was not about that, last night was about the failed policies of this president," the congressman added.
The Liberty Counsel, the legal group that represents Davis, said in a press release that Mat Staver, chairman of the legal group, would be attending the State of the Union with Davis to serve as a "visible reminder of the [Obama] Administration's attack on religious liberty and an encouragement for people of faith to stand."
"Kim and I are encouraging all people of faith to get involved in the political process, to vote for people who support your values, and to never give up," Staver, Davis' lawyer, said in a statement. "Our 'one nation under God,' is worth our continued prayers and active support."
Davis became a focal point of the national debate over same-sex marriage in 2015 when she refused to issue same-sex marriage licenses from her Rowan County clerk's office based on her Christian religious beliefs.
Davis was jailed for five days for her refusal and then released. Her actions caused new Kentucky Governor Matt Bevin to pass a law that no longer requires county clerk's signatures to be present on marriage licenses in order for them to be recognized as valid by the state.
The county clerk told EWTN's "News Nightly" in a December interview that she believes her actions were an example of what's to come in the U.S. regarding religious liberty.
"The stand I took affects every church, every person that lives and loves God, that holds the Word of God precious and dear and intimate in their lives," Davis said in the December interview.
"I'm just the first of what's going to be very many," said Davis. "You can rest assured of that. And it's not if it happens, it'll be when it happens. And maybe my stand will encourage others who will be in the same position."