Kim Kardashian Wedding News: Kanye West Drops $120,000 on Gifts for Each Guest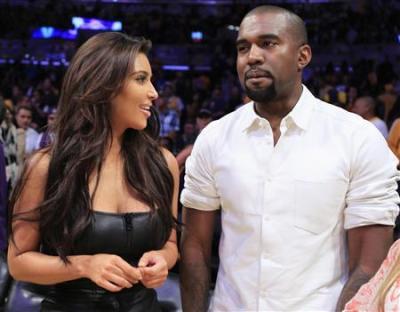 Kim Kardashian and Kanye West will reportedly shower their wedding guests with $120,000 in gifts next month and new details have emerged regarding their lavish wedding invitations.
The Hollywood power couple are often both criticized and admired for flaunting their wealth, so for many fans, it comes as no surprise that they are reportedly going all out and splurging on their big day. Approximately 200 guests have been invited to attend their May 24 nuptials in Paris and each will receive in excess of $120,000 worth of gifts on the day.
One insider claims that just the wedding invitations alone cost $1,000 each to produce.
"Kim and Kanye wanted the invites to be as lavish as possible and commissioned a couture designer to create gold silk boxes containing a photo album of their fairytale romance and a silk invite etched in real gold leaf with a clasp of natural pearls," a source told Grazia UK.
"It's the first glimpse their friends and family have had into their Paris wedding so they wanted them to be special," the insider explained.
Guests will reportedly be flown to France by private jet and upon arrival in Paris they will be checked into the Trianon Palace hotel, which is completely hired out for the wedding courtesy of Kardashian, 33, and West, 36.
"Guests will be greeted with goodie bags containing [$500] bottles of Bollinger champagne, [$200] Creme de la Mer products, handmade souvenir trinkets with Kim and Kanye's initials etched in Swarovski crystals, bottles of scent from local perfumeries and [$250] vouchers for treatments at the hotel spa," the source revealed.
"This is going to be the wedding to end all weddings and Kim wants to ensure that she and Kanye, as well as all their guests, have an experience they will never forget," the insider added.
An E! camera crew will reportedly be present to capture the entire event much like during Kardashian's 2011 wedding to NBA star Kris Humphries.
"E! plans on airing Kim and Kanye's wedding as a two-part special," another source told HollywoodLife.com. "The event is way too important to only broadcast on Keeping Up with the Kardashians."
Kardashian recently spoke about her big day and insisted that contrary to reports the wedding will be relatively small.
"We're having a super, super small, intimate wedding. As we go along, we're realizing we want it to be smaller and more intimate than people are imagining and thinking," Kardashian told Ryan Seacrest on his KIIS FM radio show on Feb. 25.