Actor Kirk Cameron releases new children's book teaching humility while others celebrate 'pride'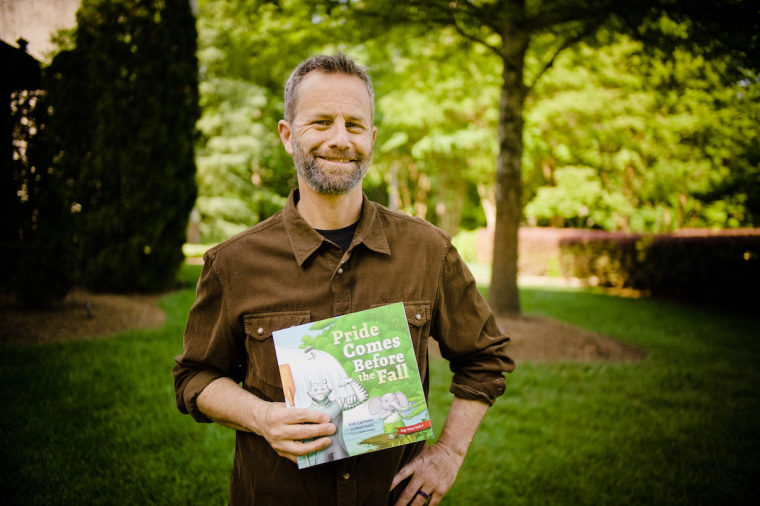 Actor Kirk Cameron will release a new children's book in June, at the beginning of what LGBT activists call "pride month." The book is designed to teach children lessons on how they can live humble lives and avoid being prideful. 
In an interview with The Christian Post, Cameron summarized his book, Pride Comes Before The Fall, as an exciting new children's book that features two main animal characters, an elephant named Kevin and a zebra-like cat creature named Valor. 
Valor and Kevin are partnered together to compete in a canoeing race against other breeds of animals who formed groups of their own as they seek to reach the finish line.
At the start of the story, Valor is upset because he didn't want to be paired with Kevin to compete in the canoeing race. All the other animals had teamed up with one another before Valor could try to partner with another animal besides Kevin. 
Valor is filled with pride throughout the book because he judges Kevin by viewing himself as far more talented and capable of winning the race without Kevin's help. Valor also sees Kevin as not talented enough at canoeing to win any race.  
Throughout the book, Valor learns that humility is key in life and he humbles himself and works together with Kevin to finish the race. 
"I wrote this book to teach kids the importance of humility," Cameron told The Christian Post. "It's so exciting to see the kids react as strongly as they did a couple of weekends ago at the Billy Graham Library. We previewed the book and the kids got so excited because the story has lots of adventure and lots of danger. And the parents loved it because it underscores the importance of humility during a time when children are being taught to celebrate the opposite, which is pride." 
"And pride, we know from experience and we know from the Bible is dangerous. The Bible says that 'pride comes before destruction and a haughty spirit before a fall' and that 'it's better to have a humble spirit with the lowly than to share plunder with the crowd,'" he added. 
"Kids deserve to know the truth and they deserve to know what's going to lead to their blessing. Nobody likes a proud person. Everybody loves a humble person. Think of your own life. Do you want a husband who is proud and full of himself? Or do you want someone who is going to put his wife and children before himself and be the servant of all? That's humility. And that's what my book teaches kids." 
Cameron insisted that it was no accident that his book is being released on June 1, which is the start of the month recognized by LGBT activists as pride month. In popular culture, the month of June — once known as the height of wedding season — is now celebrated by corporations as pride month by displaying rainbow colors affiliated with LGBT activism on their social media profiles as well as offering special editions of products that pay homage to LGBT ideology. 
"I think my book couldn't be coming out at a better time for a couple of reasons. No. 1, I'm thrilled that this book is out just in time for kids and their summer reading programs. Kids are getting out of school in June. And parents and teachers are making lists for kids to read over the summer to get them off of television and away from their phones and social media," Cameron said. 
"No. 2, this is a book that will teach kids the importance of character, especially humility. And the other reason is, this book is the first of a series of books I'm writing on the seven deadly sins and the deadliest of them all is pride," he continued.
"It's grieving to me and to millions of Americans that we have an entire month that is being devoted to celebrating a very dangerous vice. And I think that it's great that children are being attracted to the virtue of humility, not just this month in June but in every month of the year." 
Cameron described writing this book as a humbling experience for him because he struggled with pride in his past: "I think that pride leads us to compare ourselves to other people. And that's not limited to church people. It's often in church where people learn the importance of remembering. So that's why I'm so grateful. I had a problem with pride when I was a kid and it was in church that I learned about humility." 
"Christians and people of faith ought to be leading our children and the nation to be known for our humility, not for our pride. Pride causes us to compare ourselves to one another, to try to have these one-up contests to see who can be bigger, who can be better, who can be faster, who can be more famous, and that doesn't lead anywhere," he added. 
Cameron noted that pride is the worst of all sins, according to Scripture: "Pride; when it comes to self-focus, is the worst of all sins. It's the mother sin that gives birth to greed, to lust, to envy, to sloth, to gluttony and all the other things you don't want for your children." 
"What we ought to be doing is humbling ourselves, considering others' needs before ourselves and helping each other. And that's what God says in the Bible. 'Humble yourself in the sight of the Lord and He will lift you up.'" 
Trent Talbot serves as CEO of Brave Publishing Co., the conservative publishing company that published Cameron's book. He told CP in an interview that he was pleased to work with Cameron on his new book because he admires the messages and lessons the book will teach children: "I struggle with pride. We all struggle with pride and especially children. And it makes that struggle even more difficult when kids see pride being celebrated for an entire month and it can make us and children think that there's nothing wrong with pride.
"But the Bible clearly states that it's not just a sin. It's the most deadly of sins. It's a very important topic that we all need to be reminded of and especially kids," Talbot asserted.