Kirk Cameron Reveals 'Kids Begin Sexting at Age 10' and Offers Parents Help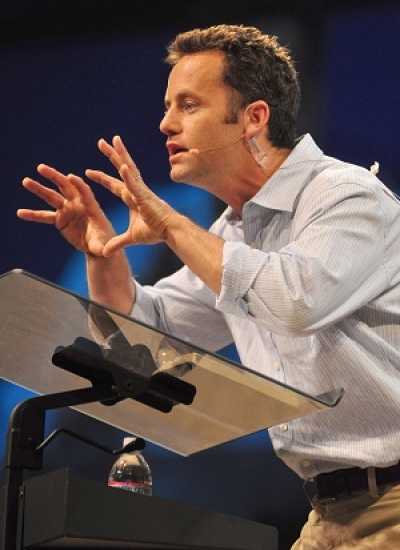 Actor and Christian evangelist Kirk Cameron warned parents that kids begin sexting as early as 10 years old.
"Did you know kids now admit that the average age they began sexting is 10-years-old," Cameron said in a Facebook video. "We also know that the average age kids get their first smartphone is 10-years-old."
As shocking as that statistic may be, Cameron said he does not want families to be alarmed.
"Don't panic, real help is on the way," the Christian minister assured.
The former "Growing Pains" actor has become quite the advocate for marriages and families in recent years and he went on to invite people to his upcoming theatrical event, which aims to help parents connect with their children in today's digitally-driven age.
Sexting is usually defined as sharing nude or nearly nude photos of through mobile or internet communication. According to Cox Communications, 80 percent of teens who have sexted are under the age of 18, and a 2012 JAMA study said over half (57 percent) of teens reported that they had been asked to send a sext before.
The actor's special two-night cinema event, titled "Kirk Cameron: CONNECT," is geared to offer "real help for parenting kids in a social media world."
The exclusive Fathom Events, CAMFAM Studios and Provident Films production will run in nearly 750 select movie theaters on Feb. 27 and March 1 at 7:00 p.m. local time (both days).
"In an online world that creates an illusion of reality and 'friends' through social media, apps and 'followers,' 'Kirk Cameron: CONNECT' pulls back the curtain to the benefits, dangers and boundaries that every parent, teacher, pastor or youth leader should consider while monitoring and utilizing technology in our children's lives. As Cameron reminds parents, 'The heart of the battle is really the battle of the heart,'" a statement shared with The Christian Post says.
The documentary features commentary from notable guests such as Dr. Ian Armstrong (neurosurgeon), Kathy Koch, Ph.D. (founder of Celebrate Kids, Inc.), Tim Woda (founder of uKnowKids), Pastor Ken Graves (Calvary Chapel, Bangor, Maine), and Mark Gregston (founder of Heartlight).
Also participating in the film are real-life families — parents and young adults who share their own personal journey of how technology is impacting their lives and relationship.
"God-fearing parents can find confidence and guidance when it comes to the challenges of parenting in our technology-driven world, knowing that God has fully equipped us for the sacred calling as a parent," Cameron shared in the statement. "We have resources to prepare our children as they learn their purpose and identity, and responsibly use technology to understand family, friends, God and the world around them."