Kirk Franklin Admits He Was Afraid to Release New Song, 'Wanna Be Happy'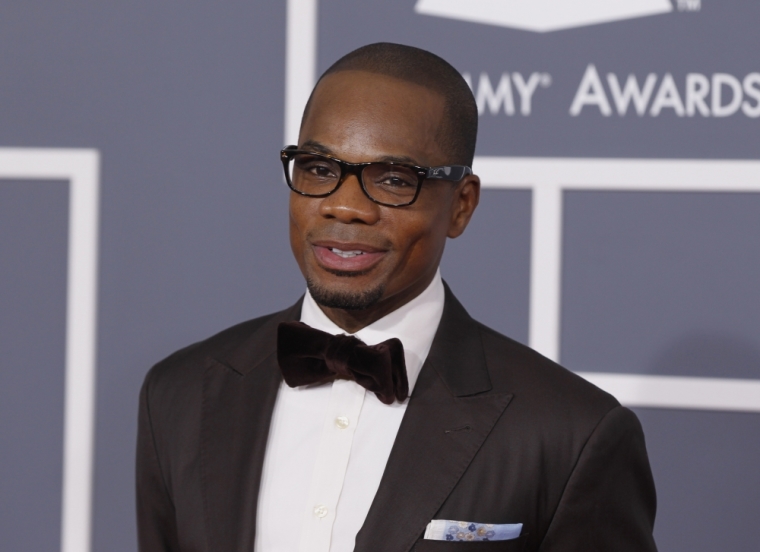 Now that gospel music artist and producer Kirk Franklin has released his first song in four years, "Wanna Be Happy," he admits that he felt fearful in doing so.
Franklin, 45, took to his Twitter account to thank fans for supporting the song, which he premiered on Season 8 of BET's "Sunday Best" music talent show that he executive produces and hosts. His message on Twitter read: "I can't thank you enough for the love you've shown my new song," he tweeted. "Every artist is afraid, I'm just not afraid to admit it! WANNA BE HAPPY?"
Although Franklin heads his own record label, Fo Yo Soul Recordings, and has his own radio channel Kirk Franklin's Praise on SiriusXM, he is now focusing on releasing his own material. The recording artist, songwriter and producer explained the concept of his new song, "Wanna Be Happy."
"Every human being was wired with the desire for happiness. And we will try different things all in the pursuit of that feeling. With this song, I'm saying, if you really want to be happy, you have to start with the originator," Franklin said in a statement shared with The Christian Post. "My goal is to try to lead people to the manufacturer of their souls."
With his numerous endeavours, it's hard to believe that it's been four years since Franklin's last solo album. He previously told The Christian Post why it was important for him not to rush the process.
"I am praying through that process right now. [I'm] just praying and asking God to give me what He wants me to do next," Franklin told CP last year. "So yes, that is on my radar ... not trying to rush it."
The gospel musician was previously a choir director who burst onto the scene releasing music with successful gospel choirs like The Family, God's Property and One Nation Crew. It has been well over a decade since he went solo, but Franklin does not rule out the possibility of returning to his original format of leading choirs on records.
"I don't really know what my future holds in that area, but I am always open to figuring out what's different for me, what's fresh, what's something that I could do that would be new for people," Franklin previously told CP. "So you know, I always think about it like that. If it feels fresh and exciting, I'll always consider [it]."
Franklin is a decorated veteran in the gospel music industry, with Grammys, GMA Dove awards and Stellar awards added to his resume. For two decades the musician has mastered the art of creating quality gospel music and insists that the most important quality in the music is sincerity.
"It should reflect wherever we are and our personal spiritual growth with God. If that's not our top priority, then our artform is going to be very shallow," Franklin previously told CP. "It should not be just for the sole purpose of the artform itself ... if it's that, we'll suffer. We have to make sure people can feel the sincerity of our own testimony and our own journey so they know this is something that is really real for us."
Franklin believes gospel music should be in tune with the culture of the world instead of focusing solely on the church.
"People don't live at church, they live in the real world. So music has to reflect how people live, what they're doing as they go through their trials in life," he said. "So I just hope and pray that we're always able to tap into that and be that voice for people."