Kirk Franklin, Daughter Embroiled in Fiery Twitter Debate Over Trump's Refugee Ban
Gospel music star Kirk Franklin and his youngest daughter Kennedy got embroiled in a war of words with a Twitter user Sunday over President Donald Trump's controversial executive order on refugees. The musician issued a stern warning to the user after he felt his daughter was threatened.
The argument stemmed from Franklin's public disapproval of the executive order President Trump signed on Friday that suspended all refugee admissions for 120 days. The order also indefinitely barred Syrian refugees, and blocked citizens of seven Muslim-majority countries from entering the U.S. for 90 days, namely: Iran, Iraq, Libya, Somalia, Sudan, Syria and Yemen.
As protests against the order spread at airports across the country on Saturday, Franklin entered the fray with a tweet that has since gone viral with thousands of likes and retweets.
"I am a Christian who would rather sit at the table with a Muslim brother than ban him from a home that wasn't originally mine...," Franklin wrote.
A day later, Jay Carper of the The History Carper reacted to Franklin's comment and the musician took offense to it.
"@kirkfranklin I trust u'll be leaving ur doors unlocked tonight. Oh & ur brothers want to know if u have a daughter," Carper tweeted.
"@HistoryCarper yes I have a daughter and the ability to protect her. Please come so I can have a reason to introduce you to it in Jesus name," Franklin responded in a tweet which forced rapper Lecrae to remind everyone of Franklin's Texas roots.
Other commenters like the Twitter page of Humble Beast Records, a "family of creatives, pastors, writers, theologians, and musicians who leverage their talents to see the Gospel go out into the community and transform lives," quickly interpreted Franklin's veiled response to mean that he has guns.
"Kirk like..ummm. I'm from Dallas homie. I gots the burners," the page noted.
Rapper Lecrae also responded with a meme: "Don't mess with Texas."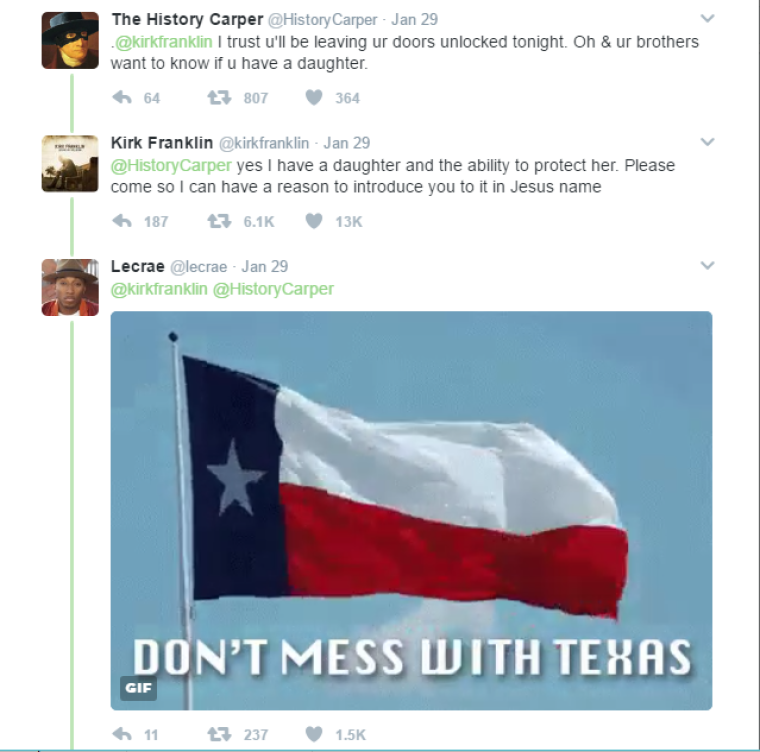 Carper later suggested that his comment to Franklin was not meant as a personal "attack" on his daughter. He noted that he was simply pointing out that welcoming refugees without appropriate vetting would make America more vulnerable.
"@HistoryCarper lol, brother, you attacked MY daughter. I just let you know that I wasn't having any of that," Franklin wrote.
"@kirkfranklin How did I attack your daughter? By revealing how you are making her more vulnerable?" argued Carper.
Franklin's daughter, Kennedy, who is a journalism major at Baylor University, insisted, however, that Carper had attacked her in his comments.
"@HistoryCarper @kirkfranklin you did come for me sir and as his daughter i don't appreciate it and hope you can get some more class," she tweeted.
Carper shot back: "@kenn_elizabethh @kirkfranklin Don't fall for the lies. I didn't threaten u. Islam threatens you."
Kennedy, who also opposes Trump's executive order, has made her position on the matter very clear on social media.
Her father later attempted to tamp down tensions by encouraging better communication in a series of tweets.
"Morning family. Since my tweet about Muslim ban yesterday, my timeline has been filled with people fighting with each other to be right... Using God as their defense and attacking my theology for using the word 'brother' to define my relationship with someone different than me. It was a term of endearment. But because we have been fed fear we're quick to react and not give grace to each other," he wrote.
"We need an international class on communication and agreeing to disagree without attacking character. This can't continue... Everyone will lose. No one wins when the agenda is to be right. I don't know everything...no one does. But pride will kill this country," he said.