Korean Christians Want 'Unification Through Gospel,' 'Willing to Become Martyrs' for Worship in North Korea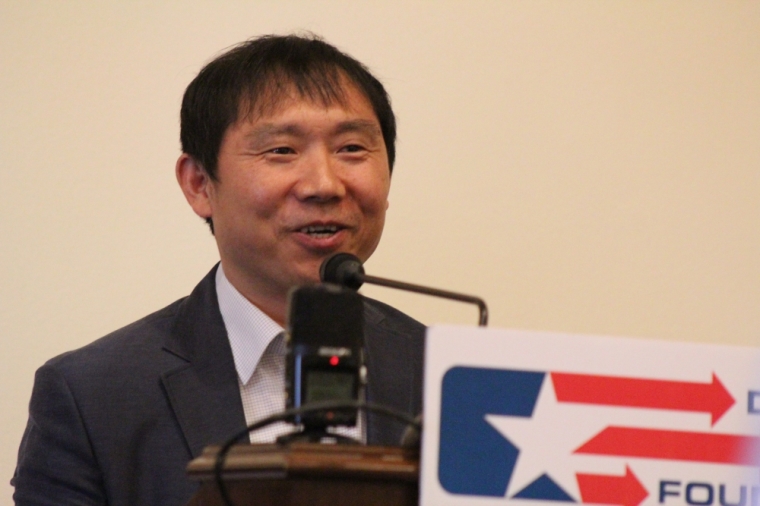 WASHINGTON—While speaking at a North Korea Freedom Week forum on Capitol Hill Friday, the first North Korean defector to be ordained as a Methodist minister asserted that Korean Christians not only want to topple the regime of dictator Kim Jong-un but want the unification of North and South Korea to occur through the Gospel.
Kang Chul-ho, who established the first North Korean defector church congregation in South Korea and is also the vice president of the North Korean Christian Association, spoke at the forum entitled "Ending the Kim Regime's Reign of Terror in North Korea: What Must Be Done," and explained that the socialist regime fears the power of the North Korean defectors more than it actually fears the military strength of South Korea.
"This is our 12th meeting of North Korea Freedom Week and I come to realize more and more each time I attend these rallies, there is an important role to be played by North Korean escapees," Kang explained. "The saying goes that Kim Jong-un in a meeting stated that he was not afraid of the 600,000 military personnel in South Korea but he was concerned about the North Korean escapees and that these escapees were a threat to the republic."
He continued by explaining that the regime is more fearful of the those who risked their lives to leave the country in search of freedom and dignity because he knows that they eventually will come back looking to liberate their homeland, where currently, Christian worship is not tolerated.
"The problem is that South Korean people do not want to sacrifice and the church in South Korea does not want to become martyrs," Kang said. "For North Korean escapees, we have homes back in North Korea and we are willing to sacrifice and we are willing to become martyrs."
Kang, who escaped from North Korea into China in 1995 after witnessing his father being executed for speaking out against the regime, was first called to God by a Chinese woman that took him into her home and told him that God saved him for a reason and that he should serve God.
After going to seminary school in China and arriving in South Korea in 1997, Kang started the Saetu Church and made it the church's mission to eventually tear down the large statue of former North Korean dictator Kim Il-Sung and plant the church in that exact spot when North Korea is finally liberated.
"What do the South Korean people want? They want peaceful unification. What do the Christians want? We want gospel in North Korea and unification through Gospel," Kang demanded. "When it comes to peace, there has to be people who work very hard at it. When it comes to Gospel, there has been people who are willing to become martyrs for the cause."
Because Kang has been such a vocal advocate against the human rights abuses in North Korea and has continually expressed desire to see the communist government toppled, he and other leaders of North Korean defector NGOs have faced several threats to their life from the regime. He added that he even received a threat for taking part in the North Korea Freedom Week rally that was held in Washington, D.C. and New York City this week.
"Prior to my coming to the U.S. for the freedom week rally, there was on the North Korean internet, a threat that was levied on my life and many other people who would be attending the rally and they said that they would kill us," Kang said. "I shall not be threatened or in fear and shall stand strong because I know people are out there who are strong supporters."
"The next North Korea Freedom Week will be held in [the North Korean capital of] Pyongyang , I believe," Kang stated, followed by an eruptive applause.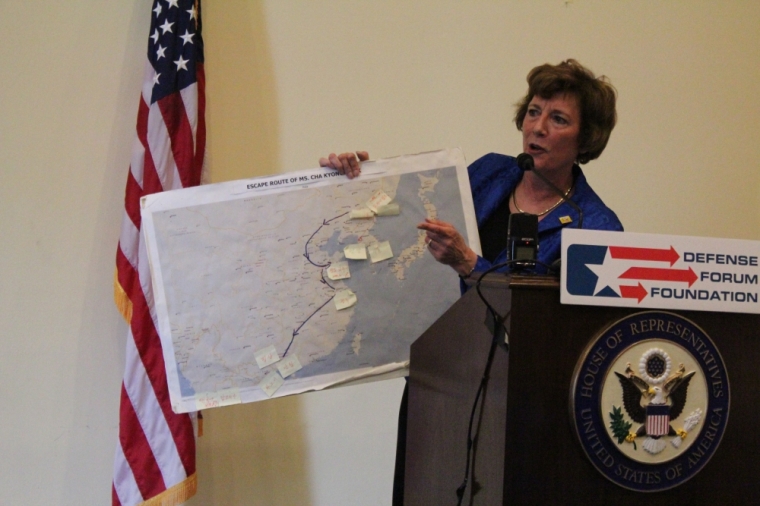 North Korea Freedom Week is co-chaired by Suzanne Scholte, president of the Defense Forum Foundation, who said that although no one is quite certain the regime will collapse, it will happen soon.
"A common question I get since I began in 1996 is 'When is the regime going to collapse?'— Tomorrow!" Scholte exclaimed. "That's exactly the way I always answer, 'Tomorrow,' because we don't know when it is going to happen but we know that it is coming soon and it is coming soon because of these people who are fighting and speaking out and not forgetting those they left behind."
A number of North Korean defector-run NGOs have helped to make significant strides in the last decade toward processing information in and out of North Korea, so that the North Korean citizens' eyes can be opened to how abusive their government truly is to them. It is through their efforts, Scholte said, that the liberation will be possible.
"Nobody is forcing us to do this work but because we love our hometowns, we accept this work as our destiny," Kim Young-Il, who represents the NGO called People for Successful COrean Reunification, told the audience.
"Even though these conditions are tough, we will not give up because our brothers and sisters in North Korea are facing painful political persecution and are being sent to die in detention centers," he continued. "It is our work as North Korean defectors… is to lead in human rights work and piece together and make North Korea a society where Democracy can [live]."