Korn Bassist 'Fieldy' Describes 'Mindblowing Encounter' With Jesus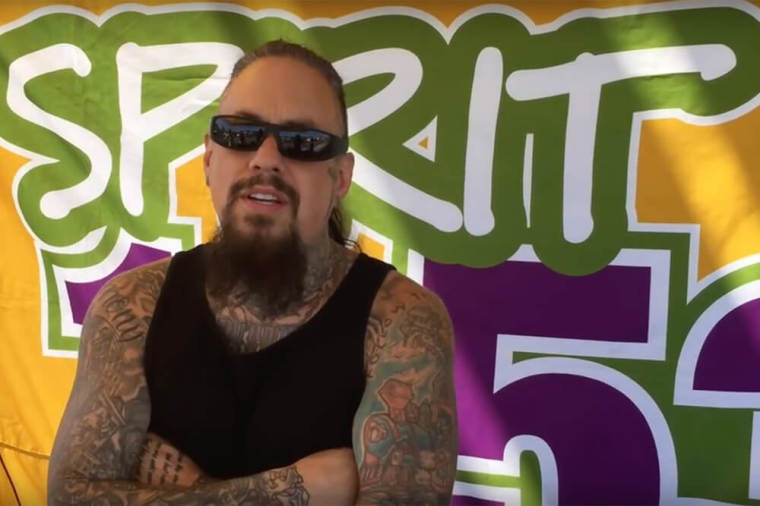 Bassist Reginald "Fieldy" Arvizu of the nu metal band Korn shared about his "very mindblowing encounter" with Jesus, just as it happened also to the band co-founder Brian "Head" Welch, and said that's one reason why he is now "easier to get along with."
"It's a very mindblowing encounter when it happens; it's undeniable," Fieldy said during an interview with Spirit 105.3. "It's completely so real that it almost will knock you on your back for a year before you realize, 'Wow! This is really going on.' So, yeah, ten years later, every single day that goes by, it's just undeniable," he added, according to the transcript of the radio show published by BlabberMouth.net.
"I've heard friends of mine say before… They're, like, 'It's no big deal to become a Christian. All you've gotta do is change everything.' [Laughs] That's why I think people are afraid — because they think, 'Well, I'm not ready for that,'" the bassist continued. "Well, you're never gonna be ready for that. Jesus says, 'Come as you are.' He wants to clean you up. That's why people get religion mixed up. 'Ah, I see you've become religious.' I'm, like, 'That's where you have it twisted. I'm not religious.' I had an encounter with Jesus, and I want a personal relationship. And that's the only difference, I find over the years, that people keep confusing."
Korn guitarist Welch left the group in 2005 after becoming a Christian amid his struggle with drug addiction, and rejoined the band eight years later.
"If it was a crazy party still, I would not have gone back," Welch explained recently. "I mean, I'm around parties and we go to bars sometimes. I hang out with my friends and some of them drink mildly, but if there was, like, cocaine and bong rips thrown in my face every day, I couldn't do it."
Taking about his conversion, Fieldy said, "I mean, the difference is, I would say, for myself, with my encounter with Christ, I'm easier to get along with [laughs], you know. I can love people better, so my band sees it as a better thing, not as a threatening thing. And I feel like so many people, they can actually accept Christ and push people away by being a little too self-righteous. People are, like, 'I don't want nothing to do with that guy.' Well, then you're not loving your neighbor and yourself. You've gotta love people right where they're at, and I try to do my best doing that."
Explaining why he didn't leave the band, as Welch did, Fieldy added, "… It was a different situation, because he had a situation with his daughter where he had to be a full-time parent and he had to make this choice. And at the time, if that happened to me, I might have done the same, but I didn't have those problems. So when I did have my encounter with Jesus, it was… everything was fine. I mean, I was at my bottom, which I thought was bottom, but when I look back now, it wasn't bottom; it's just I didn't have a situation where I had to leave [the band]. So that's why I was kind of just stable where I was at. And I'm slower to decisions anyways, so I just kind of waited."
In a memoir, Got The Life: My Journey Of Addiction, Faith, Recovery And Korn, Fieldy wrote about his struggles with drug and alcohol addiction during the band's early years and how he became a Christian.
In his first book, Save Me from Myself: How I Found God, Quit Korn, Kicked Drugs, and Lived to Tell My Story, Welch also wrote about his struggles, his secret addiction to methamphetamines and also his miraculous salvation through Jesus.
In a 2013 interview with The Christian Post, Welch said, "All I know is that I was chasing all that stuff and it left me empty. And I was a complete empty shell – just totally like nothing inside. I had everything. I had the money; there was girls everywhere, all the drugs – pills, doctors' prescriptions, illegal drugs, everything. And it was just empty, so empty. And as soon as I went to church, I felt the love from Jesus. That's when I was fully satisfied. And I was totally done with everything in the world because I was satisfied inside, and I got filled up."