Kurdish Forces Retake Kobane Hill in Major Battle With ISIS Over Key Border Town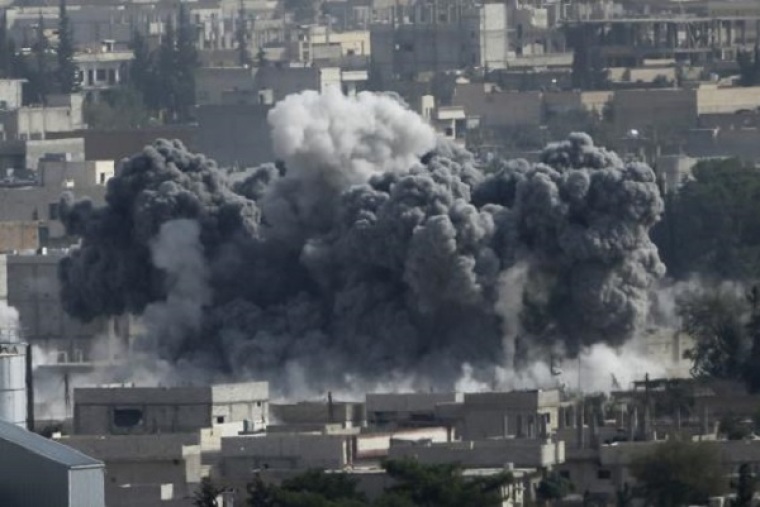 Kurdish fighters have reportedly recaptured a strategically important hilltop west of Kobane in their fight against terror group ISIS. The major battle over the Syria-Turkey border town has raged on for well over a week.
BBC News reported on Tuesday that the Kurdish victory was helped by airstrikes from a U.S.-led coalition that has hit ISIS targets throughout Syria and Iraq. The Tall Shair hill had initially been captured by Islamic militants over 10 days ago.
The Kurdish town, which has been besieged heavily, was hit by three-suicide attacks from ISIS on Monday. Reuters reported that militants detonated a truck laden with explosives in Kobane's northern district, which has seen some of the heaviest clashes between Kurdish and ISIS forces.
"They tried to advance toward the (border) crossing, but the (Kurdish) People's Protection Units repelled them ... and they were not able to push forward," said Kurdish official Idris Nassan, noting that two Kurdish fighters had been wounded during the suicide attack.
The Syrian Observatory for Human Rights had warned that ISIS militants are making advances inside Kobane, with spokesman Rami Abderahman saying that as much as 50 percent of the town had been captured.
"They now control the cultural center, which means they have advanced further inside the town," Abderahman said.
Over 160,000 people have reportedly fled the border town. BBC noted that ISIS hopes victory will give them unbroken control of a long stretch of the Syrian-Turkish border.
In a previous interview, Nassan said that Kurdish fighters have vowed to fight on, and called on more help from western powers.
"We didn't choose this war, but we are obliged to fight," the Kurdish official said.
"When I talk to people here in Kobane, they thank the international community, and the United States, they thank the countries who are striking the ISIS. But everyone believes it is not enough."
A report from the U.N. Office for the Coordination of Humanitarian Affairs last week said that ISIS' recent capture of the city of Heet in Iraq led to 31,000 families fleeing the town and the surrounding areas.
It added that since January 2014, close to 1.8 million people have been displaced across Iraq, and nearly half of them have sought shelter in the Kurdish region.
While NGOs and humanitarian agencies have been responding to the crisis, the U.N. said that a new influx of displaced people will stretch resources, especially with harsh winter temperatures approaching. It added that some of the challenges winter will bring include "the heightened risks of landslides, the demands of the displaced for cooking and heating fuel, warm clothes, weatherproofed shelters and infrastructure is also rising."
"The humanitarian community admits it is ill prepared for the adverse climatic conditions through a combination of circumstances, including a lack of funding," it added, noting that displaced people living in informal camps and settlements, including sub-optimal shelters, are most at risk.