Lakewood Church's Ramiro Garcia Shares Inspirational Story on 'American Idol' (VIDEO)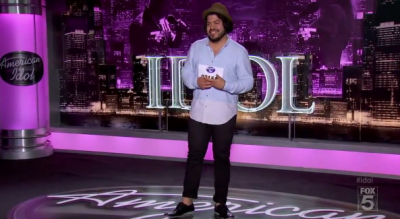 A worship leader from Joel Osteen's Lakewood Church in Houston, Texas, shared his inspirational story with the nation last Thursday during an episode of "American Idol" auditions.
Although Thursday's segment of the popular show was rife with the usual jokester auditions, 28-year-old Ramiro Garcia captured the spotlight by sharing his heartwarming story of triumph.
The 28-year-old Houston native was born without ears. Doctors gave his parents the worst case-scenario prognosis, telling them that their son would likely grow up to be mute -- unable to speak or hear.
Despite the grim prediction, Garcia underwent years of surgical procedures and doctors were eventually able to create an ear canal for the young boy. Doctors also discovered that he had an eardrum -- a discovery that meant that Garcia might have a chance to overcome the tremendous obstacles set before him at birth.
"Lucky through time and through faith I have a voice to speak with, and even a voice to sing," the Lakewood worship leader told judges Jennifer Lopez, Steven Tyler, and Randy Jackson during his audition.
The young singer sang "Amazing Grace" for the judges. Garcia opted the to sing the 2006 version of the worship song written by one of the world's most famous Christian music artists, Chris Tomlin.
"He sings on another level, different to this world," Garcia's tearful and proud father told "American Idol" host Ryan Seacrest.
When Garcia walked out of the audition room with confirmation showing he would be heading to Los Angeles to compete on the popular television show, his family could hardly contain their joy.
"Here's the proof that I can make it, that I can fight through and be a part of this thing," Garcia said.
In its 10 years on the air, "American Idol" has proven to be a forum for talented Christian artists to showcase both their vocal capabilities and their faith.
Seven out of 10 "Idol" winners have reportedly been Christian -- the most famous among them being country singer Carrie Underwood, who since her 2005 win, has sold over 12 million albums.
Watch Ramiro Garcia's audition in the video below: