Lamborghini Donates $200K Custom Car to Pope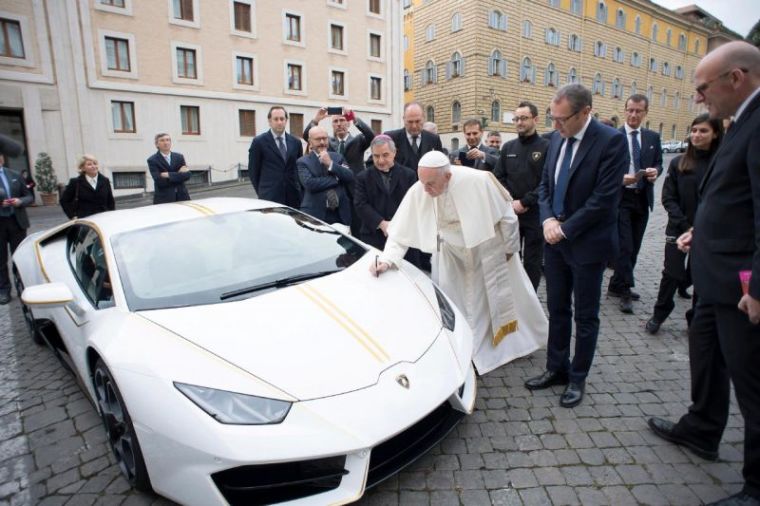 A custom approximately $200,000 Lamborghini Huracán RWD donated to Pope Francis Wednesday by the luxury car maker Automobili Lamborghini is expected to fetch an even higher price at an auction to help the pontiff's four favorite charities next year after he blessed the vehicle and sealed it with his autograph.
The Italian car maker, said the customizations to Pope Francis' Huracán RWD were made by the company's customization department. The car displays white and yellow stripes that run along the body in homage to the colors of the flag of Vatican City.
Proceeds from the auction of the car expected to take place on May 12, 2018, is expected to go to the papal charity "Aid to the Church in Need" for rebuilding homes, churches, and public buildings in Iraq's Nineveh Plains, the Holy See Press Office said.
Christians who had taken refuge in Iraqi Kurdistan will be assisted with finally returning "to their roots and recover their dignity" the Vatican said. Another charity expected to benefit from the auction is the "John XXIII Community", which offers protection and aid for women who have been victims of human trafficking and prostitution.
Gicam and Friends of Central Africa, two Italian charities which work mainly in Africa will also benefit from the proceeds of the auction. These charities fund projects that provide medical care for women and children.
The ceremony of presentation to Pope Francis was held in the Vatican, attended by Stefano Domenicali, chairman and CEO of Automobili Lamborghini. Also present were a delegation of the company's management board and two of the technicians who worked on building the car.
This isn't the first time Pope Francis has auctioned off an expensive gift to help the less fortunate. In 2013 after he was gifted a Harley Davidson bike, he auctioned it to raise money to refurbish a hostel for the homeless and a soup kitchen run by charity Caritas near Rome's Termini station.
According to The Telegraph, despite retailing for around $13,000 the bike sold a year later at an auction in Paris for $327,000. A leather Harley-Davidson motorcycle jacket, also signed by Francis, sold for $77,000 the publication said.
Responding to Pope Francis' gesture at the time, Msgr. Enrico Feroci, the director of the Caritas of Rome Diocese, said: "It's a precious gift which has made us happy once again, made us feel the closeness of our Bishop to the poor of the Church of Rome. We are extremely grateful to Pope Francis for this."
Earlier that same year Pope Francis, who is known for his frugality, warned a group of trainee priests and nuns against using "the latest smart phone, the fastest car."
"It hurts my heart when I see a priest with the latest model car," he said. "If you like the fancy one, just think about how many children are dying of hunger in the world."