Largest Ever 'Drive' Conference Kicks Off With Call to Create Conversations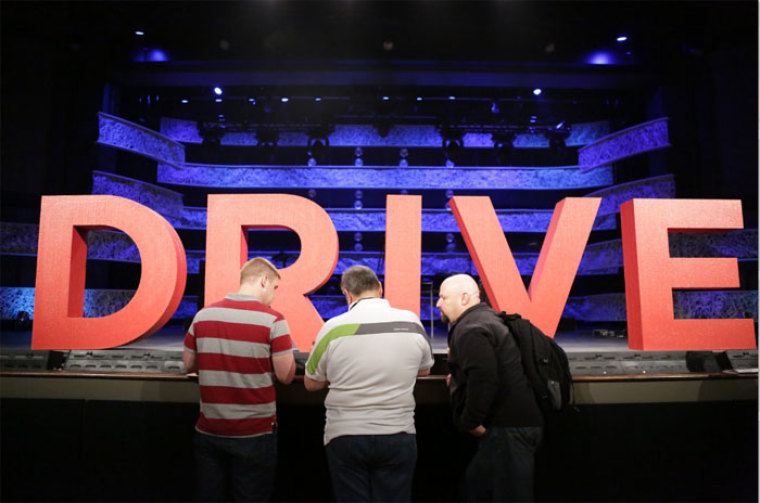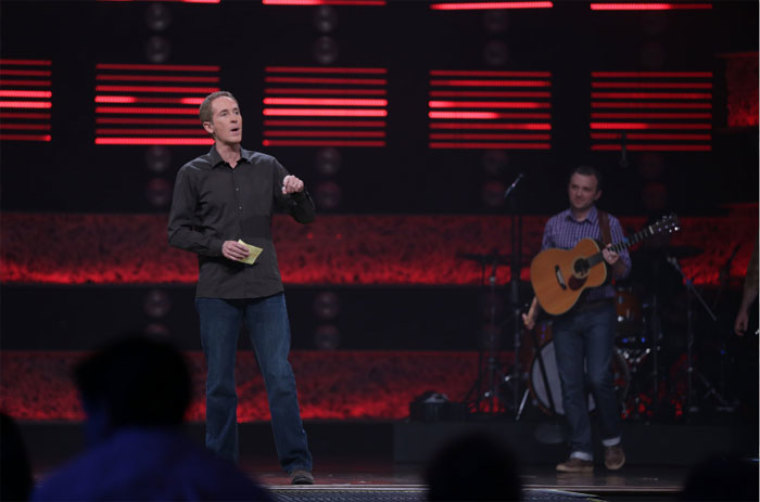 View Photos
ALPHARETTA, Ga. – Over 2,400 pastors and ministry leaders representing 700 organizations and 25 countries filled North Point Community Church in Alpharetta, Ga., Monday evening to kick off the Drive Conference, a gathering designed to help churches keep up with the cultural demands of ministry.
"We are so excited that you're here at Drive and we look forward to hosting you, sharing with you, and learning from you," Andy Stanley, senior pastor of North Point Community Church and founder of North Point Ministries, told an energized audience, adding that the conference tag line is "Drive, because we're not there yet."
"We're a big church but there's a lot of stuff we're still figuring out and we're constantly learning from each other," he said. "We've discovered that size isn't the important issue, but rather a sense of creativity and shared ideas."
This is the seventh Drive Conference and the largest number of attendees ever, and this year's theme is "Go Further Faster." The gathering sold out weeks ago, and hundreds of people have registered to watch online. "We all want to grow and see God do more, and our prayer is that this conference will leave you inspired, motivated, challenged, and equipped to go further faster in your ministry," said Clay Scroggins, lead pastor at Browns Bridge Community Church in Cumming, Ga., and one of this year's emcees.
In the opening message, titled "Breaking the Ice," Gavin Adams, lead pastor of Watermarke Church in Canton, Ga., challenged pastors and ministry leaders to personally engage with unchurched people and focus on conversations rather than confrontation and condemnation.
Highlighting the apostle Paul's exhortation in Colossians 4:3-6, Adams spoke of what it means to "be wise in the way you act toward outsiders" and emphasized the need for followers of Christ to listen intently, seek to understand, and build relationships rather than simply pushing an agenda or lecturing others about their behavior.
"Conversations create connections," said Adams. "We understand this concept so well in every other relationship, but we struggle with this when it comes to interacting with 'outsiders' – those who don't believe what we believe."
Adams explained that while pastors care deeply about the condition of the hearts of people in their community, their words and actions can sometimes push people away from the church rather than bringing them in. "Do you talk with people or preach at people?" he asked. "When I look at the world today, I don't see us clamoring to have conversations with outsiders."
Churches must be designed for conversations, an idea that will impact everything from the messages that are preached to the environments that are created, said Adams. "Confrontation and condemnation create ice, but conversation breaks the ice and unlocks a person's heart," he continued, citing the example of Jesus' interaction with Zacchaeus the tax collector in Luke 19. "Over time, we will gain trust, have influence, and be able to introduce them to Jesus."
Encouraging attendees to "lean in to the journey and tension of conversations," Adams concluded that those in authority must take the lead and "intentionally put yourself in places to interact with people who are far away."
Adams' message resonated with attendees. "I was struck by the idea that conversations are the journey of talking, and we must engage with people in order to build connections that lead to strong relationships," said Leslie Marshall of Atlanta, Ga., who is actively involved in global missions and attending Drive for the first time. "Using conversations to get to someone's heart takes time, but that is how God wants to save the whole world – one conversation, one heart at a time."
Monday's session ended with a time of communion and worship. "Communion connects us to believers all over the world and all the way back to when our Savior did this with his disciples," said Stanley. "Christians have been doing this for 2,000 years, and tonight we get to share in that tradition together."
The Drive Conference continues through March 13 and consists of four main sessions along with multiple breakout sessions and ministry workshops. All of the conference speakers and facilitators are on staff with North Point Ministries and their strategic partner churches.