Lauren Daigle mentors 'American Idol' finalists, says show gave her 'something to believe in'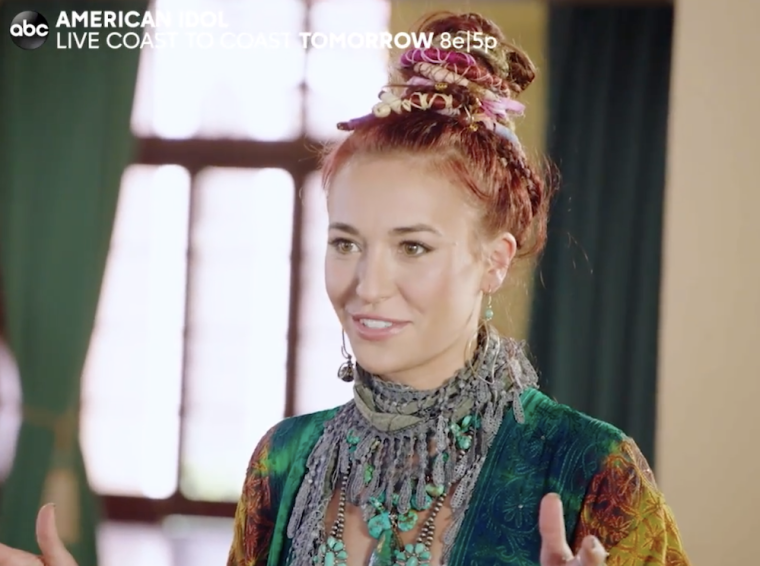 Christian singer Lauren Daigle was the celebrity guest mentor on Sunday's "American Idol" and told the top six contestants that the vocal competition was instrumental in giving her something to believe in.
"When I was 17, I tried out for 'American Idol'. I look back on that, 10 years ago, and I think, man, the journey has been so incredible. Like it really has. This show gave me something to believe in, it really did," the Grammy Award-winning artist said to the 'American Idol' finalists in an exclusive clip premiered by People magazine before the episode.
Daigle auditioned for Simon Cowell, Kara DioGuardi and Randy Jackson a decade ago, but now the 27 year old is back to share some tips she acquired in her successful career.
During the live show one by one the contestants sung her praise.
Contestant Madison VanDenburg admitted she was nervous to meet Daigle.
The Christian singer was touched by Alejandro Aranda's songwriting and after Daigle's instruction, Judge Katy Perry told Aranda it was his best singing yet.
"To be able to work with Lauren is a huge blessing," contestant Laci Kaye Booth testified. "Lauren brought something out of me that I didn't know I had."
Daigle told contestants that she once "scrubbed toilets " to make enough money for voice lessons. Her words really resonated with Jeremiah Lloyd Harmon who also got his start scrubbing toilets as a janitor for his father's church.
"You can see he's wanting to be released from the cage, he's ready to fly," Daigle said of openly gay pastor's kid, Harmon.
The "You Say" singer advised singer Wade Cota to give himself the "freedom to fail." Cota expressed his gratitude and told America he was so happy to have met her and it helped him rid himself of all the "bad energy"
Lastly, Daigle ended her mentorship by helping her hometown neighbor, Laine Hardy learn how to dance.
Daigle's instruction paid off and each performer received high praise from judges, Perry, Lionel Richie and Luke Bryan. At the end of the night, Harmon and Booth did not receive enough votes from America to advance in the popular singing competition but the judges stepped in to give Booth one more chance.
Daigle has been seen often on mainstream television recently. The singer gave a show-stopping performance of her Christian hit song, "You Say," at the Billboard Music Awards last week and swept the awards in her genre.
Daigle won top Christian artist, top Christian album, and top Christian song and performed a stripped-down, intimate version of her song right before Mariah Carey received the icon award.
Daigle's last release, Look Up Child debuted at No. 3 on the Billboard 200 chart upon its release in September, beating out popular secular musicians such as Drake, Ariana Grande, Nicki Minaj and Cardi B that week. Since then, she's been a Billboard favorite and has been in the mainstream circuit sharing her Christian music and her story.