21 Law Professors to Obama: Dept. of Ed. Guilty of Overreach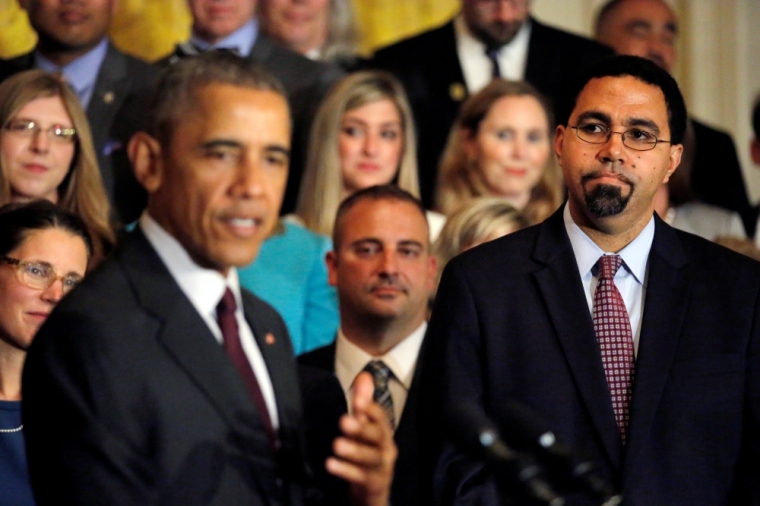 Twenty-one well-respected law professors, including Harvard's Alan Dershowitz, are arguing that Obama administration directives detailing how universities and colleges should react to allegations of sexual harassment are infringing upon due process and free speech.
In an open letter published on Monday, the law professors warned that a series of guidances issued over the last six years by the Department of Education's Office for Civil Rights (OCR) explaining how colleges must define and respond to sexual assault and sexual harassment allegations are an act of federal overreach.
The letter explains that although OCR should take action to make sure that institutions can't downplay or ignore sexual assaults or harassment, there is a major issue with the approach that the administration has taken.
Definition of sexual harassment 'unlawfully expanded'
"In pursuing its objectives, however, OCR has unlawfully expanded the nature and scope of institutions' responsibility to address sexual harassment, thereby compelling institutions to choose between fundamental fairness for students and their continued acceptance of federal funding," the letter states.
The letter cites an OCR sexual harassment guidance from 1997 that expanded sex discrimination in Title IX to include sexual harassment. Since then, the OCR has expanded the definition of sexual harassment and "imposed a growing range of responsibilities on colleges to curb such conduct."
"As a result, free speech and due process on campus are now imperiled," the professors argue.
No notice or public comment period
As the OCR has issued a series of "guidance documents" instructing how schools should handle sexual assaults, the professors state that those documents include words like "must," "requires," and "obligatory" without providing legal basis.
Additionally, the context of those words make the guidances seem more like directives that would require notice and public comment period before being enacted, as required by the American Procedure Act.
"Furthermore, the OCR has instituted numerous compliance investigations against universities, compelling institutions to implement the policies and procedures prescribed in these documents," the letter explains.
"Several of these directives and enforcement actions have effectively nullified a landmark high court definition," the letter continues. "In Davis v. Monroe, the U.S. Supreme Court defined 'sexual harassment' under Title IX as limited to conduct that is 'severe, pervasive, and objectively offensive.'"
Neutrality of investigators impacted; free speech hindered
Along with lowering the threshold of culpability, the OCR now forces colleges to allow accusers to appeal decisions, disallows cross examinations and restricts the role of lawyers and attorneys, the letter states.
"Unfortunately, OCR's relentless pressure on institutions to respond aggressively to sexual assault allegations has undermined the neutrality of many campus investigators and adjudicators by forcing them to consider the broader financial impact of their actions," the letter reads.
In response to the broadened definition of sexual harassment, the letter explains that many college campuses have instituted "free speech zones" and drastically limited freedom of speech by banning use of offensive language, which can be very subjective and sometimes used to limit conservative opinions on issues like gay marriage.
Private colleges not required to ensure due process
The letter explains that although both public and private colleges are required to comply with Title IX, only public colleges and universities are required to ensure protections of due process.
"These due process protections generally include notice of the 'specific charges' and the opportunities to be heard and present evidence on one's behalf," the letter explains. "Courts will not interfere with public university policies or sanctions as long as those policies and sanctions are supported by 'some reasonable and constitutional ground.'"
"Courts have routinely refused to hold free speech or due process requirements binding on private institutions, in the absence of specific state law provisions granting their students such rights," the letter adds. "Instead, courts evaluate an institution's actions in the context of an institution's express or implied contractual relationship with its students, the terms of which are interpreted to require compliance with the institution's rules and procedures. As a result, courts allow private institutions broad discretion in their disciplinary procedures and decisions, limiting review to whether the decision-making was 'arbitrary and capricious.'"
Professors call for clarification
The professors call on the OCR to clarify which directives are considered to be simply guidance documents and which documents are actual directives.
The professors also assert that any documents that are just for guidance need to be rewritten to exclude "obligatory wording." Additionally, the letter calls for free speech and due process to be restored.
Along with Dershowitz, three other Harvard law professors signed the letter — Richard D. Parker, Charles Donahue and Elizabeth Bartholet. Also, law professors from Michigan State, George Washington University, University of Wisconsin, University of Miami and Stanford University signed the letter.
Prior to the letter from the professors, The American Association of University Professors released a report in March detailing how the OCR guidances have negatively impacted due process on campuses and suggested that Title IX does not require such a "broad sweep."
According to Inside Higher Ed, the OCR sexual assault mandates are currently at the center of two lawsuits.