Leah Remini Talks Scientology Split, New Hope in Catholicism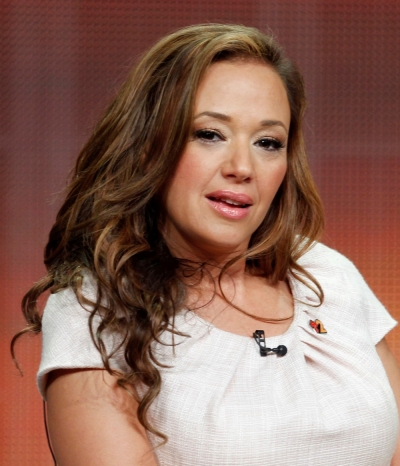 It's never too late to reconnect with God.
That's the message that actress Leah Remini hopes to convey in her new tell-all Troublemaker: Surviving Hollywood and Scientology. Along with a message of hope, the memoir intends to pull back the covers on the secretive and often mysterious Church of Scientology, a religion that Remini espoused for over 30 years, which doesn't take kindly to outsiders.
After her 2013 split with the church, which counts high-profile celebrities like Tom Cruise and John Travolta among its members, the reality TV star is now able to freely speak her mind, and that includes expressing a new-found sense of religous freedom.
"We really want people to know it's never too late to start again," she said during an interview for "Good Morning America" Monday.
After leaving the Church of Scientology, Remini and her actor husband Angel Pagan have re-emerged as Catholics. The 45-year-old "King of Queens" actress insists that she has always had roots in Catholicism — despite serving more than three decades in Scientology.
"I was always religious. I was baptized as a Catholic. I got my daughter baptized as a Catholic," she said in the GMA interview. "I'm reconnecting with my faith. It's been a beautiful thing."
One of her reasons for reconnecting was Remini's 11-year-old daughter Sofia.
"I didn't want my daughter to choose the [Scientology] church," she said.
Earlier this year, Sofia was baptized in a ceremony that her parents shared on social media.
"A very special day for our little girl and her Godparents @crabichuk wanted to share with all of you #baptism #catholic #newbeginnings," Remini, 45, wrote on Instagram.
The family has begun to share much of their life on the TLC reality show "It's All Relative," and Remini's
husband also expressed how much of a beautiful experience his daughter's baptism was while revealing his own deep-rooted ties to the faith.
"For the record @leahremini and I have always been Catholic! Why we waited so long to baptize Sofia! Hmmm ...," Pagan wrote. "Anyway it was a beautiful experience and our little angel is on her way to a more spiritual existence. God Bless!"
Remini respond to her husband questioning why their daughter was not baptized before the age of 11, insisting that she was now old enough to understand what was taking place, unlike babies who are frequently baptized as Catholics.
"Happened at the right time. Our daughter was aware of what she was accepting," she tweeted."And that was beautiful to witness."
Aside from promoting her most recent book, Remini has spent time opening up about her decision to leave Scientology after her daughter was born in 2004.
"I decided I didn't want to raise my daughter in the [Church of Scientology] because, from what I've experienced and what I saw, the church becomes your everything. It becomes your mother, your father, your everything. You are dependent on the church," Remini previously said. "I just didn't want her to be raised that way, because let's say in 10 years if I don't want to be connected to the church anymore, my own daughter would be taught to disconnect from me."