Leaked Draft of Trump Executive Order Would Protect Religious Freedom for Gay Marriage, Abortion Opponents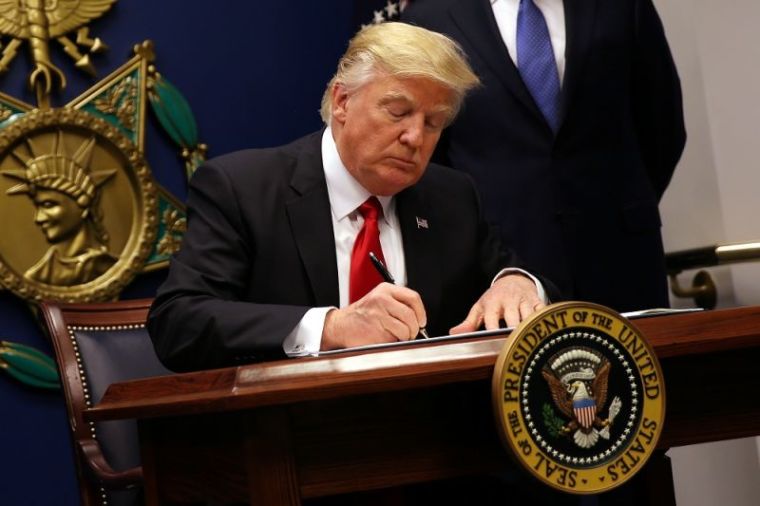 President Donald Trump may issue a "religious freedom" order that would protect Americans' rights to live their lives and run their businesses in accordance with their religious beliefs on marriage and abortion, according to draft order that has been leaked to the press.
As social conservative activists are voicing their disapproval over reports that indicate that Trump won't rescind an order signed by President Barack Obama in 2014 that puts religious charities and other federal contractors at risk of losing federal grants because their employment practices are consistent with their religious views on marriage and sexuality, a draft of a potential executive order that began circulating through the administration on Tuesday indicates that Trump could move to protect organizational and individual religious convictions on social issues.
The draft, which was leaked to the The Investigative Fund at The Nation Institute, is titled "Establishing a Government-Wide Initiative to Respect Religious Freedom."
The draft comes as Trump won over the support of reluctant evangelicals and social conservatives who felt as though their religious liberties were being trampled on by the rise of LGBT and abortion rights activists, along with the coercion used by the Obama administration. Trump promised evangelicals and conservatives throughout his campaign that he would protect religious liberties.
According to The Nation, the four page draft order "seeks to create wholesale exemptions for people and organizations who claim religious or moral objections to same-sex marriage, premarital sex, abortion, and trans identity, and it seeks to curtail women's access to contraception and abortion through the Affordable Care Act."
The draft order covers and protects the religious freedom of individuals and "any organization, including closely held for-profit corporations" that are seeking a job, employed, providing social services, employing others, receiving government grants and participating in the public square or marketplace.
If the order were to be made official by the president, it suggests that the religious liberties of faith-based federal contractors that were diminished by Obama's 2014 order would be protected.
The news of the draft order has led to criticism from pro-LGBT advocates who argue that it would "permit virtually all anti-LGBT discrimination."
Ryan Anderson, a prominent advocate for traditional marriage and religious liberty expert with The Heritage Foundation, wrote in a tweet linking to The Nation's article that he approves of the draft order.
Anderson also penned a Daily Signal piece that outlines 10 things the draft order would do to protect religious liberty, including instructing the secretary of the treasury to "ensure that it does not revoke nonprofit tax status because a religious organization's ordinary religious speech deals with politics." 
"This executive order is good policy and entirely lawful. The president has the legal authority to instruct agencies of the federal government to respect the religious liberty rights of all Americans where it can," Anderson wrote. "And to avoid any potential conflicts, the executive order explicitly states that it 'shall be carried out ... to the extent permitted by law' and that any accommodation must be 'reasonable.' With those two clauses alone, the hyperventilating criticisms of the LGBT left are immediately rendered void."
Kelly Shackelford, president and CEO of the conservative non-profit legal group First Liberty Institute, has also voiced his support for the draft order. 
"As a candidate, President Trump promised to support religious freedom for all Americans," Shackelford said in a statement. "Two specific pieces of legislation he said he would support are the First Amendment Defense Act and the repeal of the Johnson Amendment. This executive order is very similar to the policy suggested in those two pieces of legislation, as well as fulfilling other promises the President made on religious freedom. By proposing this order, President Trump is simply following up on his campaign promises."
Although much has already been made about the draft order and what Trump's intentions are, White House officials told ABC News that the draft religious freedom order is among the hundreds of executive orders that are currently being reviewed by the Trump administration.
The official added that the orders have been drafted either by the Trump team, the White House policy team or by outside organizations and that not all of the orders reflect the administration's view on what will become actual policy.
"We do not have plans to sign anything at this time but will let you know when we have any updates," White House spokesperson Sarah Huckabee Sanders told ABC News.
Commenting on the news that Trump does not plan to rescind Obama's order on federal contractors, leading social conservative activist and Family Research Council President Tony Perkins said in a statement that he remains confident that the Trump administration will protect the freedom of religious organizations and individuals.
"I am prayerfully confident that the president and his team will issue an executive order ensuring charitable and religious organizations are not prohibited, because of their biblical views of marriage and human sexuality, from receiving contracts or grants from the federal government in order to provide critical services to people in need, like refugees and the homeless," Perkins wrote.
Religious leaders on the Left are not happy with the news that a draft religious liberty order is circulating around Washington. A group of over 400 faith leaders who primarily come from liberal-leaning denominations signed onto a letter that was sent to the president on Tuesday encouraging him not to issue such an order.
The effort for the joint letter was organized by pro-LGBT groups like the American Civil Liberties Union, Human Rights Campaign, Center for American Progress, Movement Advancement Project, Freedom for All Americans and Leadership Conference on Human and Civil Rights. 
"If contractors and others were allowed to opt out of certain laws, depending on their religious beliefs, we would soon see a morass of legal confusion and dispute," the letter, which was shared with The Christian Post, states. "In addition, if a religious exemption were added to President Obama's Executive Order, the people who would suffer most are those who always suffer most when discrimination is allowed: individuals and communities that are already marginalized. Adding to their burden is the opposite of what public service can and should do — and betrays the values we stand for as people of faith and conscience."