Trump: Christian Faith My Mother Taught Me Lives on in My Heart
President Donald Trump revealed on Thursday at his first National Prayer Breakfast that the faith his parents taught him lives on in him today.
"I was blessed to be raised in a church home," Trump said at the annual event. "My mother and father taught me that to whom much is given, much is expected.
"I was sworn in on the very Bible from which my mother would teach us as young children, and that faith lives on in my heart every single day."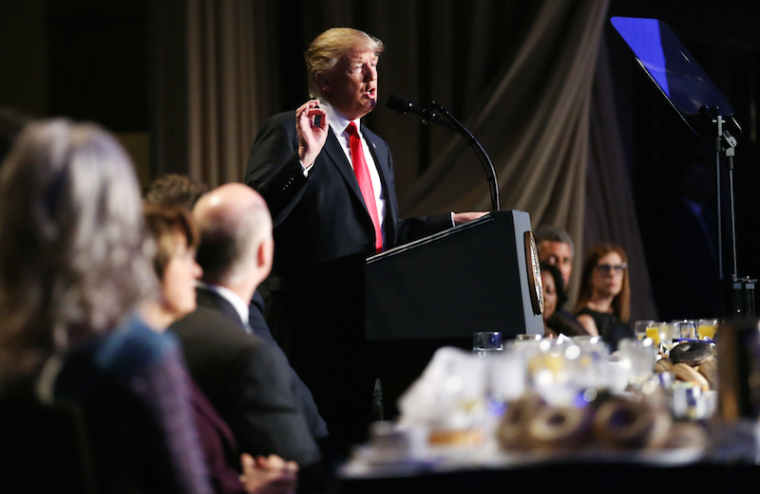 Trump took the oath of office on Jan. 20 with his hand on two Bibles. One was the Bible his mother taught from and the other was used by Abraham Lincoln in 1861.
The American businessman, whose net worth is $3.7 billion according to Forbes, rarely talks about his faith. In his book Great Again, he acknowledged that many people are shocked when they find out he's a Christian and "a religious person," namely because of his great wealth.
During his prayer breakfast speech Thursday, Trump said that he knows many people with "great material success" who are "very, very miserable, unhappy people." Meanwhile, those who do not have a lot of wealth have great families, great faith and are happy.
"Those, to me, are the successful people," he said.
Addressing a crowd of both Democrats and Republicans, Trump said everyone is united by their faith "in our creator and our firm knowledge that we are all equal in His eyes."
"We are not just flesh and bone and blood, we are human beings with souls."
Near the end of his remarks, Trump stressed that "America will thrive as long as we continue to have faith in each other and faith in God."
"As long as we have God, we are never, ever alone — whether it's the soldier on the night watch, or the single parent on the night shift, God will always give us solace and strength, and comfort. We need to carry on and to keep carrying on.
"For us here in Washington, we must never, ever stop asking God for the wisdom to serve the public, according to His will."