Trump Reveals 5 Words That 'Touch His Heart' at National Prayer Breakfast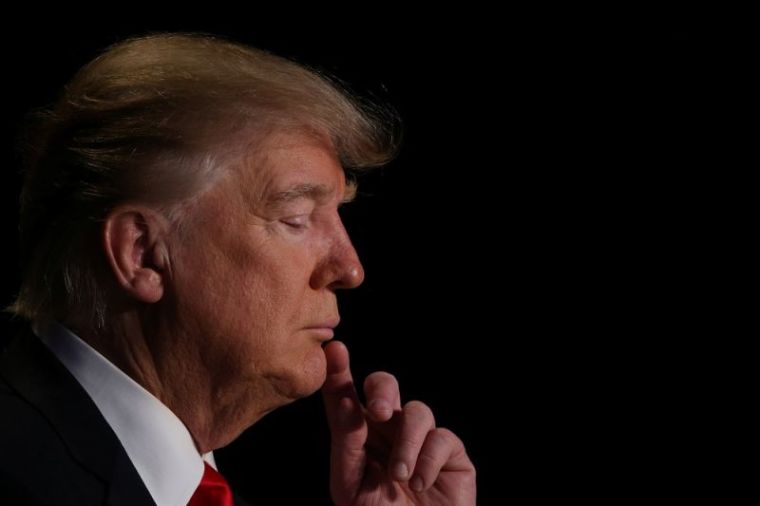 At the annual National Prayer Breakfast at the Washington Hilton on Thursday morning, President Donald Trump revealed that through all of the ups and downs and personal struggles of his campaign, there were five words that gave him solace and comfort.
"Most importantly today, I want to thank the American people. Your faith and prayers have sustained me and inspired me through some very, very tough times," Trump said, following a keynote speech from United States Senate Chaplain Barry Black and introduction by Christian television producer Mark Burnett.
"All around America, I have met amazing people whose words of worship and encouragement have been a constant source of strength," the 45th president added. "What I hear most often as I travel the country are five words that never fail to touch my heart. That's 'I am praying for you.' I hear it so often, 'I am praying for your, Mr. President.'"
The central theme of Trump's address was that in order for America to thrive, God is needed and religious freedoms must be preserved.
Speaking the day after bills were introduced in the House and Senate that would repeal the Johnson Amendment and allow churches and pastors to speak freely from the pulpit on political issues without fear of losing their tax-exempt status, Trump reissued his campaign promise and assured that he would help "destroy" the Johnson Amendment.
Additionally, Trump commented on his recent and controversial executive order barring refugee resettlement for 120 days by saying that his administration is working to help keep out extremists looking to spread violence and religious intolerance.
"America will flourish as long as our liberty, in particular our religious liberty, is allowed to flourish. America will succeed as long as our most vulnerable citizens have a path to success and America will thrive as long as we continue to have faith in each other and faith in God," Trump stated. "That faith in God has inspired men and women to sacrifice to the needy, to deploy to wars overseas and to lock arms at home to ensure equal rights for every man, woman and child in our land. It is that faith that sent the pilgrims across the oceans, the pioneers across the plains and the young people all across America to chase their dreams. They are chasing their dreams. We are going to bring those dreams back."
"As long as we have God, we are never ever alone — whether it is the soldier on night watch or the single parent on the night shift," Trump continued. "God will always give us solace and strength and comfort. We need to carry on and keep carrying on. For us here in Washington, we must never stop asking God for the wisdom to serve the public according to his will."
As a billionaire businessman from New York, Trump attested to the fact that money doesn't buy happiness, saying some of the richest people he knows are miserable while many living normal lives, raising families and putting their faith in God are living happy lives.
"In towns all across the land, it is plain to see what we easily forget, so easily we forget that the quality of our lives is not defined by our material success but by our spiritual success," Trump stated. "I will tell you that. I tell you that from somebody who has had material success and knows tremendous numbers of people with great material success, the most material success."
The way in which Trump began his speech many on social media found distasteful. After thanking Burnett, who produced Trump's reality series "The Apprentice," for his introduction, Trump pointed out that the ratings of the show, which now features actor and former California Gov. Arnold Schwarzenegger, have declined since Trump has not been on the program.
"The ratings went right down the tubes, it's been a total disaster. And Mark [Burnett] will never, ever bet against Trump again," the president said. "I just want to pray for Arnold [Schwarzenegger] if we can, for those ratings."
Schwarzenegger was quick to respond by posting a video on Twitter.
"Hey Donald, I have a great idea. Why don't we switch jobs?" Schwarzenegger said. "You take over TV because you're such an expert in ratings, and I take over your job, so then people can finally sleep comfortably again."