Lecrae, Jeremy Camp, Jordin Sparks to Perform at Greg Laurie's SoCal Harvest 2017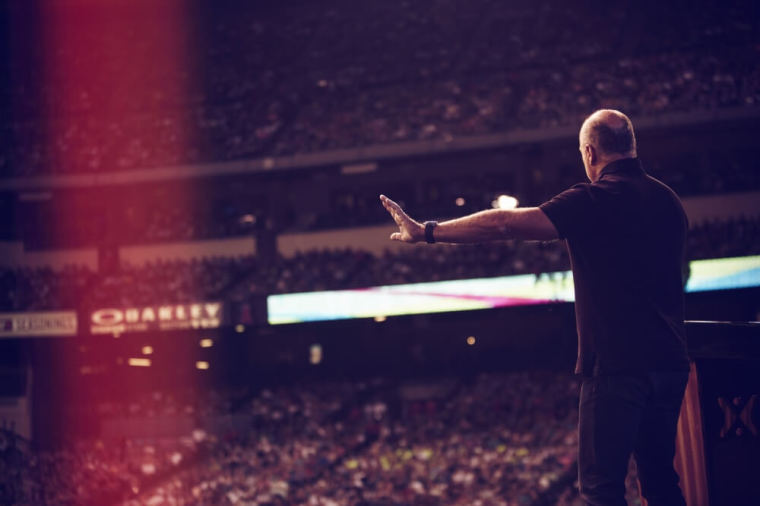 A star-studded lineup of Christian music artists including Lecrae, Jeremy Camp and "American Idol" winner Jordin Sparks will perform at the 28th annual SoCal Harvest revival crusade hosted by popular California evangelist Greg Laurie this weekend in Anaheim.
Tens of thousands of people will attend SoCal Harvest 2017 at Angel Stadium this Friday through Sunday. The free event will not only feature performances from world-renowned Christian artists but will also feature Gospel messages each night from Laurie, an author and senior pastor of the multi-campus Harvest Christian Fellowship.
At the end of Laurie's message each of the three nights, audience members will be asked to come to the field and make a commitment to Christ. At SoCal Harvest 2016, 11,994 decisions were made for Christ with a combined in-person and online attendance of over 160,000.
"It might surprise people to know that I work harder on my crusade messages than any messages I give all year long because it takes more work to be simple than it does to be complex," Laurie told The Christian Post in an interview. "I want a person — if they reject this message — to reject it because they have understood it and have chosen not to believe it rather than them not understanding it at all."
Laurie told CP that he plans to address topics that people are most "concerned" about.
"I just read that alcohol use is up dramatically. Opioid use is higher than they even thought it was and it was already so high. You know, we are living in age of anxiety," Laurie said.
"People go chasing after all that culture offers and they don't find answers they are looking for, as noted in the suicides of two prominent lead singers of rock bands — Chester Bennington of Linkin Park and Chris Cornell from Soundgarden," Laurie continued. "Here are guys that are living the dream, playing in rock bands. But, there is an emptiness to these things and I think people need to realize that the answer to everything they are looking for is right in front of them. It's not in a drug. It's not in possession and it's not even in religion. It's in a relationship with Jesus Christ. That's what I want to talk about."
On Friday night, there will be performances from Christian folktronica musician Crowder, Christian hip-hop artist Andy Mineo and contemporary Christian rock artist Phil Wickham.
Saturday night's performers will be popular Christian hip-hop artist Lecrae, Wickham and Camp, a popular contemporary Christian singer/songwriter.
According to Laurie, Sunday night will be more unique in that it will feature artists who performed on primetime talent contest television shows. Sunday night will also feature a fireworks display.
Brennley Brown, a 15-year-old who made it to the top-eight on "The Voice" in 2017, will perform on Friday. Sparks, who became the youngest person in history to win "American Idol" at the age of 17 in 2007, will perform and also be interviewed on stage by Laurie about how she re-found her faith after walking away from the Lord.
"Jordin was raised in a Christian home and attended a Calvary Chapel in Arizona. She won 'American Idol' and had a very huge career after that and walked away from the Lord, by her own admission," Laurie said. "A little more than a year ago, she made a recommitment to Jesus Christ. A lot of people know who Jordin Sparks is so she is using her platform now to bring honor to the Lord."
Danny Gokey, who competed on "American Idol" in 2009 and is a former church music director from Wisconsin, will also perform at SoCal Harvest on Sunday night.
The event will run from 7 p.m. to 9:15 p.m. each of the three nights. Additionally, the event will be livestreamed on the Harvest Facebook page. The event will also be screened at churches and hosting locations across the nation.
Harvest also hosted "Tell Someone" evangelism training events at a number of area churches between July 26 and Aug. 3. The purpose of the events was for believers to learn tools and tips to help them become comfortable in preaching the Gospel and sharing their faiths with strangers and friends.
"The objective is not to blow the non-believer out of the water with your brilliant knowledge of Scripture. The objective is to bring them to Jesus," Laurie said. "Having said that, Christians think, 'Oh, I'll just be a good example.' Well, that's great and we should all be examples but Jesus did not say, 'Go into all the world and be a good example.' He said, 'Go into all the world and preach the Gospel.'"
Additionally, Laurie will release a new film about the faith of Hollywood icon Steve McQueen, which will be shown in over 800 theaters nationwide on Sept. 28. The film is a followup to the book Laurie released earlier this year on the "king of cool" called Steve McQueen: The Salvation of an American Icon.