Lesbian Singer Julien Baker Releasing New Album Inspired by Hymns; Christian Parents Said She's Not Going to Hell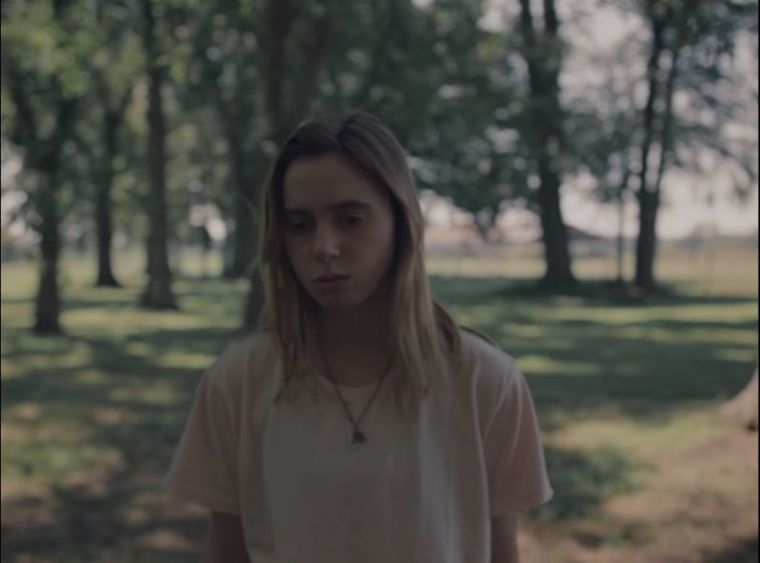 Tennessee-born singer and guitarist Julien Baker, who identifies as gay and Christian, said many of her songs on her new album were inspired by hymns that she heard growing up.
"Many of my songs just come together in quatrains because that's how a hymn goes," the singer explained in an interview with The New York Times on Sunday ahead of her second album, Turn Out the Lights, which is being released Oct. 27.
"Another thing that I love about hymns is that despite being antiquated modes of worship — maybe — they contain these really emotive phrases. All of my favorite hymns are admissions of faults, and finding redemption even in those."
Baker, 22, grew up in a religious household, "soaking up evangelical doctrine" and participating in church music, the NYTimes described.
"At 17, she came out as gay to her parents, expecting the worst. But instead, her father combed the Bible for passages about love and acceptance," the article pointed out.
In a 2016 interview with noisey, she recalled saying "I think I'm going to hell" when she came out to her parents. But her father told her she's not going to hell and her mother told her God loves her.
From that, Baker concluded, "Tolerance exists."
Baker has been open about her past, her struggles and ongoing questions and doubts.
She went through a period of rebellion during her teen years but eventually returned to church.
"I started playing in music groups associated with church, which was an easy way to get my foot in the door. Every Sunday I had to learn songs that I had seen an hour beforehand," she told Westword last year.
As for her relationship with God, she said that her upbringing taught her about God's amazing ability to save people.
"But God also made us, is a perfect creator, and calls us beloved. It took a lot of getting over evangelical theology to say, 'No, I have worth.' My mistakes can be useful, I don't have to be penalized for being an imperfect flesh human being. My journey to accepting parts of myself that I thought were ugly influenced my record and writing for the future," the singer said.
She noted that world tragedies, such as genocide in the Sudan and the Holocaust, for a while made her think there was no God after all.
"On the other hand, I couldn't concede to purposelessness of existence. I struggled with the question: Do I think that God hates me for who I am? Which is a queer female. Being queer is the engine that drove me into theological thought the way that I did," she continued.
"Does God hate me? I had to find out for certain. I just wanted to know and find the answer to everything! This is something that still crops up when finding out more of who God is."
Another prominent singer who identifies as lesbian and Christian is Vicky Beeching. When  Archbishop of Canterbury Justin Welby gave an "outstanding service to the church" award to Beeching in June, some evangelicals were shocked.
Beeching, who came out as gay in 2014, has argued that God loves her "just the way I am," and expressed gratitude for the Thomas Cranmer Award for Worship earlier this year.
But Colin Hart, director of The Christian Institute, said in a statement at the time that "Vicky Beeching rejects Christian teaching on sexual ethics by advocating for same-sex marriage."
"I'm shocked that the archbishop should choose to honor someone so out-of-step with the biblical understanding of marriage and sexual morality," Hart stated.
Robert A. J. Gagnon, former associate professor of New Testament at Pittsburgh Theological Seminary, argued that Beeching's same-sex attraction "contradicts the intentional handiwork of our Creator."
"It doesn't require personal acquaintance with Ms. Beeching to know that her theological rationalization for why everyone (including God) must embrace 'gay marriage' and approve of her entering into a homosexual union is not well thought through from a biblical-theological perspective. Hopefully Ms. Beeching does not think that she is entitled to criticize those who believe in Jesus' view of a male-female requirement for sexual unions, while exempting her own position from critique," Gagnon wrote in a 2014 op-ed in The Christian Post.
"The image of marriage in Genesis 2 is that the two halves of the sexual spectrum, man and woman, reunite into a single, integrated sexual whole. She is already intact in relation to her own sex; it's the other half of the sexual spectrum that she doesn't have covered."