Liberals Attempted to Censor College Speakers Twice as Often as Conservatives, Study Finds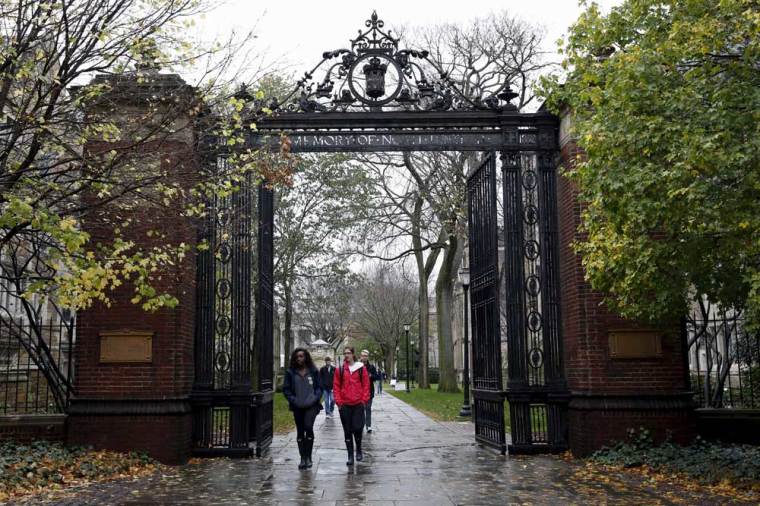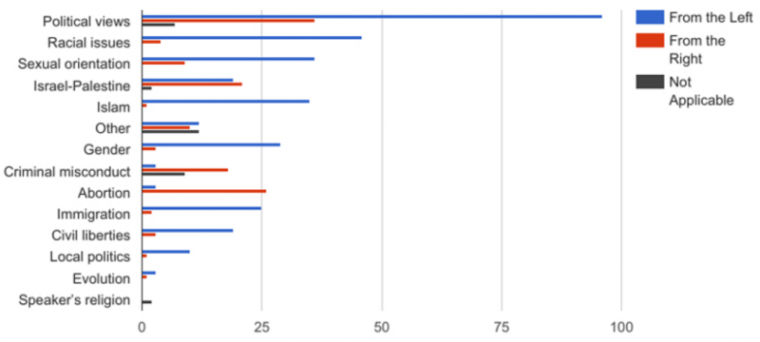 View Photos
Liberal activists have attempted to disinvite twice as many speakers from colleges as conservatives over the past 16 years, according to an academic free speech group.
Heterodox Academy, a group that identifies itself as being dedicated to advancing "viewpoint diversity" in higher education, released an analysis on Tuesday regarding the censorship of speakers invited to colleges from 2000-2016.
Of the 333 disinvitation attempts documented by Heterodox Academy, 200 (60.06 percent) of them were from leftwing activists, 102 (30.63 percent) from right-wing activists, and 31 (9.31 percent) were labeled "Not applicable."
"These analyses revealed that speaker disinvitation attempts from 2000 to 2016 came primarily from the left of the speaker and occurred most often for controversies over racial issues, views on sexual orientation, and views on Islam," noted Heterodox Academy.
"Furthermore, at private secular institutions, disinvitation attempts came primarily from the left of the speaker (66.98%) rather than from the right of the speaker (26.42%)."
Heterodox Academy also noted that from 2000 to 2009, "speaker disinvitation attempts from the left of the speaker and from the right of the speaker were roughly equal."
"Yet, from 2010 onward there is a noticeable increase in disinvitations attempts from the left of the speaker, relative to disinvitation attempts from the right of the speaker," continued Heterodox Academy.
"When disinvitation attempts are unsuccessful, moderate and substantial event disruptions are almost exclusively from the left of the speaker."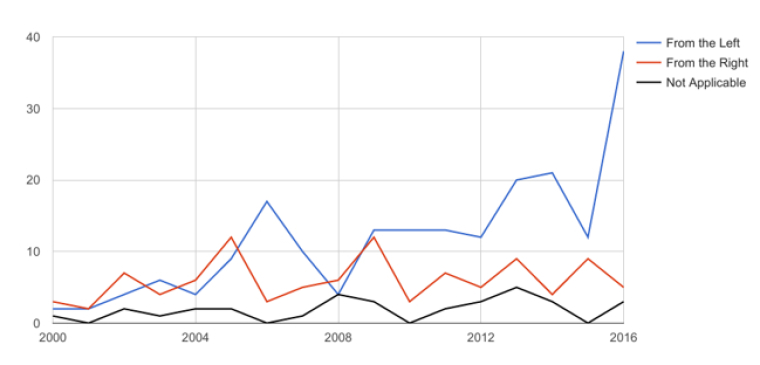 In recent years, efforts by colleges to disinvite guest speakers for political reasons has become an increasing problem for those who believe higher education should be a marketplace of ideas.
The Foundation for Individual Rights in Education, a campus free speech monitoring group, noted that in 2014 "disinvitation season rose to unprecedented proportions with a wave of speakers being disinvited or pressured to withdraw from their speaking engagements."
"Every year around commencement time FIRE prepares for what we call 'disinvitation season,' when students and faculty members get together to demand that an invited guest speaker — usually a commencement speaker — be disinvited because they disagree with something that speaker did, said, or believes," explained FIRE.
"However, FIRE's research shows that while they get the most press around graduation time, speaker disinvitation attempts actually take place on a year-round basis."
Heterodox Academy's findings came not long after UC Berkeley canceled a speaking event featuring commentator and Breitbart News editor Milo Yiannopoulos following violent protests where free speech advocates were attacked, beaten up, and one a women was sprayed in the face wih mace by anarchists who were setting fires. 
"The university blamed '150 masked agitators' for the unrest, saying they had come to campus to disturb an otherwise 'peaceful protest,'" reported CNN.
"Black-clad protesters wearing masks threw commercial-grade fireworks and rocks at police. Some even hurled Molotov cocktails that ignited fires. They also smashed windows of the student union center on the Berkeley campus where the Yiannopoulos event was to be held."