Liberals Welcome Possible Clarification to Indiana Religious Freedom Law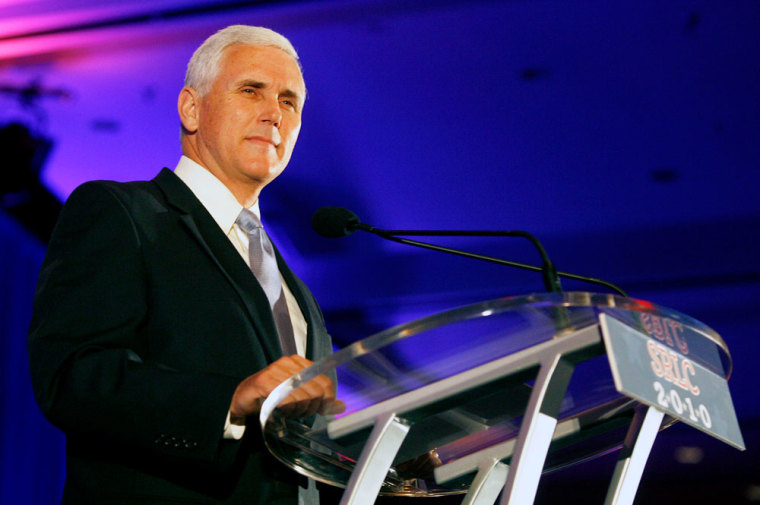 Liberals are casting a cautiously optimistic eye toward Indiana after Governor Mike Pence stated that an effort will be made to clarify the implementation of the Hoosier state's religious freedom law.
In response to criticism over Indiana's recently passed Religious Freedom Restoration Act, Governor Pence announced his plans to make sure the law clearly states that gays will not be discriminated against.
While many conservatives expressed disappointment with Pence's remarks, groups like Americans United for Separation of Church and State approved of the possible adjustments.
Amrita Singh, state legislative counsel for Americans United, told The Christian Post that her organization was cautiously optimistic about Pence's comments.
"We welcome the possibility of a change of heart from the governor and will look at any language he proposes," said Singh.
"We do have some concerns that a comprehensive fix may be a hard sell in the Indiana legislature. Right now, the situation remains in flux, and we continue to monitor developments."
Earlier this month, Indiana garnered nationwide controversy over passing a law known as the Religious Freedom Restoration Act.
Indiana was preceded by 19 other states and the federal government in passing said legislation, with the federal law being signed by then President Bill Clinton.
Although Indiana's RFRA has no mention of gays or marriage, critics of the law, including various celebrities and major businesses, argued it was discriminatory against sexual minorities.
The backlash has included the large scale protests at the state capitol, denunciations from Apple and Angie's List, and the hashtag #BoycottIndiana trending on Twitter.
Earlier this week, Gov. Pence was interviewed by ABC's George Stephanopoulos, who asked if the governor regretted signing the bill into law.
"The question here is if there is a government action or a law that an individual believes impinges on their religious liberty, they have the opportunity to go to court," said Pence.
"We're going to continue to explain it to people who don't understand it, and if possible, we will find a way to amplify what this bill really is in the legislative process."
In response to his comments, many conservatives argued that Pence had "caved" to the pressure by assorted businesses, protestors, and gay activists.
"Mr. Pence would do well to find out what Scott Walker had for breakfast when he faced down union mobs, the media and the ruling elites," noted one columnist to Breitbart News.
Singh of Americans United also told CP about the debate over Indiana's RFRA law was a national one, given that other states were considering similar legislation.
"Sixteen states, thus far, have introduced bills to create a RFRA or to amend an existing RFRA. The language in these bills differs from state to state," said Singh.
"Georgia has a RFRA bill that has passed the Senate and could be voted on and passed by the House before their legislative session ends tomorrow. Both Nevada and North Carolina currently have RFRA bills that could soon move through their respective legislatures."