After guiding students through Falwell sex scandal, Liberty U campus pastor resigns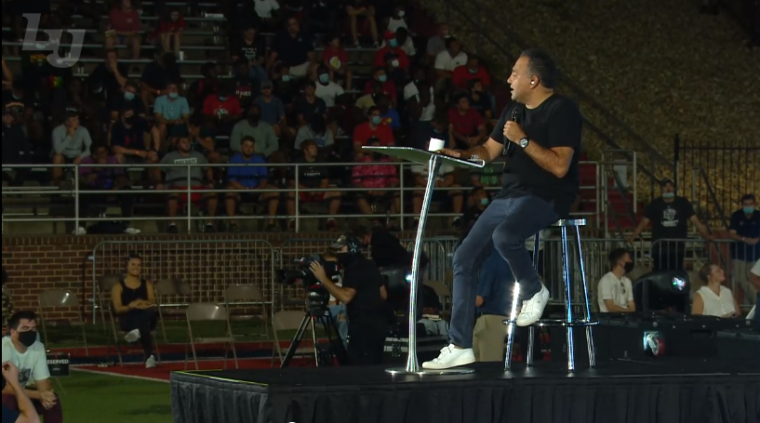 David Nasser, Liberty University's campus pastor and senior vice president of the school's spiritual development office, who helped steer students through the "shameful" sex scandal involving the institution's former president, Jerry Falwell Jr., will resign at the end of the semester.
With his wife, Jennifer, by his side, Nasser, who began working with the university in 2014 after serving as pastor of Christ City Church near Birmingham, Alabama, announced in a video message to students Wednesday that this semester will be his last.
"After seven years of being a part of this staff as campus pastor, the Lord is transitioning me out of this role, and this will be my last semester here," Nasser said.
He explained that God is calling him to move with his family to Nashville, Tennessee, and serve at an "exciting new" nonprofit, which he did not name.
"We'll be moving to Nashville to lead an exciting new nonprofit that we believe God has given tremendous favor to," he said. "Although this ministry is less than two years old, it's fast become a force for good in a pretty massive and unusual way."
Nasser said what compelled him to take the job at Liberty seven years ago was a similar call from God to help "raise up evangelists."
"What compelled my heart to say 'yes' seven years ago was not the job but the call — the very call to serve and to love and to daily give our lives away to a group of college students.  As a mentor of mine always says, 'You ultimately don't change a generation, you get to raise a new one,'" he said. 
"So back in 2014, we came here in hopes to play a small role in raising a new generation. We love church planting, so we came to raise up church planters. We wanted to see the great commission carried out. So we came here to raise up evangelists."
In a statement, Liberty University assured that Nasser is departing on "good terms." 
"David Nasser is moving onto the next opportunities the Lord provided, using his voice on behalf of the most vulnerable, ministering on behalf of orphans and foster children," the statement reads. "The programs of our Office of Spiritual Development are of vital importance to our mission, and the university appreciates his service to the students and staff and wishes him well. The parting is amicable and on good terms."
Nasser's resignation comes just seven months after the board of trustees at Liberty University, one of the largest evangelical Christian universities in the world located in Lynchburg, Virginia, announced that they had accepted Falwell's resignation after he and his wife, Becki, were implicated in a sex scandal.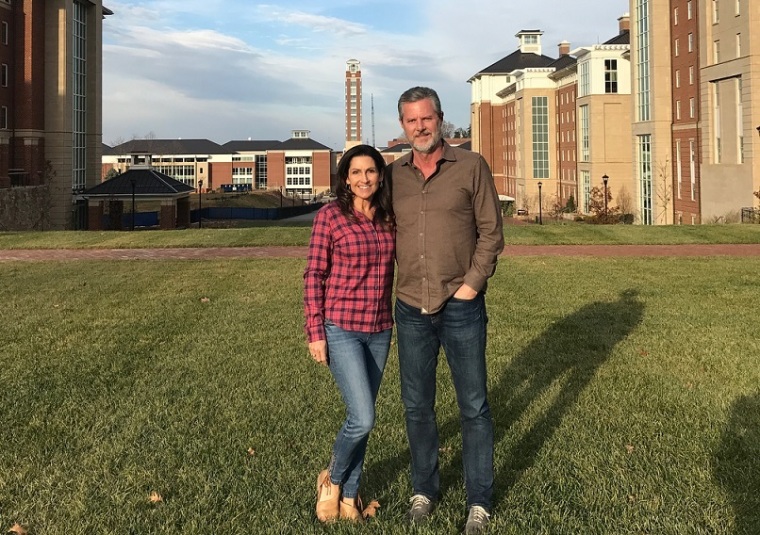 The Falwells are alleged to have had an affair with former pool boy Giancarlo Granda, 29.
Granda reportedly attempted to blackmail the couple. As the scandal unfolded, Falwell claimed he was shocked to learn about his wife's affair. But Granda contradicted that claim when he said he had engaged in the affair with Falwell's knowledge and provided audio evidence.
"Becki and I developed an intimate relationship, and Jerry enjoyed watching from the corner of the room," Granda told Reuters.
He claimed his liaisons with Becki Falwell were frequent — happening "multiple times per year" — noting that they would meet at hotels in Miami, New York and the Falwells' home in Virginia.
In condemning Falwell's behavior, Nasser did not mince words as the campus community tried to process that news last summer.
"This moment that we're in is a mess. Let me begin by saying to you … I am sorry. In my opinion, you as a liberty student deserve better, and the embarrassment that's been brought upon you as a Liberty student and, more importantly, brought upon the name of Christ is wrong. I know that many of you are hurting, and that breaks my heart. Your concerns, if you're concerned, are valid. If you're not concerned, you should be concerned," Nasser said during a Campus Community event.
"You and your family have worked hard to pay for a Christian education and this wasn't what you signed up for. I heard from one of you that you hesitated wearing your Liberty T-shirt this summer because you did not want the more recent baggage that came with it. And it just shouldn't have been that way. So let me be the first to say to you, if no one else has, and to personally apologize, and say I am sorry — not on behalf of anybody else but me."
On Thursday, the university named Falwell's brother, Jonathan Falwell, the senior pastor at Thomas Road Baptist Church in Lynchburg, as the new campus pastor. 
"President [Jerry] Prevo, Pastor Jonathan Falwell, the spiritual subcommittee of the [Board of Trustees], and our [Office of Spiritual Development] directors and team are working side by side to make this transition as smooth as possible," Nasser said in the video. "These people love God, they love you, and they are committed to making sure we all keep growing in Christ's likeness."