LifeChurch.tv Pastor Craig Groeschel Says God Doesn't Want You Happy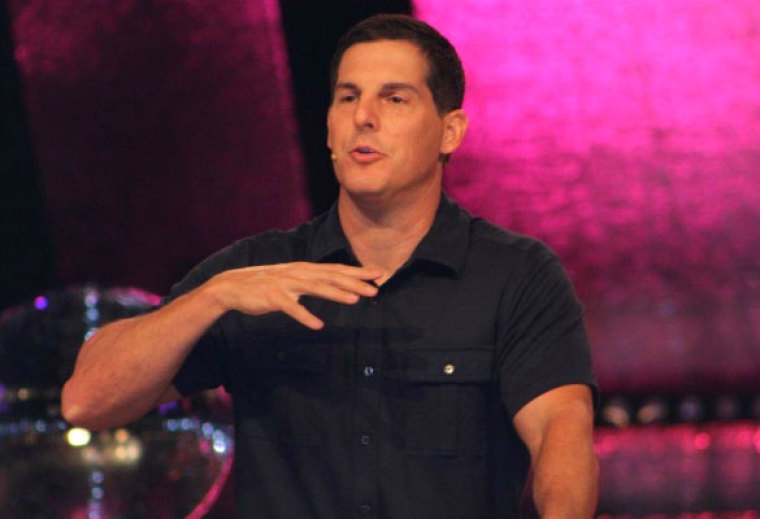 Craig Groeschel, the founding and senior pastor of the Oklahoma-based LifeChurch.tv megachurch, said in a sermon that it may sounds good when someone says God wants us to be happy, but the truth is otherwise.
Pastor Groeschel preached about what he called the theology of happiness, as part of a sermon series, "God Never Said That." He said the belief that God wants us to be happy can be problematic for at least three reasons.
One, it leads us to conclude that whatever makes us happy must be right, and whatever makes us unhappy must be wrong. Two, it could also make us believe that any discomfort, delay or risk cannot be God's will. And three, without even knowing it, we could begin to worship money and comfort.
God does not exist to serve us, but we exist to serve Him, the pastor reminded the listeners. God is not a "Cosmic coke machine," he added, that whatever we want and whenever we want it, we can just push the button and get it.
Many of us wrongly expect a raise in the salary or our favorite team to win just because we are doing the right thing "because I pushed the God button," Groeschel said. It's as if, "If I'm not happy, God failed me." That's the problem with the "cultural Christian world" or "the American version of Christianity" today, he explained.
The pastor gave the example of his two sons, both of who play football. He said when they play and are happy, he delights in them. However, "my highest priority is not their happiness, but their behavior."
Similarly, he added, "His presence and His will is the goal ... He wants you to pursue Himself."
Groeschel gave the audience two principles to know when God doesn't want us to be happy.
One, God doesn't want you to be happy when it causes you to do something sinful or stupid, he said, and read out 1 Peter 1:15, "But just as he who called you is holy, so be holy in all you do."
Giving an example, he said if you're not happy in your marriage that doesn't mean you can leave your spouse. Or, if you find happiness in pornography, that doesn't make it legitimate, he added.
Two, God doesn't want you to be happy when it's only based on the things of this world, Groeschel said, based on 1 John 2:15-17, "Do not love the world or anything in the world. If anyone loves the world, love for the Father is not in them. For everything in the world—the lust of the flesh, the lust of the eyes, and the pride of life—comes not from the Father but from the world. The world and its desires pass away, but whoever does the will of God lives forever."
Happiness is not about better possessions, right relationships or perfect experiences, he stressed. "His presence alone is sufficient ... Don't listen to culture."
He added, "God wants you blessed, not happy ... more than happy." However, that doesn't mean you will not get sick, or you will not lose your job or things will go your way, he cautioned.
On the contrary, you can feel God's presence even when you're in the middle of a storm, when things don't seem right, he said. You can experience "joy unspeakable" because He is building you up, using your experiences. You'll experience peace that is beyond your understanding, he added.
He quoted Psalm 37:4, "Take delight in the Lord, and he will give you the desires of your heart."
When God is your highest goal, He will give you the desires of your heart, he explained, urging the audience to lower their standards for this world. "You were not designed for this world ... You were created for eternity."
There's a Christ-shaped vacuum in your heart, which cannot be filled by any created thing, he said in conclusion.
In the promo for the sermon series, the megachurch is encouraging Christians to be careful in giving a wrong advice to others. "We love offering little nuggets of advice, support, or sympathy. They come in handy when we want people to feel better. But what if the guidance you're giving or receiving just isn't true? What if God Never Said That?"