LifeWay Research Poll: US Pastors Want Racial Diversity on Sunday Mornings But Still Have Little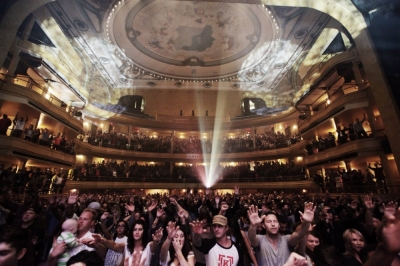 Although the vast majority of Protestant pastors believe churches (85 percent) should strive to be racially diverse organizations, almost the same number (86 percent) said that their personal congregations only reflected one predominant racial or ethnic group, according to a recently released LifeWay Research poll.
Ed Stetzer, president of LifeWay Research, said diverse churches remain rare, partly because of human nature.
"Everybody wants diversity," said Stetzer. "But many don't want to be around people who are different."
DJ Chuang, the founder of The Social Media Church, said that one problem churches face in racially diversifying their congregations is a lack of "resources."
"It's a lot of hard work. It's time-consuming and it takes a lot of energy to do it. It's a harder thing to do to be diversified versus being homogenous and so human nature is going to pick the path of least resistance," Chuang told The Christian Post on Tuesday.
Chuang, who serves as a board member on Mosaix Global Network (MGN), "a resource and global network for multiethnic churches," said that at times the call to be multiethnic goes against widely-accepted strategies on church planting and growth.
"We also live in the shadow of popular teaching about church growth and it is a faster way to grow churches to reach homogenous groups," said Chuang. "But we [at MGN] believe it's a biblical thing to do, to reach all kinds of people and better reflect the way we understand Scriptures."
Among the 1,007 Protestant churches surveyed, whose responses were "weighted as to reflect geographic distribution and denomination groups," 91 percent believe "churches should reflect the racial diversity in their community."
Nearly 80 percent said that they believe their own congregations' diversity reflects their neighborhood, although as neighborhoods are projected to become increasingly diversified in the future, it may be harder to see that reflection in churches, some experts point out.
According to 2010 census status, in aggregate, non-Hispanic whites make up 63 percent of the U.S.' population. However, only 49 percent of Americans under age five fit that demographic.
"By 2043 there will be no majority racial group and so that will vastly change our society," said Chuang.
A second Lifeway Research poll of 1,036 Americans showed that although 78 percent of individuals believed that "every church should strive for racial diversity," barely half (51 percent) would actually feel comfortable attending a church that multiple ethnicities attended.
Nikole Hannah-Jones, an investigate reporter at Pro Publica who has studied the historical roots of segregation, spoke with CP earlier this month and said that although the Civil Rights had ended formal discrimination in the law with regards to voting, employment or public accommodations, "it had been most challenged by areas of our life where we're most intimate—where we live, go to school [and attend church]."
"People were willing to support laws that would end racial segregation or discrimination in public areas but when it came to who they were going to live next door to, both conservatives and liberals alike were really opposed to this type of integration," said Hannah-Jones.
Like Stetzer, Chuang pointed to Christians wanting to stay in their personal comfort zones as being primary reasons why they generally stayed within their own racial groups on Sunday mornings.
"Probably the biggest one is human nature. We're just more comfortable with people who are like ourselves," said Chuang.
Lifeway's telephone survey of 1,007 Protestant pastors was conducted from September 4-19, 2013 with a sampling error of 3.1% (+ or -). Its weighted online study of 1,036 Americans was administered on September 6, 2013 and has a sampling error of 3.1% (+ or -).