Lionsgate acquires distribution rights for box office surprise 'The Chosen'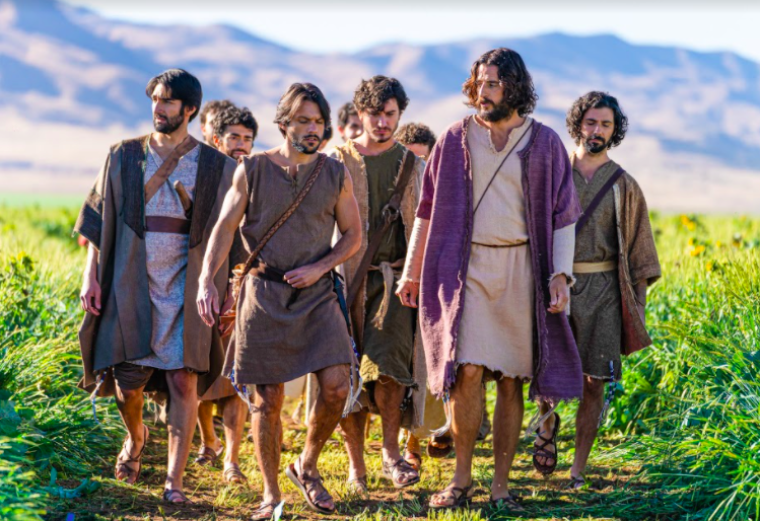 Correction Appended
One of Hollywood's biggest distributors has acquired limited worldwide rights to the hit series "The Chosen."
Lionsgate, which also produced "Jesus Revolution," acquired sub-licensing distribution rights worldwide for the acclaimed series from creator, director and producer Dallas Jenkins, a spokesperson announced Monday.
Starting as a crowdsourcing project and launched in 2019, "The Chosen" has become something of an international phenomenon: it's been watched by 94 million people and translated into 62 languages.
That popularity has generated some 6.5 million followers across social media and $35 million at the box office in special theatrical releases.
Now with the Lionsgate sub-licensing distribution acquisition and plans to make "The Chosen" available in 600 languages, Jenkins said he's ready to see the show go to the next level.
"Lionsgate is perfect for us," Jenkins said. "They're strong and experienced in the areas we're not, but they also understand what's unique about us and will protect that. We'll continue to do what we do best unabated, and they'll expand our efforts with their tremendous distribution team."
With over two decades of experience in the film industry, Jenkins broke through with "The Shepherd" — a short film shot on an Illinois farm depicting the birth of Jesus through the eyes of a shepherd with a disability — which ultimately launched "The Chosen."
Since then, three seasons of the show have been produced, while a fourth season is currently in production. "The Chosen" is also one of the five most searched shows on Roku, and it has propelled Jenkins and star Jonathan Roumie, who portrays Jesus, to worldwide fame.
Roumie has been invited to the Vatican twice to speak with Pope Francis about his portrayal of the Messiah.
Calling Jesus Christ an "important historical figure," Lionsgate President of Worldwide Television Distribution Jim Packer celebrated the acquisition.
"The more I learned about "The Chosen," the more I wanted to ensure that it is on the best platforms across the globe. It's no surprise that an artfully crafted story about such an important historical figure, unlike anything done before, would be in great demand," said Packer. 
"The multi-season approach has allowed "The Chosen" to consistently build its audience and generate a unique level of engagement. We're excited by the opportunity to elevate this incredible property to the next level of worldwide recognition and popularity."
The show's third season, in particular, delivered a strong performance at the box office, where it landed among the top 10 movies overall and outperformed the latest installment in the "Avatar" franchise.
Last December, Jenkins appeared on Allie Beth Stuckey's "Relatable" podcast to discuss the show's third season, which premiered in November. He shared how, as a young boy, he always knew he wanted to enter the entertainment space, particularly as he felt Christians weren't well represented in film and television. 
"My thought was, as a young guy growing up — I grew up in the faith and as a Christian — I loved TV and movies, but there wasn't anything that represented my faith that I liked as much as the normal TV and movies I would watch," Jenkins said. "If there was a Christian movie that came out, it wasn't any good." 
"I remember there was a moment," Jenkins, the son of Left Behind author Jerry B. Jenkins, continued. "I think it was around 2007 or so, I was mowing the lawn, and I felt like God just put it really strongly on my heart. Because I was kind of bad-mouthing/apologizing for faith-based films. 'Like I don't really wanna do that because they're so bad.' 
"And God was like, 'My people deserve good stuff too. So why don't you just make it better?'"
In a statement to CP clarifying Lionsgate's original media announcement about "The Chosen," an Angel Studios spokesperson said: 
"The new agreement between 'The Chosen' and Angel Studios allows for worldwide sublicensing of 'The Chosen' to be handled by a third party. Lionsgate will now represent sublicensing worldwide outside of the global exclusive release window in the Angel Studios app and 'The Chosen' app. This is an agreement between 'The Chosen' and Lionsgate directly.
"After any theatrical release, the Angel Studios app and 'The Chosen' app have global exclusive rights in the first window for all existing and future seasons. Angel Studios has perpetual rights to 'The Chosen,' exclusive perpetual rights to 'The Chosen' NFTs, and 'The Chosen' will always be an Angel Studios Original.
"In late 2022, The Chosen LLC and Angel Studios signed a new agreement making room for additional partners to support the mission of 'The Chosen'."
Correction: Lionsgate only has sub-licensing distribution rights worldwide, not all rights.