Lolo Jones a Fan Favorite at 2012 Olympics Track and Field Trials
'When Will Lolo Run,' Summer Games Spectators Want to Know as Hurdler Sets Sights on Gold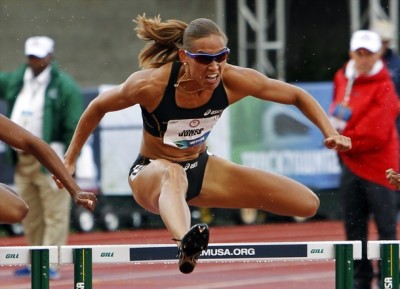 Hurdler and outspoken Christian Lori "Lolo" Jones has attracted numerous fans, many of whom are anxious to see how the track and field star will perform in the 2012 Olympics after her devastating loss in the 2008 Summer Games in Beijing.
"When will Lolo Jones run?" and "Did Lolo Jones win?" are just some of the popular searches dominating the web Friday, as fans of the 29-year-old Des Moines, Iowa native look forward to her key track and field event – the Women's 100-meter Hurdles.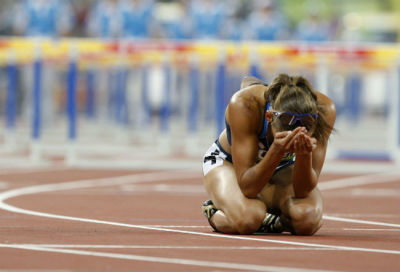 Jones, appearing as a top mover on the official Summer Games page at NBCOlympics.com, is also quite popular on social media networks, such as Twitter, where fans follow her frequent updates closely.
Apparently Jones' crippling loss to Dawn Harper at the 2008 Beijing Olympics and subsequent comeback, including from spinal surgery, has drawn many to the humorous and outspoken young athlete.
She wowed fans especially when she managed to come in third in the women's 100-meter hurdles during last month's qualifying Olympic Trials. Jones finished behind fellow Team USA runner Kellie Wells, and Harper – who scored the gold medal.
Jones, who had come back from spinal surgery last August, said at the time that she was a bit of a wreck.
"I had my sports psychologist on speed dial one, my pastor on speed dial two and my mom on speed dial three," she told the Des Moines Register. "It was crazy."
During the Olympics 100-meter hurdles event next week, Jones will again be facing Harper and Wells in addition to Sally Pearson of Australia, who nabbed the silver medal in Beijing, won gold at last year's World Championships and most recently came out victorious in the 60-meter hurdles at the 2012 IAAF World Indoor Championships in Athletics.
Jones might even have a shot at the record books – if she can surpass Bulgarian Yordanka Donkova's hurdles world record at 12.21 seconds (set in 1988) or American Joanna Hayes' Olympic record of 12.37 seconds (set in 2004).
 The Women's 100-meter Hurdles kicks off Monday, Aug. 6 – the day after Jones' 30th birthday – with Round 1 of the competition. Aug. 7 will see the women take part in the semifinals, and the final takes place the same day.
Watch Jones run in the track and field events online at NBCOlympics.com.
US Olympian Lolo Jones Vows to Save Herself for Marriage